Ben Pearson's Top 10 Movies Of 2021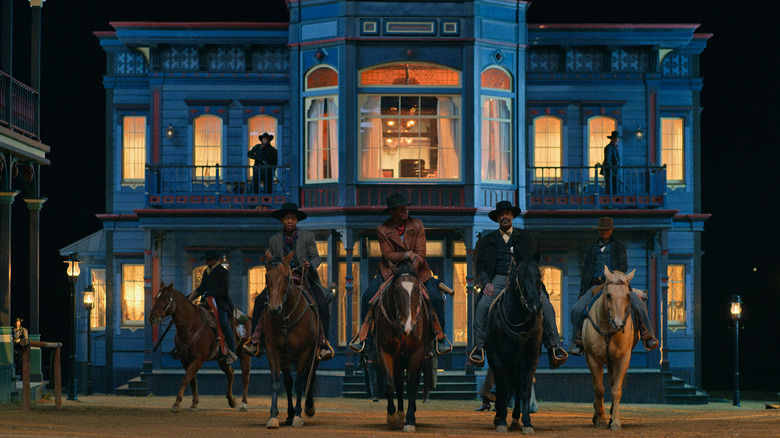 Netflix
Since /Film's Chris Evangelista provided a spectacular summary of 2021 in the intro of his list earlier this week (don't forget to read Hoai-Tran Bui's excellent list, too!), I'll spare you my similar reminiscence about another tumultuous year. I'll keep it simple: Thank God for the movies that surprised, inspired, scared, enlightened, and moved us, the ones that served as much-needed beacons which continue to carry us through a period of incredible darkness and uncertainty.
Before we begin, I want to give a quick shout-out to a few movies that didn't make my list. Here's to the brazen, joyous insanity of Josh Greenbaum's "Barb and Star Go to Vista Del Mar"; the jaw-dropping ambition of Denis Villeneuve's "Dune"; the idiotic hilarity of Kitao Sakurai's "Bad Trip"; the lush color palette and quiet profundity of Céline Sciamma's "Petite Maman"; the bleak beauty of Guillermo del Toro's "Nightmare Alley"; the ballsiness of "No Time to Die"; and the excavation and exaltation of "Summer of Soul." 
There were a lot of fantastic movies in 2021. Here are the 10 that stuck out to me the most.
10. The Fear Street Trilogy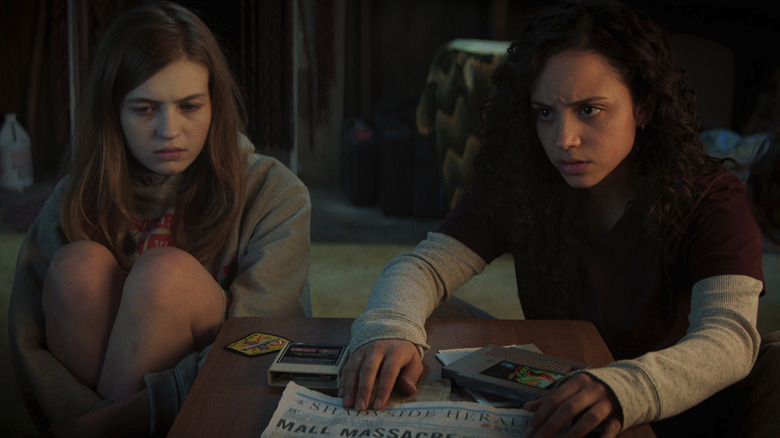 Netflix
Yep, I'm starting this list by cheating and including three movies in one slot. But Leigh Janiak's "Fear Street" trilogy was one of the biggest surprises of 2021 for me, and I want to use this opportunity to recommend that you check it out if you skipped it. Each movie is set in a different time period in the same town that's supposedly haunted by a local witch, allowing Janiak to flex her creative muscles and embrace the aesthetics of several different types of horror staples. The director's love of the genre is on full display at all times, and while the trilogy is not afraid to get surprisingly brutal with some of its kills, it always has a solid emotional core at its center. Plus, these movies are actually about something, grappling with income inequality, inherited wealth, patriarchal systems, and how facts can get distorted and twisted and reshaped in the quest for power. Several actors recur throughout all three films, but Kiana Madeira, who plays the main character, Deena, brings an incredible combination of physicality and emotionality to her performances and is the clear standout among the strong cast. It's rare that a storytelling experiment that's this ambitious actually lives up to its full potential, but all three "Fear Street" movies are expertly executed and wonderfully satisfying in every way.
9. Drive My Car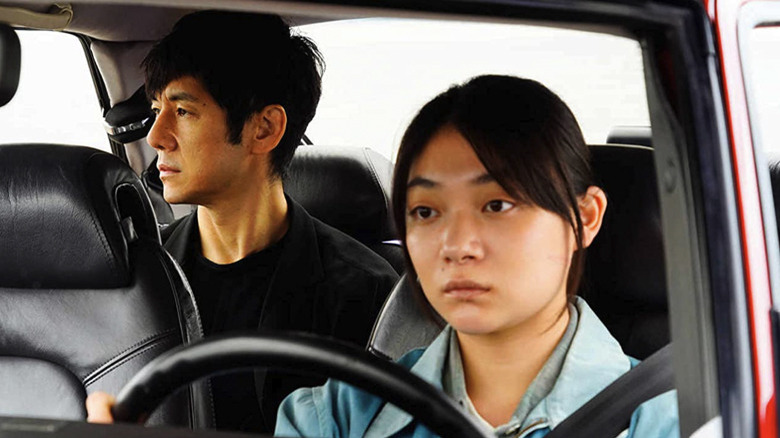 Janus Films
In some ways, Ryusuke Hamaguchi's "Drive My Car" is about the act of letting go. Theatre director Yūsuke Kafuku (Hidetoshi Shinomiya) tries to let go of immense pain he experiences after suffering a tremendous loss in the first section of the movie; he lets go of his sense of control when the theater program who hires him insists upon giving him a driver to guide him between his rented home and the theater where he's staging an unconventional performance of "Uncle Vanya"; and his driver, Misaki (Tōko Miura), contends with letting go of the guilt she feels for a traumatic event that happened during her younger days. But something fascinating happens: amid all of this talk about letting go, an unlikely connection begins to form. Not a romantic one, like you'd expect from a conventional Hollywood movie, but a purely human connection — one that manages to feel profound in its simplicity. This is a quiet movie, a composed movie, and yes, a long movie (it's over three hours), but it feels simultaneously epic and intimate in a way that few other 2021 films were able to achieve.
8. Procession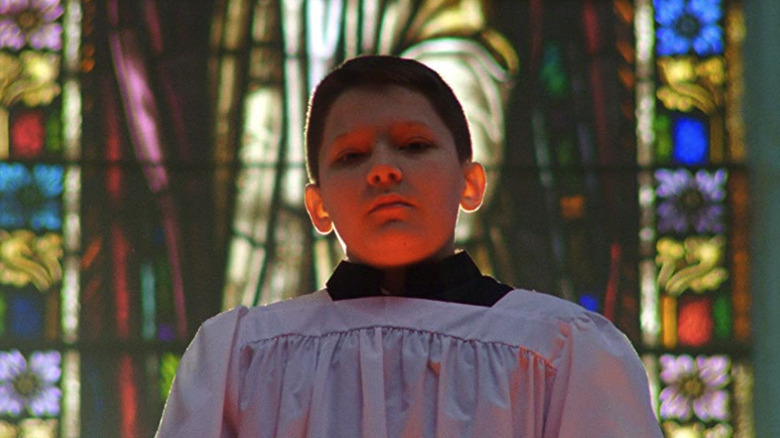 Netflix
If you're looking for a light-hearted movie to throw on and relax after a hard week, please look elsewhere. Robert Greene's "Procession" is a heavy viewing experience, but it's also one of the most powerful examinations of facing demons and reclaiming power that I've ever seen. Director Robert Green's documentary is about a group of six middle-aged men, all of whom were abused by Catholic priests when they were children, coming together to try to process and work through their shared experiences. Interestingly, the way they attempt to confront and work through the most horrible moments of their lives comes in the form of making movies. These guys work with a film crew to write and act in short films which recreate the circumstances surrounding their abuse, giving themselves a slightly removed way to grapple with the heinous things that were done to them, while also being incredibly therapeutic and cathartic at the same time. These men, all strangers before the film begins, act in each other's movies and lean on each other emotionally as they relive their worst traumas, and while that sounds dire, it's also a beautiful statement about the power of compassion and empathy and self-sacrifice. It's a tough watch, but it's also tremendously moving and well worth your time.
7. Swan Song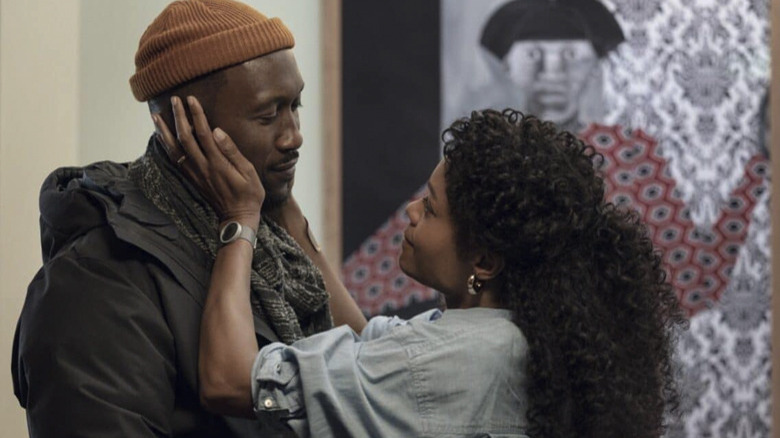 AppleTV+
Writer/director Benjamin Cleary's "Swan Song" may be one of the most overlooked movies of 2021, but in my eyes, it's also one of the best. Set about 20 years in the future, the story follows Cameron Turner, a man who has been diagnosed with a terminal illness. But since he hasn't told his wife and young son about his diagnosis yet, a radical option is presented to him: Cameron is given the opportunity to have a clone of himself created which would be not only a perfect physical match, but also possess all of his memories and life experiences. This clone would then switch places with him, sliding seamlessly into his family life and ultimately sparing Cameron's family the excruciating pain of losing him. Mahershala Ali stars as both Cameron and his clone, and delivers a beautifully interior performance as Cameron struggles with whether or not he should go through with the switch. Naomie Harris is excellent as his wife Poppy (who's been dealing with her own set of issues), and the two of them project a deep comfort and familiarity with one another in a way we don't often see in the movies; while many films focus on the early periods of a romantic relationship, this one picks up with the couple already having been together for years. There are tons of reasons to recommend this movie — those stellar performances, Cleary's rock-solid direction, the thought-provoking script, how it incorporates futuristic technology in a subtle but effective way — but the real selling point is its absolutely perfect ending, which I will obviously not spoil here. This is the type of movie people will slowly discover for years, and when they wonder why people didn't talk about it when it was first released, we can raise our hands and say we tried.
6. Pig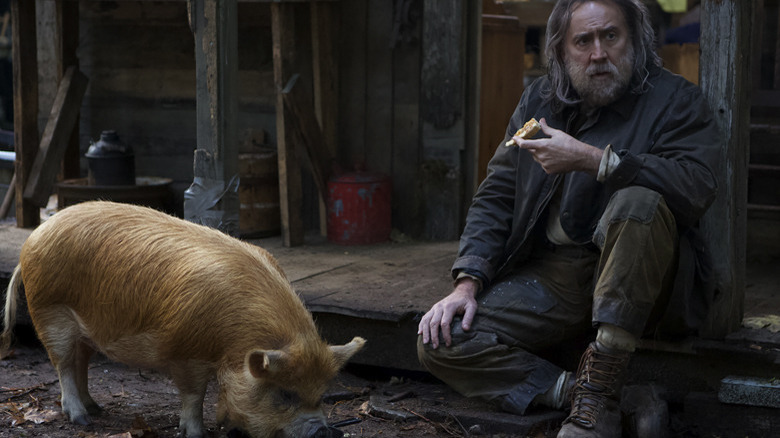 Neon
Like Al Pacino before him, Nicolas Cage is an Oscar-winning actor whose legacy as an excellent performer has been in danger of being overshadowed by his ... well, let's call it "eccentric" performing style. So when you hear that Cage stars in a movie called "Pig," and it's about a Pacific Northwest woodsman who's desperately trying to get his pig back after it's stolen from him, it's easy to assume that this is going to be another manic display of bombast from the actor. While those types of Cage performances certainly have their charms in the right context, "Pig" could not be further from that type of experience, and it's all the better for it. Michael Sarnoski's feature directorial debut is the opposite of a revenge thriller, instead presenting the audience with a subdued, matter-of-fact, and occasionally profound story about the lengths one will go to achieve peace in a chaotic world. My friend and fellow /Film editor Hoai-Tran Bui has referred to it as a cross between Lynne Ramsay's "You Were Never Really Here" and the Anton Ego food sampling scene from "Ratatouille," and I haven't heard a better way to set the stage for the type of experience this movie is trying to offer. Cage has never been better, and I am deeply curious about where Sarnoski goes from here.
5. tick, tick...BOOM!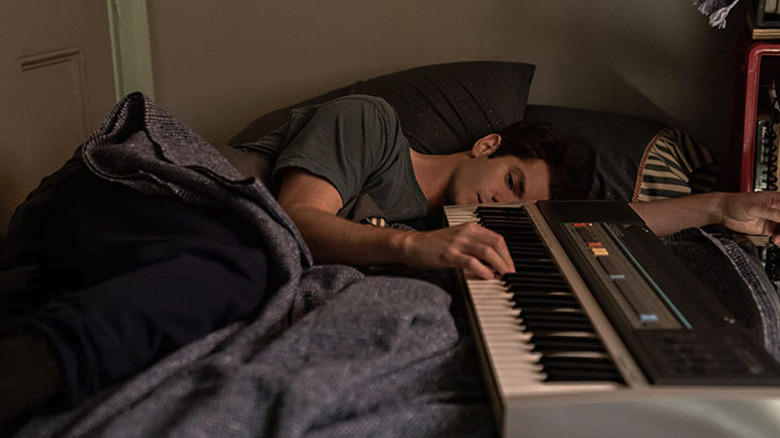 Netflix
2021 was the Year of Lin-Manuel Miranda, but "In the Heights," "Encanto," and "Vivo" can all step aside, because his greatest achievement of the year was his feature directorial debut "tick, tick...BOOM!", an adaptation of an early stage musical by "Rent" creator Jonathan Larson. How does an artist handle the cognitive dissonance of living in a world that feels bleak while also keeping a social life and trying to wrestle their creativity into something tangible and meaningful? Miranda explored similar ideas in his acclaimed Broadway hit "Hamilton," and despite this film being set 200 years later, that conflict continues to feel vital and timeless and something he's fascinated with as a storyteller. This is one of the best movies I've ever seen about the sometimes seemingly impossible choice between art and commerce, and Andrew Garfield delivers one of the best performances of the year as Jonathan Larson, imbuing him with both a tragic sense of urgency and an infectious joy that makes you fully understand why Larson had such a tremendous impact on the generation behind him. I'm thrilled that when I think about Jonathan Larson's legacy in filmic terms, I will now instantly think about this movie instead of Christopher Columbus' borderline unwatchable adaptation of "Rent" from the mid-2000s.
4. West Side Story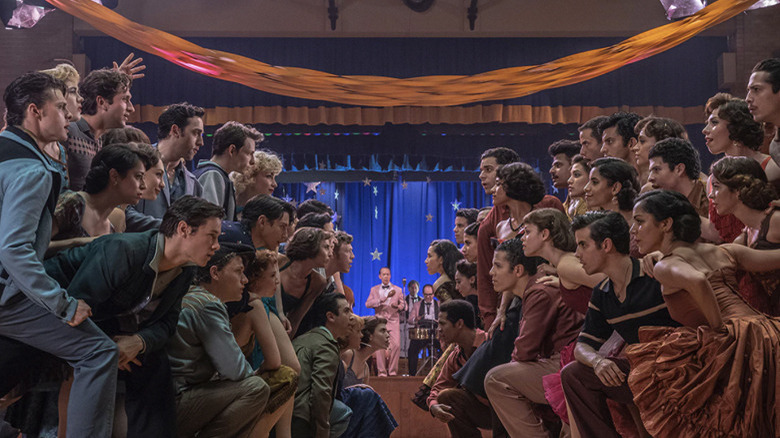 20th Century Studios
A wondrous explosion of color, emotion, and kineticism, Steven Spielberg's first musical did what many (myself included) thought might be impossible: It took a classic, Oscar-winning, undeniable cinematic triumph and actually improved on it. Sure, there may be little moments or aspects of Robert Wise and Jerome Robbins' 1961 version of "West Side Story" that I prefer here and there. But Spielberg's version, with the help of writer Tony Kushner, deepens the key relationships in effective ways, gives the movie a sharper connection to its modern-day parallels of futile desperation and violence in the face of oppressive systems, and breathes new life into a well-worn story in a way that makes it feel vital and fresh and engaging all over again. The supporting performances are terrific across the board (especially Ariana Debose as Anita), and you get the sense that Spielberg was relishing every second of finally being able to realize a decades-long dream. What a movie.
3. CODA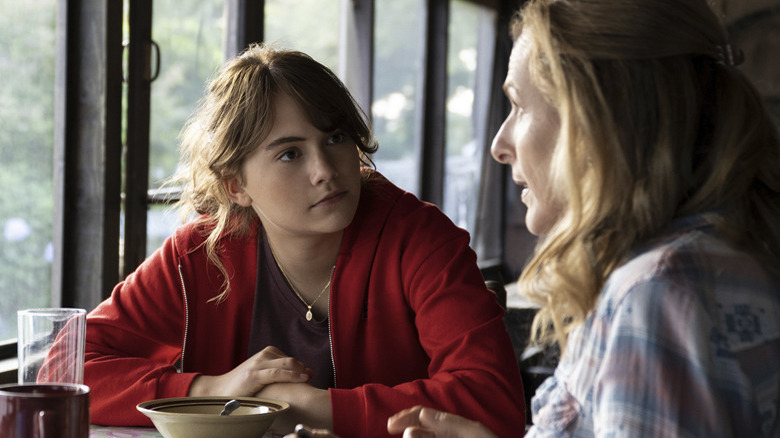 AppleTV+
All I knew about "CODA" before watching it was that the title stood for "Child of Deaf Adults," and the movie was supposed to be a tearjerker. I didn't realize it was going to be an inspiring story about a teenage girl faced with an impossible predicament: Does she stay in her small town and help translate for her family, since she can hear while her brother and parents are deaf? Or does she leave them behind and pursue her own dreams of studying music? It's a classic dilemma told from a unique perspective, and writer/director Sian Heder takes the universal idea of parents not understanding their child's artistic expression and makes it heartbreakingly literal: Frank (an excellent Troy Kotsur) and Jackie (a wonderful Marlee Matlin) physically cannot hear their daughter Ruby (Emilia Jones) when she sings. It's a beautiful film about the crushing weight of responsibility, the sacrifices we make in the name of creativity, and the fact that no matter how far we are away from home, the ones we love will always be with us. Is it a little cheesy? Absolutely. But it's also undeniably effective. Consider my tears jerked.
2. Bo Burnham: Inside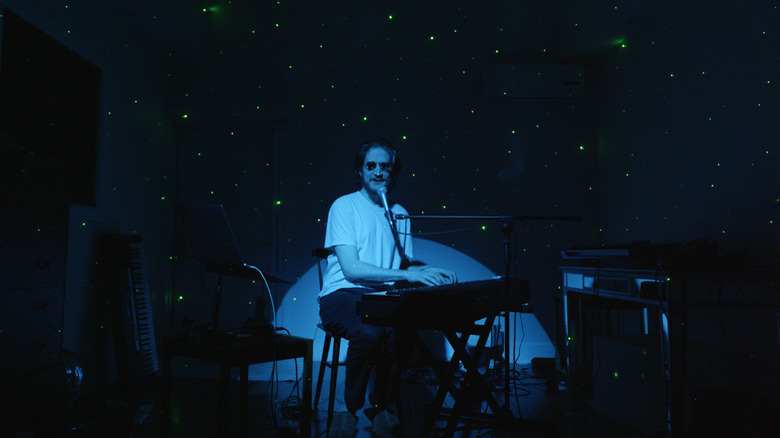 Netflix
I suspect some people might quibble with this project's inclusion on this list. "That's not a real movie!" I imagine them shouting. "That's a comedy special!" Sorry, imaginary person, but I think Bo Burnham's comedy special is more cinematic than most of the other movies I saw last year. Burnham is a beloved and hugely popular comedian, actor, and director who doesn't need any extra plaudits from me, but I'll give him one anyway: "Inside," his one-man show that was written, performed, edited, and shot by himself is one of the most impressive single-person creations I've ever seen in a visual medium. "Inside" not only serves as a time capsule of the pandemic's first year, but as a prime example — my new go-to example — of how tight creative boundaries can result in transcendent art. It's a staggering accomplishment on a technical level, but it also packs an emotional wallop: it's therapeutic, cathartic, quietly beautiful at times, and — this is a comedy special, remember — consistently hilarious. I have no qualms about referring to this as a work of genius.
1. The Harder They Fall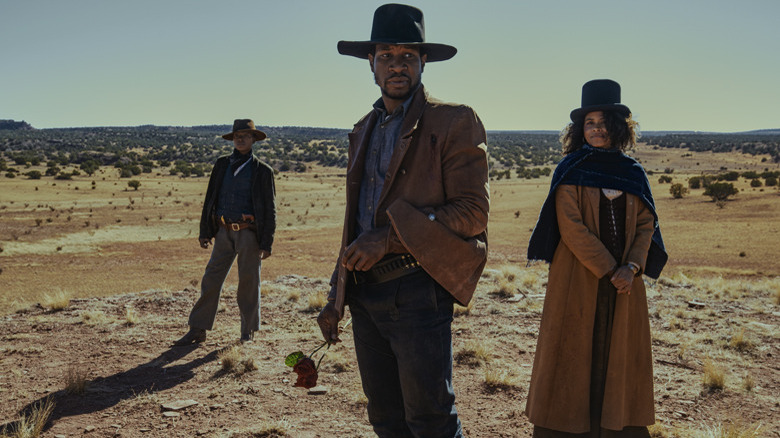 Netflix
Remember that scene in "The Lord of the Rings: The Return of the King" when Sauron's army brings out that giant battering ram carved into a wolf — the one with actual fire burning inside it — and uses it to break down that massive door at Minas Tirith? "The Harder They Fall" is that gigantic battering ram: a stylish, fiery thing that obliterates barriers will hopefully inspire hordes of followers to scramble through the hole it created. Co-writer and director Jeymes Samuel's Western tells an operatic story, one that feels classic and familiar in that ineffable way that the best stories can sometimes feel as if they've always been sewn into humanity's grand tapestry of storytelling. 
Some might glance at this film and think a Western with an all-Black cast is just a gimmick, or that this movie's narrative is overshadowed by its modern soundtrack, its slick editing, or its immaculate production design. But there's true power in the way all of those elements collide and compliment each other here, forming not just a battering ram to blaze the trail for future generations, but one that announces the arrival of a director who unabashedly embraces the magic of maximalist cinema. Crucially, though, as all of this style is woven into the movie and enhances its settings and dynamics, the lead performances are playing everything with Shakespearean levels of gravitas. We get another star turn from Jonathan Majors as the tortured hero Nat Love, and while casting Idris Elba as a villain is almost cliche at this point (his skills were completely wasted in "Star Trek Beyond" a few years ago), he brings a complexity to this role that muddies the traditional "white hat vs. black hat" juxtaposition showcased in so many Golden Age Westerns. Samuel has said in interviews that he wants to continue making Westerns (at least in the near future), and I'm thrilled that one of Hollywood's oldest genres has finally received a much-needed infusion of new blood.