Why Brent Spiner Called His Time As Star Trek's Data A 'Double-Edged Sword'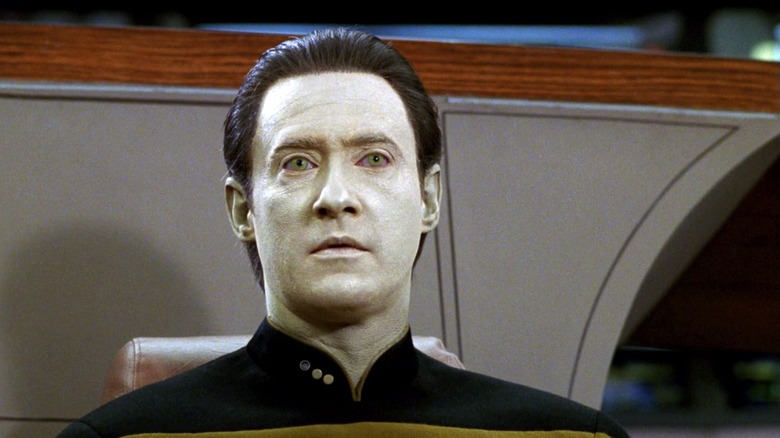 ViacomCBS
In October of 2021, actor Brent Spiner's "memoir," was published. Spiner is perhaps best known for playing the android Data on "Star Trek: The Next Generation," as well as Data's twin brother Lore, his prototype B-4, their creator Dr. Noonien Soong, an ancestor of theirs, Dr. Arik Soong, and a descendent of theirs, Dr. Altan Soong. Spiner has, of course, had a long acting career and has also appeared in films like "Independence Day," TV shows like "Night Court" and "Gargoyles," and voiced famous pop figures like the Riddler ... but Data will always appear at the top of his résumé. 
Spiner seems to be at peace with this, although with a note of ambivalence. In an interview he once gave in 1994, when "Star Trek: The Next Generation" was about to end its seven-year run, he acknowledged the mark that "Star Trek" leaves on any actor. He said that he could go on to win an Academy Award, but Data would still be mentioned first in his obituary.
In a recent interview with The Washington Post, Spiner mused on this notion further, and talked about how playing Data was a two-edged sword. 
But First, That Bonkers Memoir Idea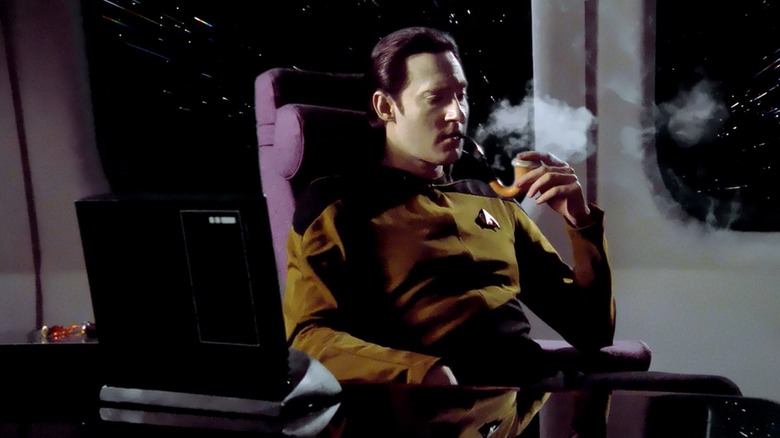 ViacomCBS
Spiner's memoir is not the typical approach. In the Post interview, he says that he initially intended to contribute as little as possible and claim a check. "I was going to tell [my ghost writer] a quick story, have a couple glasses of wine, and reap the benefits." Most celebrity memoirs, you'll find, are typically ghost-written, at least partially. When pandemic lockdowns began, however, Spiner's ghost writer Jeanne Darst consistently encouraged a weird idea he had to write a fictionalized account of his time working on "Stat Trek: The Next Generation" reimagined as a mystery story wherein he was being pursued by a fictional stalker. Jonathan Frakes, his wife, and other actors "play" themselves. The title is "Fan Fiction: A Mem-Noir – Inspired by True Events." You can pick up a copy here. 
The book is very much about the relationship an actor can have with their fans — a blessing and a curse — and their relationship with fame. 
The Two-Edged Sword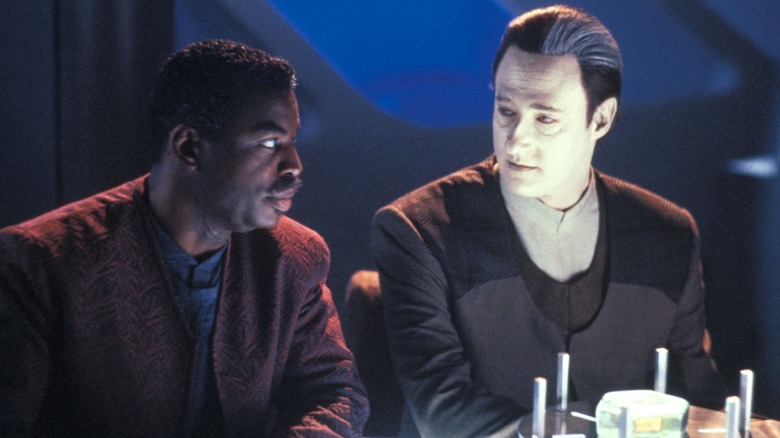 ViacomCBS
The double-edged sword Spiner refers to is how playing a popular role on a hit/cult sci-fi TV series can both cement your fame, but close off opportunities:
The larger part of that sword has been very positive. It's been a great job. On the other hand, what I was trained to do was to play as many different things as possible, so it has been limiting sort of in that way.
Typecasting can be a problem for actors who would like to demonstrate their range, and, as other "Star Trek" actors can attest, fame can cut one off from other roles. For example, Leonard Nimoy, trying to expand past his typecasting, wrote a memoir called "I Am Not Spock." Later, he came to peace with this position and wrote a second memoir called "I Am Spock." Spiner continued:
I think there are times maybe I haven't gotten a job because I am so identified with the character. I, frankly, like to think I've been typecast as the reason when I don't get jobs, because the alternative is that I'm just lousy. But all that being said with relation to character, if I had to have one character that I had to be typecast as, it would be this character. There is a feeling of trust people have in the character that he's incapable of hurting them.
There's also the matter of "Star Trek" offering Spiner a great deal of range as Data. Data may have been an emotionless character, but thanks to holodeck glitches and intergenerational shenanigans, he was offered a great range of characters to play:
But also, because I also got to play so many different things on the show as him, I got to try on the skin of all kinds of different types of humanity. I got to play his brother, his father, his uncle, his ancestors. It turned out to be a role that I was actually able to stretch a bit.
Spiner is generally positive about his time playing Data and he will no doubt continue to work, expand, and test himself as an actor, and while being at peace that he will, in the public eye, always be Data. And that's okay.