Apparently, Andrew Garfield Was Not Hot Enough To Hang Out With Talking Lion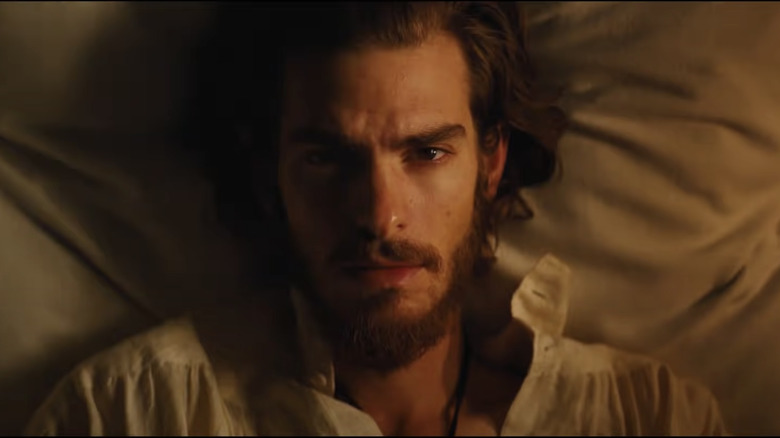 Paramount Pictures
Andrew Garfield just reported a crime. Apparently in the year 2008, when chaos clearly reigned supreme, the then 25-year-old actor was denied the titular role in "The Chronicles of Narnia: Prince Caspian" because — and this may sound insane — he wasn't "handsome enough." Believe it or not, someone looked at a headshot of this future heartthrob and against all odds decided he wasn't hot enough to share the screen with a talking lion or sword-wielding mice. Garfield recently told this tragic tale to Variety, where he said:
"I remember I was so desperate. I auditioned for Prince Caspian in 'The Chronicles of Narnia' and I thought, 'This could be it, this could be it. And that handsome, brilliant actor Ben Barnes ended up getting the role. I think it was down to me and him, and I remember I was obsessed."
Even after being turned down, his obsession with the role refused to fade. So he put it to good use and bugged his agent for answers: "She eventually just broke under my incessant nagging and she was like, 'It's because they don't think you're handsome enough, Andrew.'" 
Fighting against every impulse in my body, I won't spend the next hundred words lamenting the absolute insanity of this take nor will I go in depth about Andrew Garfield's effortless ability to pull of Prince Caspian's long hair (see Martin Scorsese's "Silence") but just know that this is madness. Just picture it: Andrew Garfield walks into an audition room in his Prada and his hoodie and his f***-you flip-flops and gives a rousing performance as the naive and dashing Prince Caspian, and despite his endless charisma, somehow loses the role. What kind of cruel world do we live in? Sadly, it's not a matter of just being handsome, he had to be the handsomest star to breeze through the audition room and he was up against the supernaturally beautiful Ben Barnes ... who I assume is now his archnemesis.
Of his fellow leading man, Garfield said: "Ben Barnes is a very handsome, talented man. So in retrospect, I'm not unhappy with the decision and I think he did a beautiful job." The kind words don't hide your true feelings, Andrew, we all know you're still seething with rage.
Andrew Garfield Is Handsome Enough, Stop Lying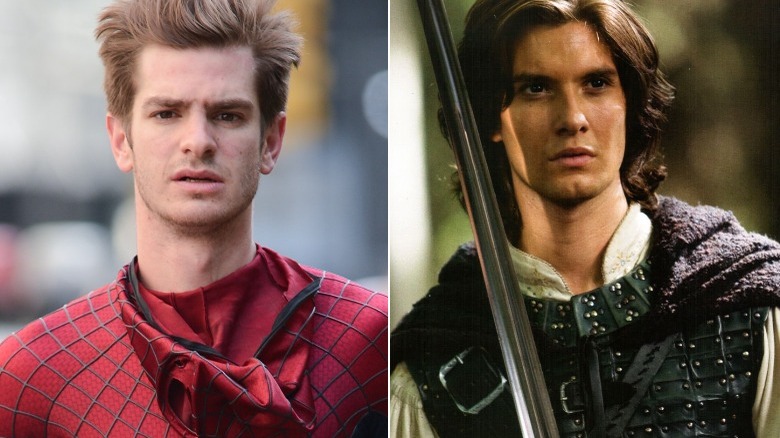 Sony Pictures / Walt Disney Studios
Perhaps this info would be less painful if not for the fate awaiting Garfield just four years later: he would go on to land an even grander franchise role as Peter Parker in Marc Webb's "The Amazing Spider-Man" movies. And that's great, right? It kickstarted his overwhelmingly successful career and let him play a character he's loved since childhood! But maybe our lovely British star is cursed or something because even though he landed the role, his looks still became a topic of discussion. This time, people complained that his Peter Parker was "too cool" and "ridiculously handsome." Is there no way for Andrew Garfield to win?! I mean, he has a BAFTA and a Golden Globe and a Tony, but he's also trapped in an endless loop of being both too handsome and not handsome enough. Oh, Andrew...
Back when Prince Caspian was setting its sails for Narnia, Andrew Garfield was at the very beginning of his career. He was coming off of his acclaimed role in John Crowley's "Boy A," and a smaller role in the Robert Redford drama, "Lion For Lambs," where he starred alongside Tom Cruise and Meryl Streep. As for Barnes, he'd just made his feature debut as young Dunstan Thorn in "Stardust" (2007), and Narnia was his big break. In the end, both these stars rose to the top and we now have the pleasure of enjoying both their bodies of work. And since they're both at the top of their game, now seems like the perfect opportunity for the duo to squash their rivalry (which is definitely real and not something I just made up) and share the screen! 
Here's the pitch: à la "The Unbearable Weight of Massive Talent," Andrew Garfield and Ben Barnes star as themselves in "Will The Real Prince Caspian Please Stand Up." Listen, it's a brutal world out there and the people need joy, so maybe all actors should take a page out of Nicolas Cage's book and star as parodied versions of themselves. Garfield and Barnes can duke it out for the role of Caspian and eventually, the movie can take a right turn into the rom-com lane, go full enemies-to-lovers and see the pair fall in love. It'll win all the Oscars and everyone will be happy forever, thanks for coming to my TED Talk.