Why Inside Out Changed So Many Scenes For Its Overseas Release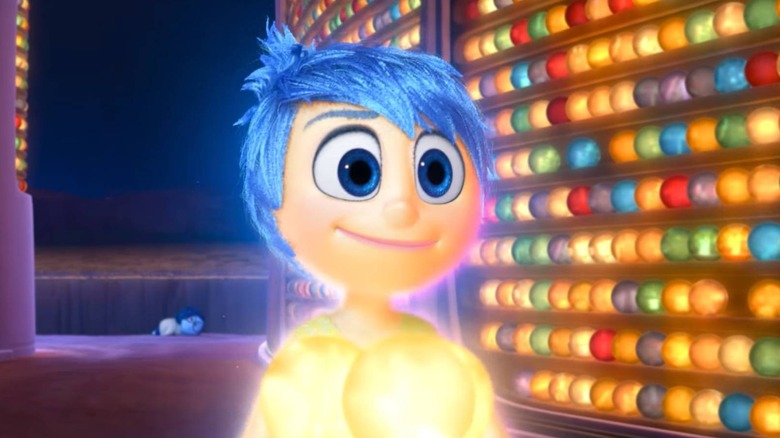 Pixar Animation Studios
"Inside Out" may have been released six years ago, but it remains one of the most joyful, quirky animated features I've seen, and it's a firm favorite with my daughter. It tells the story of Riley, a young girl who is struggling with her emotions as she leaves her hometown behind. It's a story that everyone can relate to with colorful animation and a wacky take on what goes on inside our heads. Joy, Sadness, Fear, Disgust, and Anger are the main characters in Riley's story — her emotions personified in the cutest, most hilarious way possible. Both my daughter and I still laugh our heads off at Anger's outbursts.
But while it captured the hearts of audiences around the globe, not everyone saw the same version of the film.
Pixar simulation artist David Lally revealed a subtle change in the movie for Japanese audiences — the broccoli had been switched out for green peppers. "All of the broccoli in #InsideOut was swapped w/ green peppers for Japan," he said in a now-deleted tweet. "Peppers are 'Disgust' there, not broccoli!"
Why the subtle change? Director Pete Docter explained that it was all about the culture.
Broccoli Isn't Considered Gross in Japan, But Bell Peppers Are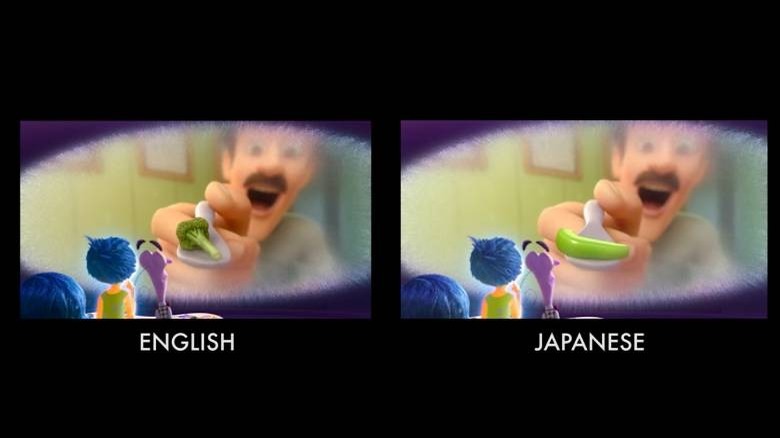 Pixar Animation Studios
We often think of translation and dubbing when it comes to international versions of Hollywood films, but Pixar movies often make subtle changes to the film itself. "Inside Out" does this beautifully in the scene where a young Riley won't eat her greens. The domestic version features Riley disgusted by a bowl of broccoli, but in Japan, the vegetable is widely popular. The solution? Animate the whole scene again with green bell peppers.
"We learned that some of our content wouldn't make sense in other countries," said Docter in a statement to Tech Insider. 
"In Japan, broccoli is not considered gross. Kids love it. So, we asked them, 'What's gross to you?' They said green bell peppers, so we remodeled and reanimated three separate scenes replacing our broccoli with green peppers."
The resulting scene now has the same emotional impact in Japan as it would have elsewhere, something which would have been easily lost otherwise. When it comes to my daughter, it's brussels sprouts that would have made the scene all the more barf-inducing. Thankfully, Pixar stuck with broccoli here in the U.K. But this wasn't the only change for international audiences.
One Scene Switched Hockey Highlights for Soccer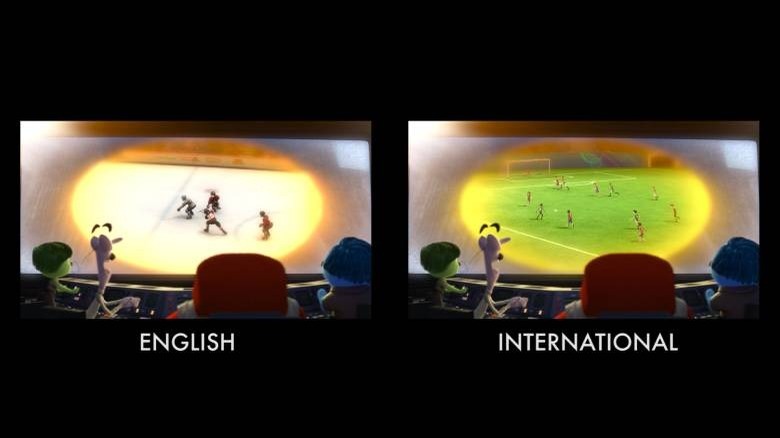 Pixar Animation Studios
During a dinner scene early in the movie, Riley's dad hilariously glazes over while thinking longingly about a game of hockey. Typical dad behavior, right? Well, some countries saw a completely different version of the scene. "We offered a version with soccer instead of hockey since soccer is huge in so many parts of the world," explained Docter.
Interestingly, that change didn't make it to everyone. Here in the U.K., for example, we still saw the hockey game, despite British dads being absolutely obsessed with "soccer." (And yes, it pains me not to call it football.) Docter explained, however, why this wasn't always the best solution: "Some countries that are into soccer actually decided to stick with hockey since the characters in the movie are from Minnesota and it makes sense that they'd be hockey fans."
That makes a lot of sense, and if you ask me, it was the right call. It doesn't really matter that hockey isn't huge in the U.K. What matters is that it's a big deal to Riley and her family. But for some countries, the change was necessary.
Guess which sport plays in the Brazilian version?
Bing Bong Reads a Sign the 'Right' Way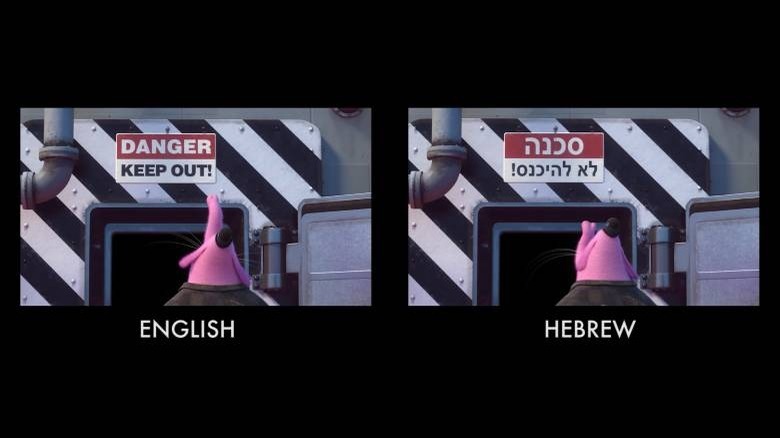 Pixar Animation Studios
There's also a subtle change involving my favorite "Inside Out" character, the lovable imaginary friend, Bing Bong. Pete Docter explained what it's all about:
"Bing Bong reads a sign in the film to Joy and Sadness. He points at the letters, D-A-N-G-E-R, saying 'it's a shortcut.' Not only did we translate the sign, but we even went so far as to reanimate Bing Bong so that he points to the letters from right to left, instead of left to right to accommodate certain languages."
It may seem like a minor difference, but it's subtleties like this that really immerse audiences in a movie. Pixar's attention to detail means that "Inside Out" resonates with international audiences, even though it's an American movie. Of course, the Pixar team are renowned for their attention to detail (with plenty of Easter eggs to be found) so it's not surprising to see the studio go the extra mile.
In total, there were 28 graphics localized across 45 different shots. That's a lot of additional work when you consider how many different countries would have been accommodated by these changes. But in the end, it's all worth it; Pixar uses these intricate changes to create an emotional connection to its audience no matter where they are. And while my family may not be big hockey fans (and not so repulsed by broccoli anymore), "Inside Out" still hits all the right notes. In a film this personal, that's well worth the effort.
What Other Changes Has Pixar Made?
"Inside Out" isn't the only Pixar movie to change things up for international audiences. In fact, they've made different versions of most Pixar movies, whether we realized it or not.
Ellie's adventure book in "Up" is a beautiful example of how Pixar adds a personal touch to localization, translating the book's cover into several different languages and even adding images instead of words to the Paradise Falls savings jar to make it more universally identifiable. In "Toy Story 2," local British celebrity Andi Peters voiced a character in the U.K. version of the movie. The brief cameo, where Peters voices a baggage handler during the film's exhilarating airport scenes, gave an added touch of local charm to the movie. It's something I remember from when I was a kid, and to this day, it makes me smile whenever "Toy Story 2" is on TV. 
It's these little touches that add rich detail to Pixar's movies and makes watching them internationally an equally beloved experience. Find out more about "Inside Out" with our behind-the-scenes look at one of Pixar's most imaginative movies.