New Scream Featurette Sets Its Sights On The Returning Original Cast Members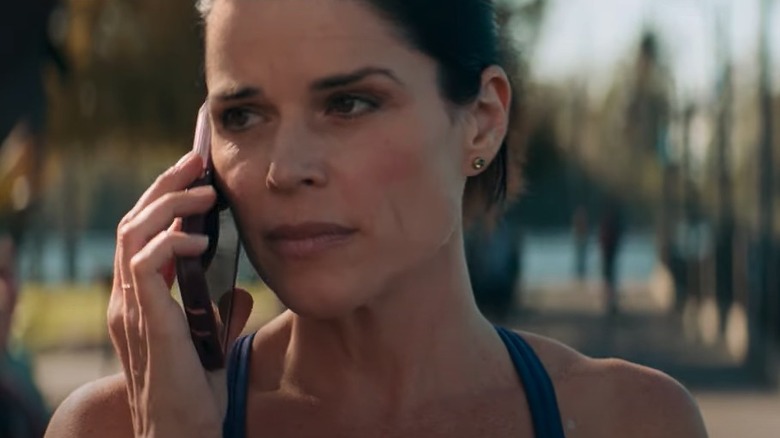 Paramount Pictures
A bunch of critics have screened the new "Scream" movie, and the early buzz is largely positive. The film premieres only in theaters on January 14, 2022, and today we have a brand new featurette called "Return to Woodsboro," with commentary from original cast stars Neve Campbell, Courteney Cox, and David Arquette. Here is the info for the new "Scream" movie:
Twenty-five years after a streak of brutal murders shocked the quiet town of Woodsboro, a new killer has donned the Ghostface mask and begins targeting a group of teenagers to resurrect secrets from the town's deadly past. Neve Campbell ("Sidney Prescott"), Courteney Cox ("Gale Weathers") and David Arquette ("Dewey Riley") return to their iconic roles in Scream alongside Melissa Barrera, Kyle Gallner, Mason Gooding, Mikey Madison, Dylan Minnette, Jenna Ortega, Jack Quaid, Marley Shelton, Jasmin Savoy Brown, and Sonia Ammar.
The first film premiered back in 1996, and was directed by Wes Craven. It was the story of a woman who is the target of a killer in a Ghostface mask, and it gave us a new spin on the horror genre. The main cast members (well, the ones who survived anyway) have returned to Woodsboro, and they're being stalked all over again. Who will live and who will die? We only have a week left before we find out!
'The Film Feels Like the First Scream'
The featurette starts with a glimpse of the big shocker scene from the first film with Drew Barrymore on the phone with the killer. "That 'Scream' will always be looked up to and looked back at," says Courteney Cox in the featurette. Neve Campbell adds, "We knew we were a part of something that felt like it was on fire." 
We'll be getting a lot more of Dewey (Arquette) and his journey in the new "Scream," according to the video interviews. Even better? Cox tells us that it's "really scary," and we can certainly see that in the glimpse we have of Ghostface attaching Sidney. Even that little clip made me jump out of my seat. Hold me? 
"Scream" is directed by Matt Bettinelli-Olpin and Tyler Gillett, written by James Vanderbilt and Guy Busick, and based on the characters created by Kevin Williamson. Are you ready to return to Woodboro? Who do you think is behind the mask? Let us know @slashfilm!