New Battlestar Galactica Movie Will Share A Universe With The Upcoming Series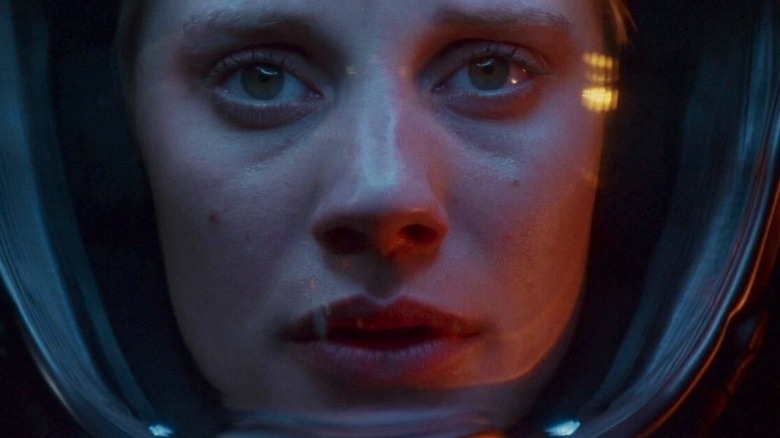 Syfy
Shared universes are a common thing these days. Heck, even Marvel and Sony have characters that link in the superhero world, meaning world peace might actually be attainable. Though it's been a good decade since we last saw "Battlestar Galactica" on our television screens, we're going to get a lot more of it soon. Perhaps you've heard about the "Battlestar Galactica" movie and new TV series? Well, it appears that they're going to share a universe. That's good news for fans, but not that surprising in a world where Marvel and "Star Wars" have interlinking stories going across TV and film.
'There is a Synergy Between the Two Enterprises'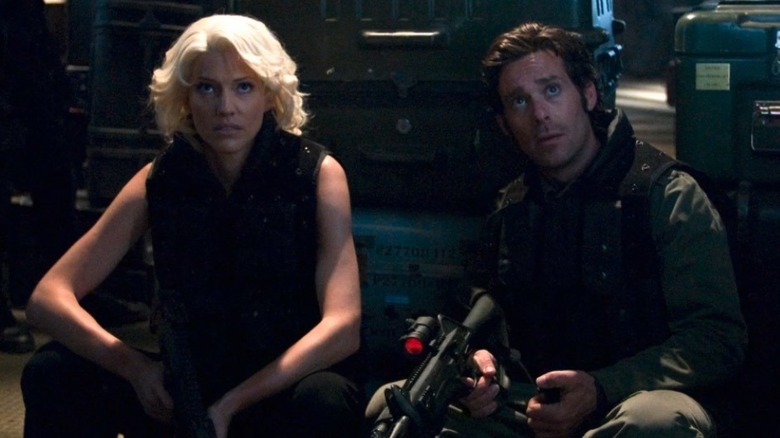 Syfy
In an interview with Collider about "The 355," director/writer/producer Simon Kinberg spoke about how these things might come together. Kinberg has been attached to write and produce the "Battlestar Galactica" film since 2020 with Dylan Clark ("Rise of the Planet of the Apes"). The TV series was announced for NBC's streaming service Peacock in 2019 from executive producer Sam Esmail ("Mr. Robot"). In the interview, Kinberg says of the "Battlestar Galactica" film:
"We are in the process of going out to directors and the hope is to attach a director and start prepping the movie this year. It's a megillah, humongous film and the prep will be a very long prep period so I would imagine even if we attached a director today it would take six, nine months to prep this movie properly. So at the earliest, we'd be shooting at the end of this year. We'd probably be shooting at the beginning of next year. Time will tell who the director is and then you or someone else will tell who the director is."
On the show and the film being connected, he says:
"In terms of the situation with Sam and the show, I can't say too much about it other than there is synergy between the two enterprises and constant communication between us. We've become close and been having a really good time together and there will be, for lack of a better phrase and it's an overused phrase, a shared universe."
'There Are Connections'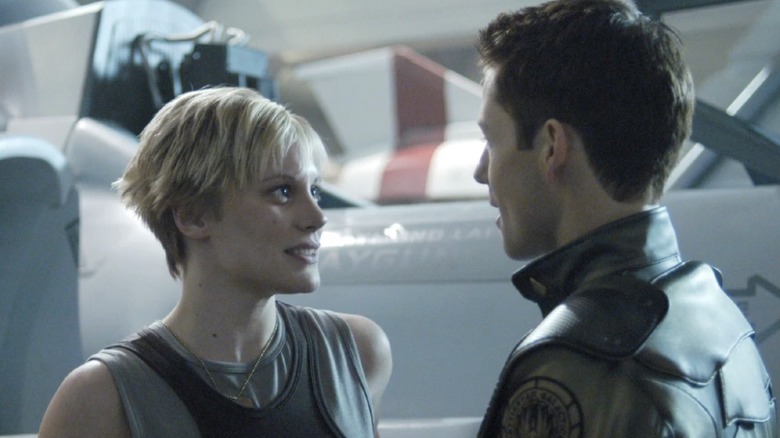 Syfy
That sounds promising. The question remaining is whether or not this will be connected to the series that blew us away a decade ago. Kinberg says, "There are connections, but it is certainly not simply a continuation or a remake of Ron Moore's masterpiece." Well, that's something. What I would really like to know, however, is if we'll see anyone from the prequel series "Caprica." That show got a raw deal as far as I'm concerned. Go re-watch it if you have a chance. It deserved so much more recognition, and I really miss it. 
If there are "connections," I'd also love to hear of any of our favorite actors will show up. Just ... find a way to put Katee Sackhoff in there, okay? Considering how the original (well, the modern original) series ended (no spoilers), I'm sure you can come up with something.