Will There Be A Fear Street Part 4? Here's What We Know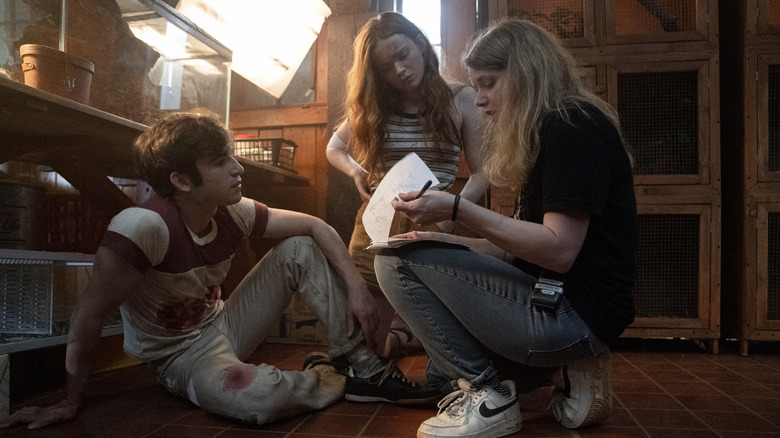 Netflix
Netflix's favorite new horror franchise, "Fear Street," came to an end with its third part released in July 2021. The film concluded the trilogy, revealing the curse that haunted the town of Shadyside for centuries. But is this the definitive end? Or are there more movies in the making?
The "Fear Street" trilogy was inspired by R.L. Stine's novels of the same name, a more unnerving and gruesome version of the author's famous "Goosebumps" books (which were targeted towards younger readers), and were also adapted for film and television. The story is set in the fictional town of Shadyside and is told over three films that take place in 1994, 1978, and 1666. "Fear Street" follows a group of teens trying to survive a witch's dangerous curse that has plagued their town for centuries, causing a different townsperson in each generation to be possessed and embark on a killing spree. The resulting investigation takes the group back to 1666, when a woman called Sarah Fier was accused of witchcraft and executed for her sins. 
Here's the synopsis for the trilogy as a whole:
In 1994, a group of teenagers discover the terrifying events that have haunted their town for generations may all be connected — and they may be the next targets. Based on R.L. Stine's best-selling horror series, FEAR STREET follows Shadyside's sinister history through a nightmare 300 years in the making.
"Fear Street" fans have wondered if the franchise will extend beyond its trilogy, and as per director and co-writer Leigh Janiak (who helmed the indie-horror film "Honeymoon"), there might be hope!
The Fear Street Cinematic Universe Is A Dream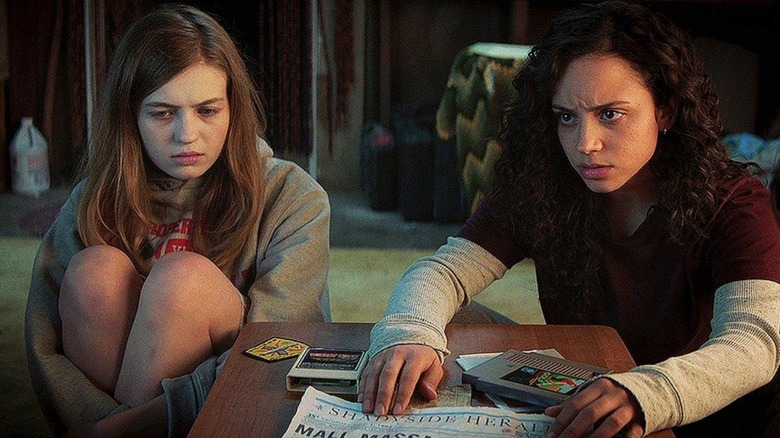 Netflix
In an interview with Collider, "Fear Street" director and co-writer Leigh Janiak revealed that the team "have ideas" for the trilogy to continue and pivot into a larger franchise. Janiak also told IndieWire that she had expressed her hopes for "Fear Street" to become the horror version of the Marvel Cinematic Universe for Netflix, as a film franchise that explores slasher killers from different time periods. 
"One of the things that I talked about before I was hired was that we have a potential here to create a horror Marvel, where you can have slasher killers from lots of different eras."
The main idea of the trilogy is built around the devil residing in Shadyside, a concept the director wanted to feature in other films. Janiak hoped to see the movies being well-received so that the team could develop another trilogy.
"You have the canon of our main mythology that's built around the fact that the devil lives in Shadyside, so there's also room for everything else ... I think that my hope is that audiences like it enough that we can start building out [more], we can think about what another trilogy would be, what standalones would be, what TV would be.

"I don't even think about it like TV or movies exactly anymore. That's the great thing about Netflix and about what 'Fear Street' is, which is kind of a hybrid new thing. I'm excited about the possibility of what else can happen."
Each part of the "Fear Street" trilogy became one of Netflix's most-watched movies during the weekend of its release, and the franchise has undoubtedly been successful for the streamer. The three films united to tell one story, and didn't stray away from gore (there are axes being buried in skulls, people!), serving as a reminder that this definitely isn't "Goosebumps." It's a pretty effective slasher franchise and, with Janiak's vision, it would be interesting to see "Fear Street" grow.
Is There A Release Date For Fear Street 4?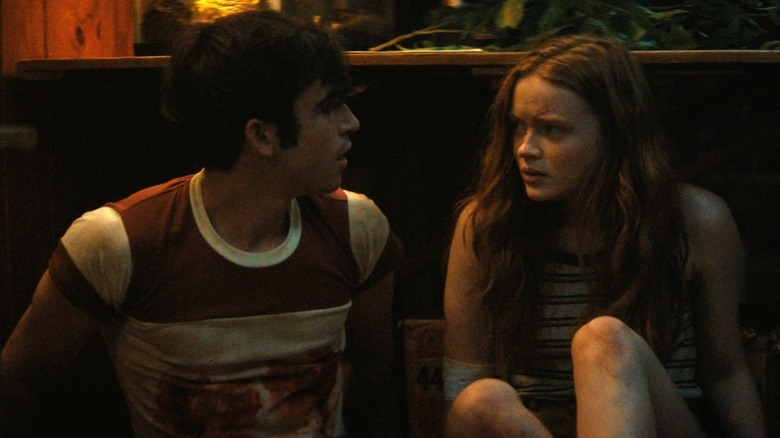 Netflix
While Janiak has expressed her hopes to continue the trilogy, Netflix has yet to officially announce the fourth film in the "Fear Street" series. Though the movies are inspired by R.L. Stine's novels and take place in the same universe, they're not directly adapted from them. With over 30 books in Stine's "Fear Street" series, there's plenty of source material still to draw from.
The "Fear Street" movies were originally scheduled to be released on the big screen before the pandemic restrictions put those plans on held indefinitely, at which point they were acquired by Netflix. The trilogy was released on the streamer between July 2 and 16. Netflix hasn't teased a fourth film yet — but with Janiak on board to continue expanding the "Fear Street" universe of films, there might be good news for fans in the coming months!
Which Cast Members Could Return For Fear Street 4?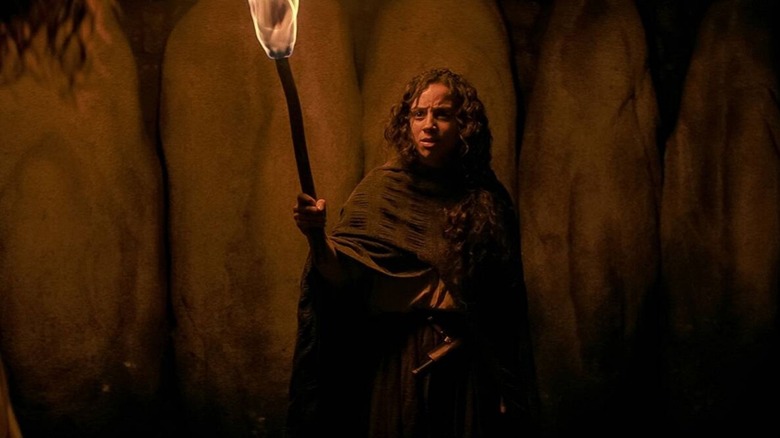 Netflix
There's no official word on any "Fear Street" cast members returning for sequels or spinoffs, but the franchise has already established a precedent for the same actors portraying multiple characters. For instance, cast members such as Sadie Sink, Kiana Madeira, and Olivia Scott Welch play dual roles, returning in "Fear Street Part 3: 1666" to play the ancestors of their 20th century characters. This gives "Fear Street" the opportunity to bring back original cast members, even if they were killed off.
Since Janiak has voiced her hope for a new trilogy series set in Shadyside, it means we might see familiar faces return. Other cast members include Maya Hawke, Emily Rudd, Ryan Simpkins, Mccabe Slye, Ted Sutherland, Benjamin Flores Jr., Jordana Spiro, Gillian Jacobs, Ashley Zukerman, Chiara Aurelia, and Jordyn Dinatale.