Ozark Season 4 Part 1 Trailer: The Byrdes Are Back And Deadlier Than Ever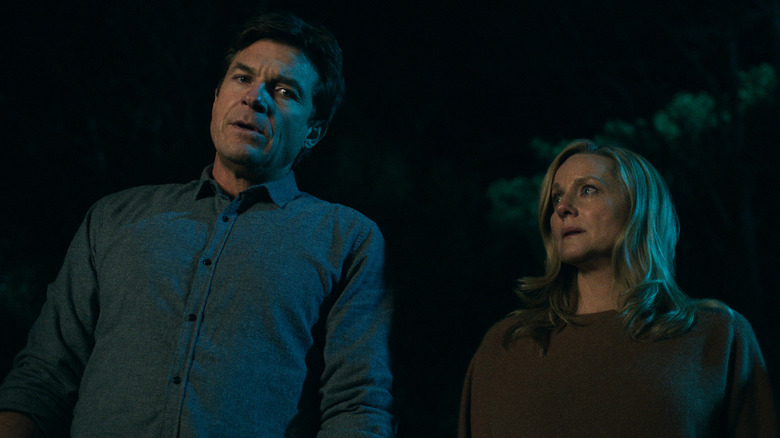 Netflix
The last time we checked in with the Byrdes, they were covered in blood — two years later, nothing much has changed. Season 4 of "Ozark" is picking up where the last left off, with our favorite suburban power couple threatening former allies and preparing for all-out war alongside a Mexican drug cartel. The more things change, the more they stay the same.
As usual, "Ozark" has completely upended the status quo: this time around, Marty (Jason Bateman) and Wendy Byrde (Laura Linney) are reeling in the wake of Helen Pierce's (Janet McTeer) death and struggling to figure out their next move. Turns out that laundering money for a Mexican drug cartel isn't a great long-term career path and deadly consequences loom on the horizon unless they can manage to deliver on his every impossible request. And what does cartel leader Omar Navarro (Felix Solis) want this time? Oh nothing much, just a teeny tiny immunity deal with the U.S. government. And to make matters worse, this is the request that sets "Ozark" on course for its final season, as the gripping drama comes to a close in just 14 episodes.
Because we must be tortured with the virtue of patience, Netflix has decided to split the supersized season into two halves — two weeks from now the first seven episodes will premiere to the streamer, and later in the year, the final seven will follow. Does anyone else see a cliffhanger on the horizon, or is it just me? No matter, that's a problem for future us! For now, we finally have the first trailer for part 1 of "Ozark" season 4.
Ozark Season 4 Trailer
The trailer gets off to a bittersweet start: the Byrdes and their longtime partner, Ruth Langmore (Julia Garner) sitting on opposite ends of a table. Marty's former protégé has officially split ties with the family to partner up with Darlene Snell (Lisa Emery) the occasionally unhinged woman behind a local heroin operation. Sadly, this makes her an enemy of Navarro's and therefore of the Byrdes, who call their rivals in with a warning: Navarro's response is gonna be "quick and brutal." Naturally, this is capped off with Wendy's signature sickly sweet tone, a smile on her face and a threat behind her eyes. It's nice to see Ruth putting distance between herself and the Byrdes — she even shrugs off Marty's sage wisdom to not get herself killed. Her sharp response says it all: "Like you f***ing care." But this is a double-edged sword. While Ruth suffered immensely as a partner of Byrde operations, she may be in graver danger as their enemy. 
Another major development sees Marty's BFF FBI agent face to face with Navarro, who's looking to negotiate a deal that he promises will free the Byrdes of all ties to his operation. Given the tagline of the season is "no one gets out clean," I'm guessing we shouldn't take him at his word. And should the Byrdes be allowed to walk away happily? After all the lives they've destroyed? Back in 2020, Bateman hinted at the answer to this question shaping the story's end:
"I was interested in the big question he has the opportunity to answer: Are they going to get away with it, or are they going to pay a bill? What does he want to message to the audience about the consequences of what the Byrdes have done – or lack thereof?"
With Jonah (Skylar Gaertner) laundering money and Charlotte(Sofia Hublitz) learning her parents operation up close, it seems pretty clear that walking away clean is out of the question for the Byrdes. Not to mention Navarro's ominous word of advice, "Your greatest threat will always come from the inside."
The first seven episodes of "Ozark" season 4 premiere January 21 on Netflix, with the final seven episodes arriving later in the year.