The Ledge Trailer Has Murder And Suspense On The Rocks [Exclusive]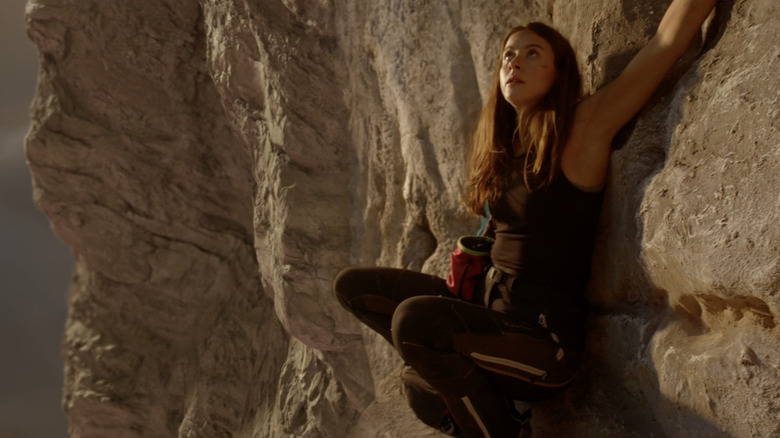 Paramount Pictures
Saban Films and Paramount Pictures have provided /Film with the exclusive debut of their trailer for the high-climbing suspense thriller "The Ledge," which is set to hit theaters, digital and on demand on February 18, 2022. The film stars Brittany Ashworth ("Hostile," "Accident Man"), Ben Lamb ("Now You See Me 2"), Louis Boyer ("Outside the Wire"), Nathan Welsh ("Trust Me"), Anaïs Parello ("Parlement") and David Wayman ("13 Seconds in Kent State"). Check out the full trailer in the player below!
The film puts an ordinary girl in a treacherous situation where she witnesses the murder of her friend and the only way to escape the murderous bros who did the deed is to ascend up an insane cliff face. Once she begins her ascent she is doggedly pursued and faces constant danger from these men, on top of the inherent danger of simply climbing the mountain. It's a female-centric take on 1993's "Cliffhanger," but instead of Stallone taking on terrorists at high altitude it's a young woman battling both the elements and toxic masculinity on steroids. This will have to do until the actual female-centric remake of "Cliffhanger" gets here. 
The Ledge Trailer
As you can see, "The Ledge" looks to be precisely the kind of straightforward suspenser that fans of the genre crave, with a minimal cast and a natural escalation of the inciting situation. There also appear to be gorgeous wildlife settings, and whatever scenes were filmed on an artificial cliff against bluescreen appear as seamless as can be. Coming in at a tight 86-minutes, this is precisely the kind of old school flick we're looking forward to in 2022. As far as survival movies go, the stakes don't get any higher than this ... quite literally!
We're also exclusively debuting this new poster for "The Ledge." Don't look down! (Though actually do look down, because that's where the poster is.)
"The Ledge" is directed by Howard J. Ford ("The Dead," "Adventure Boyz," "The Lockdown Hauntings") from a screenplay by Tom Boyle ("Nature Unleashed: Volcano"). It is produced by Kate Hoffman, Fred Hedman and Miloš Đukelić. 
Here is the official synopsis: 
A rock climbing adventure between two friends turns into a terrifying nightmare. After Kelly (Brittany Ashworth) captures the murder of her best friend on camera, she becomes the next target of a tight-knit group of friends who will stop at nothing to destroy the evidence and anyone in their way. Desperate for her safety, she begins a treacherous climb up a mountain cliff and her survival instincts are put to the test when she becomes trapped with the killers just 20 feet away.