Netflix Says F*** It, Orders Game Show Called Bulls***
Bell Media
Hot on the heels of Korean thriller series "Squid Game" dominating pop culture, Netflix is again trading in on cash-strapped contestants vying for riches. The streaming giant's latest non-scripted order is for "Bullsh*t: The Game Show," a series where fake news is as good as real news as long as your mark is gullible enough — a truly American show, indeed. "America's Got Talent" judge (and former host of "Deal or No Deal") Howie Mandel is set to host in the summer of 2022.
"Bullsh*t: The Game Show" comes courtesy of Christopher Potts and Jonty Nash by way of their production company Nobody's Hero; the same duo is behind Netflix's competitive fail-fest "Nailed It!" Potts and Nash has previously gained notice with offbeat non-scripted titles like a competitive dating reality series with artist Meat Loaf, based on his 1993 single and karaoke staple, "I'd Do Anything for Love (But I Won't Do That)". The show, shot in New Mexico, will give contestants a shot at a big payoff, whether they know the answer or not.
The way it works is throughout the game, players work their way up a money ladder one of two ways: either they can answer questions correctly, or they can confidently bluff with incorrect answers and convince others that they are right. With riches on the line, "Bullsh*t" is a game where you don't have to spin a wheel of fortune to stay out of jeopardy, you just have to know how to play the players and be the slickest cat in the room.
Where The Rules Are Made Up and the Lies Don't Matter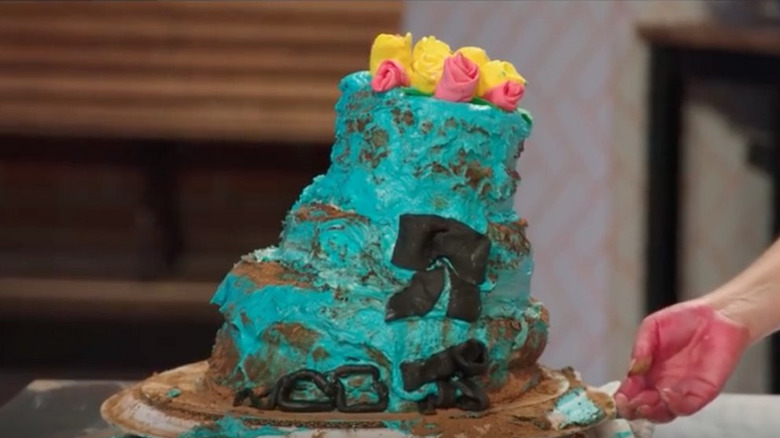 Netflix Studios
While "Nailed It!" is a fun ode to those of us trying to become five-star chefs from home, "Bullsh*t" is a fitting premise for a North American series in the current landscape, where bad faith ignorance is given equal footing with knowledge — rewarded, even. "Bullsh*t: The Game Show" is backed by ITV America, which has had an overall deal with Potts and Nash since 2020. David Friedman serves as showrunner, following up on executive producer credits for NBC's "Titan Games" and Fox's "The Four: Battle for Stardom." He executive produces alongside Nash and Potts, as well as David Eilenberg and Simon Thomas of ITV America. Alan Carter ("The Voice") directs the series.
Co-host of "Howie Mandel Does Stuff" podcast (along with his daughter Jackelyn Schultz), Mandel has the resume for the hosting gig, having served as the frontman and executive producer for CNBC's "Deal or No Deal" and co-hosting with his son Alex on Nat Geo Wild's "Animals Doing Things" has previously given 11 seasons of judgeship on NBC series "America's Got Talent," and will also be making the lateral move to front the "Canada's Got Talent" reboot next to Lilly Singh, Kardinal Offishall and Trish Stratus; the show will air on CityTV in March of 2022. The "Bobby's World" creator is the subject of documentary "Howie Mandel: But Enough About Me" which is currently streaming on Peacock.
"Bullsh*t: The Game Show" is set to arrive on Netflix in the summer of 2022.