The Book Of Boba Fett's Composer Might Have Found Inspiration From A Deep, Deep Cut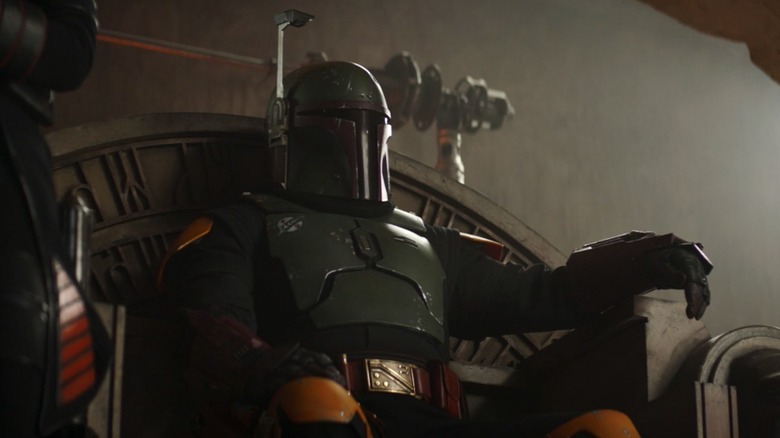 Lucasfilm
When most people watch "The Book of Boba Fett" on Disney+, they probably don't have a frame of reference that includes Swedish children's movies from the 1980s. Unless you're actually from Sweden like composer Ludwig Göransson, it would take a keen ear and a working knowledge of lesser-known foreign films to spot the similarities between the series' theme song and the score of one such movie, "Ronia, the Robber's Daughter."
Multiple listeners of the /Film Daily podcast do have a keen ear and have indeed written in, noting the similarities. Based on a children's book by Astrid Lindgren, "Ronia, the Robber's Daughter" is a 1984 fantasy film that Sweden submitted as its entry for Best Foreign Language Film at the 58th Academy Awards. Ultimately, it didn't score a nomination, as there were many other countries vying to make the shortlist with their own submissions. However, it won the Silver Bear at the Berlin International Film Festival in 1985, while in Japan, Studio Ghibli's Gorō Miyazaki directed an anime TV series adapted from the same story in the mid-2010s.
In Göransson's home country and elsewhere abroad, it's clear that "Ronia, the Robber's Daughter" is known and has some prestige behind it. You can find a clip from the movie here, so give it a listen and then compare it with "The Book of Boba Fett" theme song from the official "DisneyMusicVEVO" YouTube channel, below.
The Space Ronin and Ronia, the Robber's Daughter
"The Book of Boba Fett" theme song has a different tempo and a slicker production sound, but it's similar enough that it must be either a direct influence or drawing from a third source that influenced both it and "Ronia, the Robber's Daughter" (which had Björn Isfält as its composer). Göransson's version veers off into a different melody; the overall effect is akin to dressing the peasants from that tavern in "Ronia" up in the robes of a space choir and sending them out into a galaxy far, far away to sing "Star Wars" chants.
As I noted in a write-up after the first episode of "The Book of Boba Fett," screenwriter Lawrence Kasdan — who co-wrote "The Empire Strikes Back," where Fett made his first live-action appearance — likened the character to a "bad samurai," or ronin. Whether or not his new theme song is artistic robbery is up for debate, but if a new background character named Ronia suddenly pops up in the space ronin's Disney+ series, then we'll know that this is not just a coincidence and "The Book of Boba Fett" theme is very much an homage to "Ronia, the Robber's Daughter."
"The Book of Boba Fett" is currently streaming new episodes every Wednesday on Disney+.