Why Heather Donahue Brought A Big Knife To The Blair Witch Project Set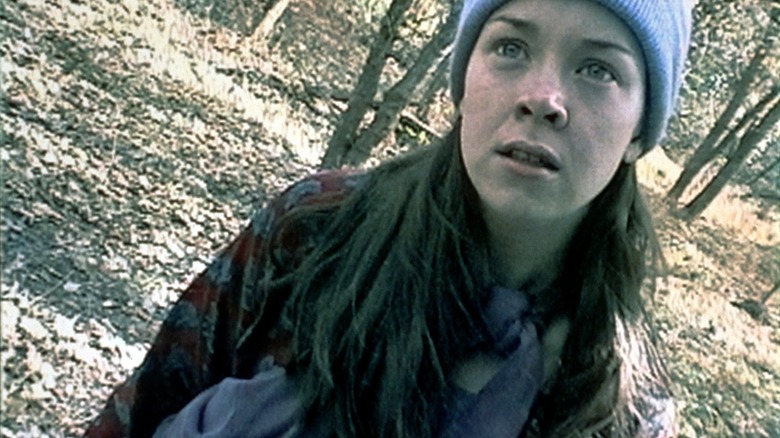 Artisan Entertainment
Thinking back to the incredible feat that was the filming of "The Blair Witch Project," it's kind of a miracle directors Eduardo Sánchez and Daniel Myrick got away with as much as they did in order to create their masterpiece. Considering their guerilla-style filmmaking tactics and barebones starting point, it's hard not to marvel at the finished product — or, frankly, understand why the film's female lead, Heather Donahue, was uneasy about joining the cast at first.
In September 2016, Donahue revealed to Paper Magazine that she found the casting notice and immediately connected with the requirements for the shoot:
"I was doing a lot of improv comedy at the time, and an ad in Backstage was talking about improvising an entire feature and that it should be someone who is really comfortable with improv, camping; it also said that you should be prepared to be very uncomfortable. And all of those things very much described me at the time."
It seemed like a dream job for Donahue, at least on paper — but because of the mysterious nature of the casting ad, her loved ones were more than just a little concerned. "My mom was like, 'Please get their social security numbers. We really don't want you to do this,'" she explained to the outlet. "Nobody wanted me to do this."
Okay, so what do you do when the opportunity seems too good, but you absolutely need to know for sure or you won't be able to live with yourself? You do what Donahue did on the first day of shooting, of course.
So That's Where the Weapon Came In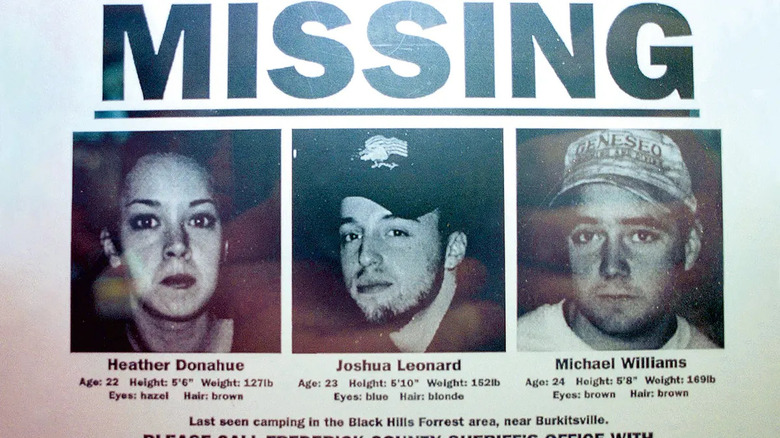 Artisan Entertainment
The improvisational actress made it a point to come to set with a weapon — you know, just in case of life. "I brought a giant knife because everybody who loved me was telling me, 'You should not do this. This sounds like a snuff film. Why are you going into the woods with a bunch of guys you don't know?'" she said.
Naturally, we now know that the film's shoot was not a snuff film set-up — and it went on to make Donahue a household name in the horror world. While she felt the need to bring a knife onto set initially, it seems the actress is happy with how things shook down during filming. She told Paper:
"My feeling then and today is that if there is something you are afraid of that doesn't involve prison or hospitals, you should probably do it. My thought was, 'Well, when else am I going to get the chance to improvise an entire feature?' And I love improv, so it was a win-win for me."
However, one thing that was difficult for Donahue and the other cast members was the aftermath of the film's success. After the movie's rave debut at Sundance and its subsequent wide release, those close to the film and its publicity department were adamant about keeping Donahue and her costars firmly in the "dead-and-or-missing" category to keep the true crime feel of the movie in your bones post-viewing. It certainly worked and ensnared audiences — but Donahue found it to be a strange thing to navigate:
"It was very hard as a young actress where you did something where you were really proud of your work and you feel like you did a really good job, and then you're kind of in this really stuck situation where you're an overnight success, but you're dead," she explained. "It even said on my IMDb page that I was dead. It said Heather Donahue: Deceased."