Everything We Know About Killing Eve Season 4 So Far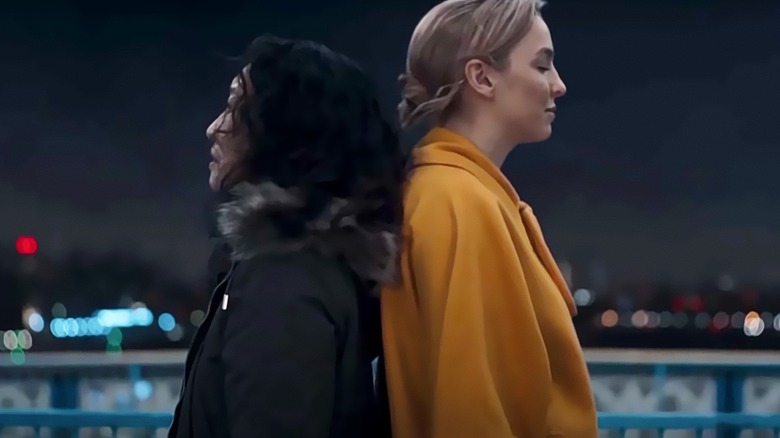 BBC America
If you've watched the three available seasons of "Killing Eve" (which I am assuming you have), you know that this show is impossible to stay away from. "Killing Eve" is most fun when you binge-watch it in a single sitting, it smashes television tropes, and puts a cool twist on the spy vs. spy concept, so you never really know who is spying on who. I love it. 
Jodie Comer's Villanelle is a witty (and often wry) assassin who dresses to kill ... and is also trained to do so. Sandra Oh's Eve is a spectacular agent who finds herself drawn to a prolific murderer. Throw in Fiona Shaw and Kim Bodnia, and "Killing Eve" becomes the spy thriller/dark comedy you never knew you needed.
The third season of "Killing Eve" came out in May 2020, and the BBC announced it would return for a fourth and final season in 2022. Villanelle and Eve's story might have paused for a while — but it's not the end yet.
What Is The Plot Of Killing Eve Season 4?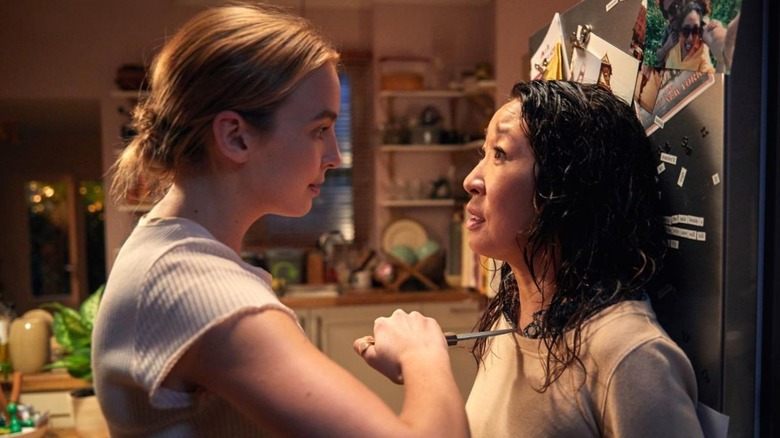 BBC America
The first two "Killing Eve" season finales featured quite a bit of violence, with Eve stabbing Villanelle at the end of the first and the deadly Russian assassin returning the favor with a bullet at the end of season 2. The good news is, they both survived, their killer romance has continued, and season 3 didn't end with a cliffhanger, so we don't know what to expect from the upcoming one.
Eve and Villanelle will continue to be at the heart of the series – that's for sure. "Killing Eve" season 3 ended with the two of them on a bridge, and right when I had made up my mind that one would push the other off, the women turned their backs to each other once and for all and slowly walked away. Except, in the last few moments, they both turn around to look at each other. The tension in the scene was palpable, but it didn't feel like goodbye, not really. Speaking to Entertainment Weekly, executive producer Sally Woodwad Gentle offered a preview of what lies ahead for the characters in "Killing Eve" season 4:
"Eve and Villanelle, having left each other in total turmoil on Tower Bridge at the end of season 3, are thrown into season 4 trying to figure out what they mean to each other and what their lives now stand for. And while Carolyn has shot a man in cold blood, she is trying to find out who is responsible for the hit on her son. This one is going to be a lot more personal and passionate than the seasons before."
Whatever the future holds for the women in season 4 will undoubtedly include Eve and Villanelle being engulfed into each other's lives or prying until they can do the same. They can never be a couple with a happy ending – any manner of relationship between the MI6 agent and the criminal she's chasing after can only lead to their doom.
Who Is The Cast Of Killing Eve Season 6?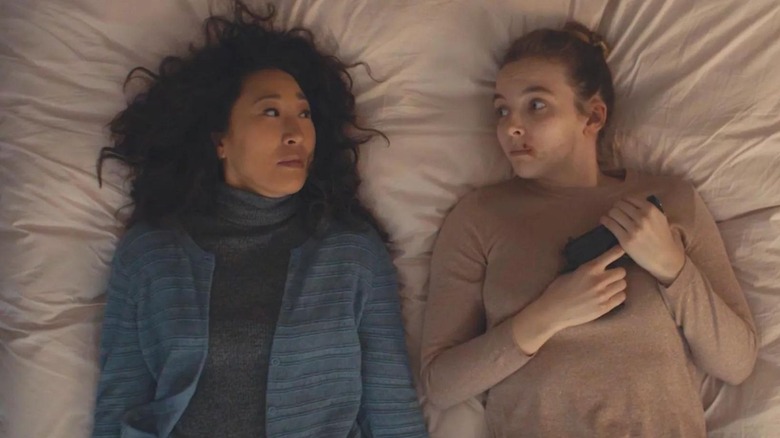 BBC America
"Killing Eve" wouldn't be the same show without Sandra Oh and Jodie Comer, so the actors will naturally be reprising their roles as Eve and Villanelle. Then there's Fiona Shaw, who plays Eve's boss Carolyn, Kim Bodnia as Konstantin, Camille Cottin as Hélène, and the Bitter Pill crew Danny Sapani (Jamie), Turlough Convery (Bear), and Ayoola Smart (Audrey), who are all alive and well.
Season 4 might dive deeper into the mysterious world of The Twelve, the criminal organization that hires assassins to kill powerful people. Their presence has been teased since the show's beginning, so "Killing Eve" might feature a few new faces who take up their roles within the organization.
Eve's husband Niko (Owen McDonnell) is alive, but he seems pretty done with his wife and her obsession with Villanelle. I wouldn't be surprised if he isn't a part of season 4 unless writer Phoebe Waller-Bridge has other plans for us.
Killing Eve Season 4 Release Date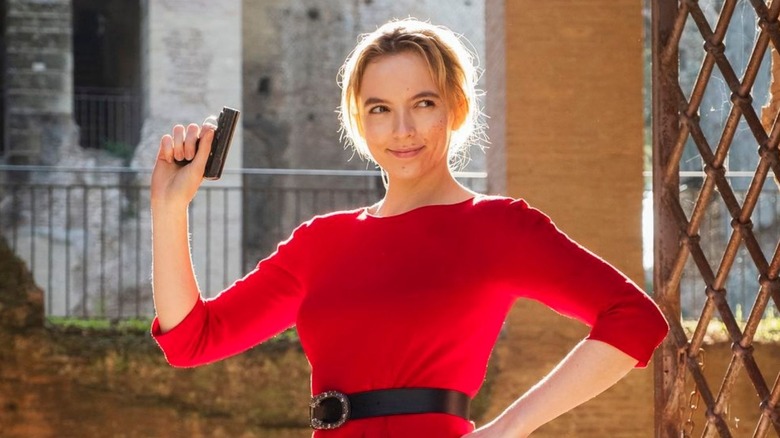 BBC America
Filming for "Killing Eve" season 4 began in June, following multiple delays due to the Covid-19 pandemic. Fortunately there's not too much longer to wait for the return of Eve and Villanelle's strange and dysfunctional relationship, as the fourth and final season of "Killing Eve" premieres February 27th, 2022, on BBC America and AMC.
Killing Eve Season 4 Teaser