The Cowboy Bebop Episode That Was Pulled From American TV After 9/11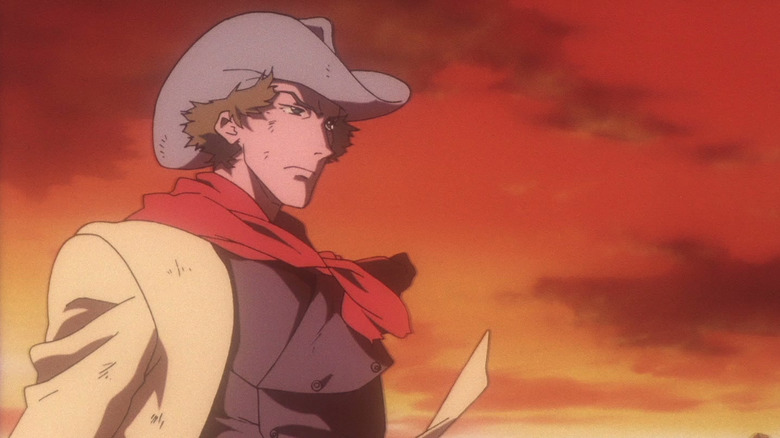 Sunrise
Hajime Yatate/Sunrise's animated "Cowboy Bebop" series' first episode aired in America on September 2, 2001, on Cartoon Network, where it introduced a new crop of western viewers to anime in the early aughts. The neo-noir space Western concerns itself with the exploits of the exiled hitman Spike Spiegel, former cop Jet Black, and con woman Faye Valentine. The trio work as bounty hunters across the galaxy in 2071, in a show exploring themes of boredom and apathy, loneliness, and the demons of the past through dynamic visuals and sci-fi/action pastiches. "Cowboy Bebop" stands as one of the most influential animes of all time for its 26-episode run from 2000-2001.
Just nine days after the show aired in North America, a terrorist attack brought down the Twin Towers of New York City's World Trade Center. In the wake of the attack, America became sensitive and started insisting that we go around calling French fries "Freedom fries," and the country's media was affected by the fallout. After fall 2001, television shows and films involving crimes of terrorism were canceled or their content altered; famously, Sam Raimi's 2002 feature "Spider-Man" dropped some of its promotional footage, including a teaser trailer and a poster that both had the now-gone Twin Towers featured prominently with the web-slinging hero.
Cartoon Network's Adult Swim made the call to skip the 22nd session "Cowboy Funk" for its content, which centers around a terrorist who blows up buildings by hiding bombs in teddy bears.
Finally, A Cowboy Bebop Episode With An Obvious Cowboy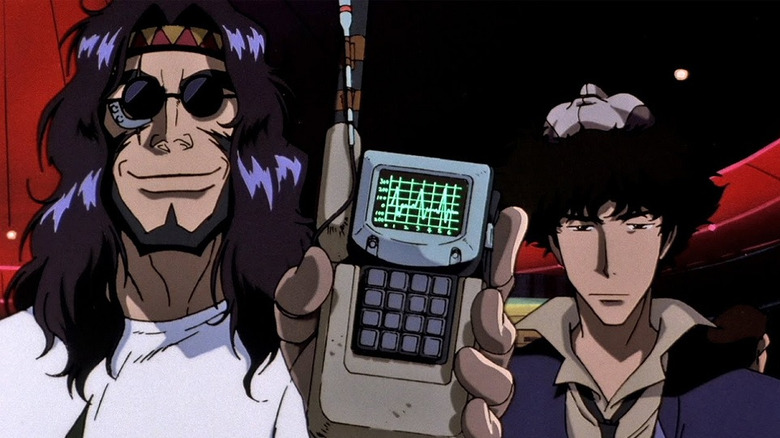 Sunrise
Following Yoko Kanno and the Seatbelts' riveting jazz theme, the "Cowboy Funk" session of "Bebop," a sinister, bearded figure in a watchman's uniform leaves a teddy bear at an observation deck in a two-pronged tower that barely resembles the World Trade Center towers, but in the wake of 9/11, the imagery doesn't recall anything pleasant. After being spotted by Spike, the bomber is revealed to be known as Teddy Bomber, the baddie of the week. Foiling Spike's attempts to apprehend the serial munitions man is Andy, a rival bounty hunter who is dumber than a box of dirt but bears a (frustrating, to Spike) resemblance to Spiegel. As the two men face off in skirmish after bungling skirmish, the Teddy Bomber gets comically more angry when he can't get the attention he wanted. It's a great episode that brings levity to the series and some character development to Spike himself.
Cartoon Network aired the dropped episode just a year later when censors didn't need the safe space anymore. But it wasn't without a bit of bowdlerizing: Jet's hippie costume, shown during a masquerade ball sequence, originally had a 420-friendly leaf on it. A bunch of squares decided that a peace sign would be less shocking and had the costume digitally altered.