BigBug Teaser: The Quirky New Film From The Director Of Amélie Comes To Netflix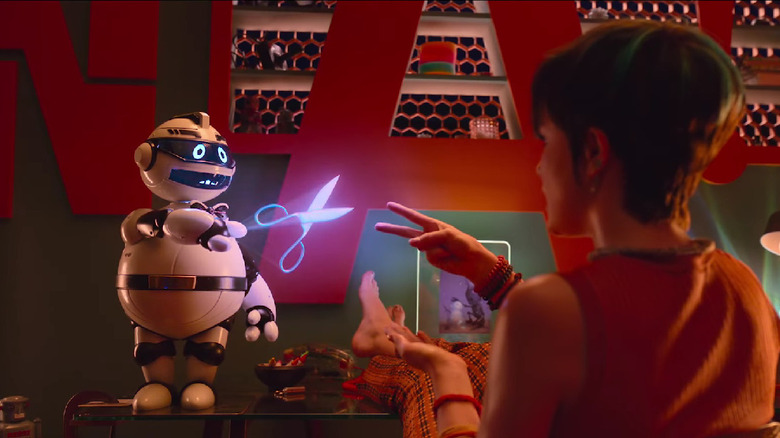 Netflix
BAFTA winner Jean-Pierre Jeunet is known for phantasmic dark comedies with memorable characters and untethered imagination like "Delicatessen" and "City of Lost Children," films so offbeat that Jeunet has had a long journey in finding those brave enough to fund his "quirky" movies. Following the botched 2015 release of "The Young and Prodigious T.S. Spivet," the French director has since found backing from streaming giant Netflix, which has no problem taking a leap of faith on Jeunet's meditations in surreal mundanity, backed by his animation experience and bonkers sense of humor. Just this year, Jeunet's work was cited on /Film's list of 20 slept-on sci-fi gems you should be watching, as a treat. Those waiting for the new Jeunet won't have to wait long — "BigBug" arrives on streaming in February of 2022.
"BigBug" is co-written by Jeunet and frequent collaborator Guillaume Laurant ("Amélie," "Micmacs"), and produced by Richard Grandpierre and Frédéric Doniguian under the Eskwad banner. Jeunet's latest follows a group of in-fighting suburbanites whose well-meaning household robot appliances lock them inside for their own safety amid an android uprising. The film stars Dominique Pinon, Elsa Zylberstein, Isabelle Nanty, Youssef Hajdi, Alban Lenoir, and François Levantal.
Teaser for Bigbug
"BigBug" arrives on the heels of the Big Brother subgenre of family-friendly films "Ron's Gone Wrong" and "The Mitchells vs. The Machines." Jeunet's business is more bizarre than that; from the teaser, the movie looks like an extended "Twilight Zone" episode in all the best ways. The midcentury pastels in a dystopian suburb are a different but welcome aesthetic from a filmmaker known for his distinctive visual style. 
Jeunet is unafraid to depart from the norm, having challenged himself with an English-language film that also happened to be his first foray into 3D filmmaking, "The Young and Prodigious T.S. Spivet," based on Reif Larsen's 2009 novel "The Selected Works of T.S. Spivet." His directorial debut was in 1991 with the pitch-black comedy "Delicatessen," in which a butcher-landlord feeds his tenants with something sinister. "Delicatessen" had the director collaborating with Marc Caro, who he'd team up with again to create "The City of Lost Children" four years later. Jeunet then signed on to direct the fourth entry in the "Alien" film series in 1997 with "Alien Resurrection" before receiving international praise for "Amélie," for which he was nominated for two Oscars — Best Foreign Language Film and Best Original Screenplay.
"BigBug" arrives exclusively on Netflix on February 11, 2022.