HBO Max Made A Calcifer Yule Log, Proving That The Best Blaze Indeed Burns Brightest When Circumstances Are At Their Worst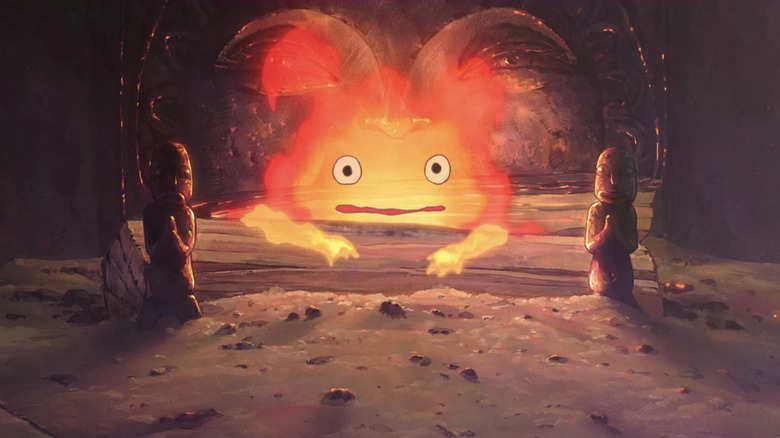 Studio Ghibli
Just in time for the holidays, Calcifier — the sassy fire demon from Hayao Miyazaki's 2004 anime film, "Howl's Moving Castle" — has become the subject of his own yule log. HBO Max is the exclusive streaming home for "Howl's Moving Castle" and most Studio Ghibli films, and it's there you'll find the Calcifier log. Basically, it's a 30-minute clip that you can put on in the background and pretend is crackling with warmth in lieu of having an actual fireplace in your home.
Billy Crystal voiced Calcifier in the English dub of "Howl's Moving Castle," while Tatsuya Gashuin provided the character's original Japanese voice. Calcifier described himself as "scary and powerful" and was known for laying curses on people, saying things like, "May all your bacon burn." You can even see horns rising out of the flames that constitute his head. However, he functioned more as comic relief in the movie, and we can only hope his yule log will be a blessing on you and your loved ones over the holidays.
Life's Simple Pleasures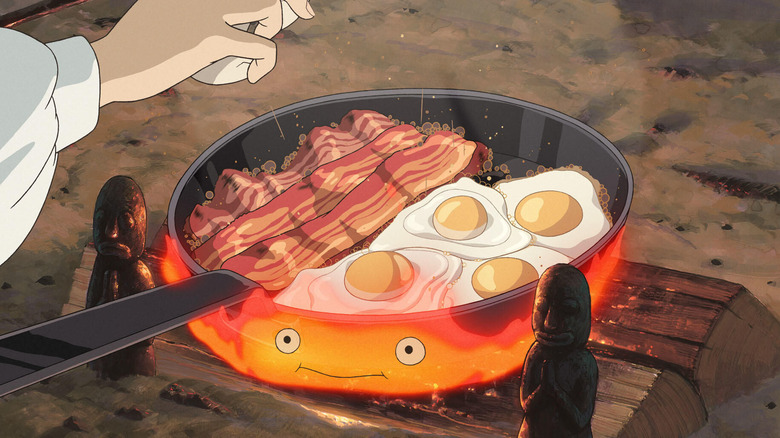 Studio Ghibli
A few years ago, the BBC voted Miyazaki's masterpiece, "Spirited Away," the fourth-best film of the 21st century, after Paul Thomas Anderson's "There Will Be Blood" (#3), Wong Kar-wai's "In the Mood for Love" (#2), and David Lynch's "Mulholland Drive" (#1). "Spirited Away" turned 20 this year, and my wife and I just rewatched it this week. She's Japanese and has seen it many times, but for me, it was only the second time since my first year living in Japan from the summer of 2010 to the summer of 2011.
That was the year of the Tōhoku earthquake and tsunami. The decade has been bookended by a different sort of natural disaster with the pandemic, which caused the historic postponement of the Tokyo Olympics from the summer of 2020 to the summer of 2021. It's been a tough two years for everyone around the world, but as we come to the end of 2021, there's a quote from "Howl's Moving Castle" that feels especially relevant:
"They say that the best blaze burns brightest when circumstances are at their worst."
Confession: Ghibli films used to put me to sleep, but I've come to appreciate them more, just as I've come to appreciate simple pleasures like being able to spend quality time with my spouse and enjoy a meal (yes, sometimes bacon and eggs) or watch something together. There was a time when few Miyazaki/Ghibli films were available digitally, but now you can purchase them on iTunes or stream most of them on HBO Max. "Spirited Away," "Howl's Moving Castle," or any one of a number of other titles might be a good pick for a film to watch with family over the holidays. 
Here's hoping the blaze burns brighter in 2022.