13 Movies Like Scarface You Really Need To See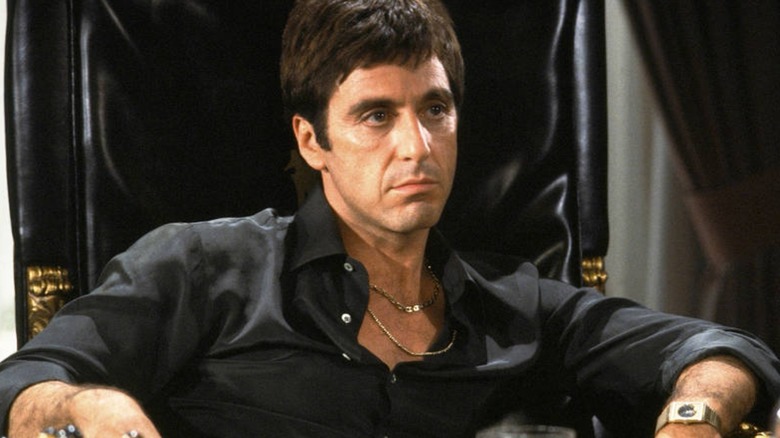 Universal Pictures
Say hello to our little list! Brian De Palma's epic crime drama "Scarface" charts the rise and fall of fictional drug lord Tony Montana (Al Pacino), from his arrival in 1980s Miami as a penniless Cuban refugee to his fiery final showdown with the feds.
"Scarface" is notable as much for its stylized depiction of '80s excess and its intense violence as it is for Pacino's flamboyant portrayal of the titular gangster, who rises through the ranks of the Miami underworld to become the biggest drug lord in the state, only to come crashing down again as a result of his own greed. A loose remake of the 1932 film of the same name, "Scarface" was written by Oliver Stone and features a stellar supporting cast that includes Michelle Pfeiffer, Steven Bauer, Robert Loggia, and F. Murray Abraham. It remains a crime drama for the ages.
Fans of the gritty classic who may be looking for similar films to watch should enjoy these other tales of criminal excess, period rag-to-riches stories, Brian De Palma films, and movies with memorable Pacino performances. There are no half-measures here — overall, Tony Montana would be very, very pleased.
The Godfather and The Godfather Part II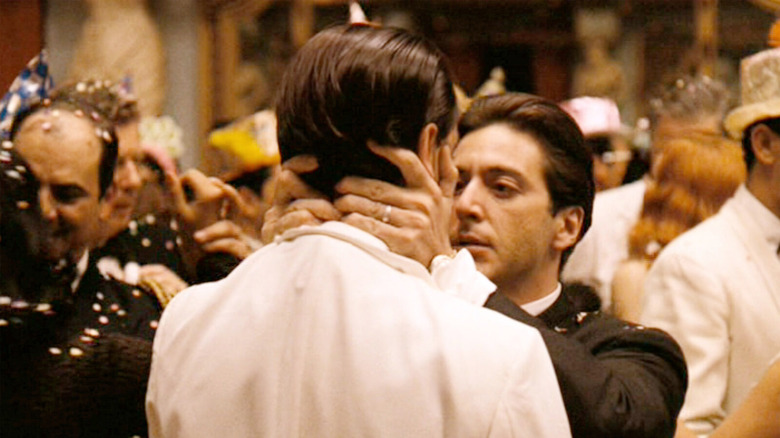 Paramount Pictures
When it comes to epic crime sagas, the Godfather trilogy is, well, truly the Godfather of them all. While "The Godfather Part III" has its merits, the first two entries of Francis Ford Coppola's classic film series are its most essential.
Based on the bestselling novel by Mario Puzzo, "The Godfather" saga centers around the fictional Corleone family, whose patriarch, Vito (played by both Marlon Brando and Robert DeNiro), emigrates to the U.S. from Italy and becomes the head of a mafia dynasty. "The Godfather" depicts Vito's later years, while its sequel, "The Godfather Part II," features two timelines: one that tracks Vito's journey from Italy and his early years in the US, while the other follows his son, Michael (Al Pacino) as he takes over the family business as the new Don. Together, the two films offer a sweeping saga of power, corruption, family, tradition, duty, loyalty, and betrayal.
Widely considered to be among the greatest films ever made, "The Godfather" and "The Godfather Part II" earned a combined 21 Academy Award nominations and 9 wins between them. Like "Scarface," these richly compelling films highlight the perils of power and the dark side of the American dream.
Goodfellas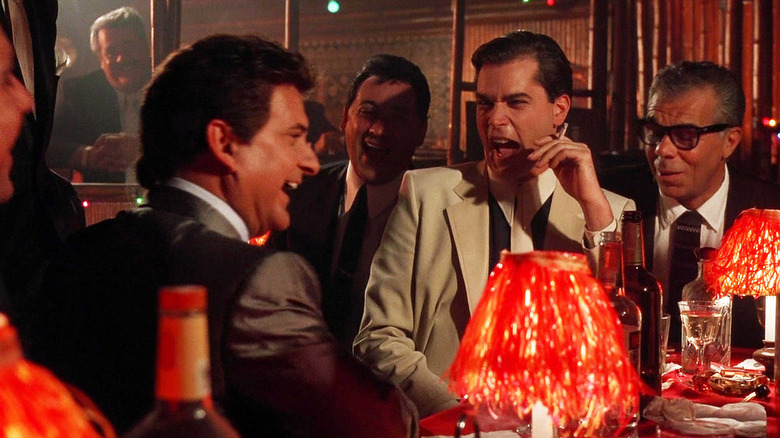 Warner Bros.
Martin Scorsese's "Goodfellas" is another epic crime saga about the rise and fall of a mafia figure, but this one has the added draw of being based on a real person.
Adapted from the non-fiction book "Wiseguy" by Nicholas Pileggi, "Goodfellas" chronicles the exploits of mob associate turned FBI informant Henry Hill (Ray Liotta), from his days as a young man growing up in Brooklyn to his turbulent marriage to wife Karen (Lorraine Bracco), and ultimately to his downfall, which was fueled in no small part by a raging cocaine addiction. Robert De Niro and Joe Pesci help round out the fantastic cast of this classic gangster drama, which, like "The Godfather" and "Scarface," is considered one of the great films of this (or any) genre.
"Goodfellas" was nominated for six Academy Awards, with Pesci winning best supporting actor for his role as hot-headed gangster Tommy DeVito, in which he delivers many memorable moments, including the infamous "How am I funny?" scene.
The Untouchables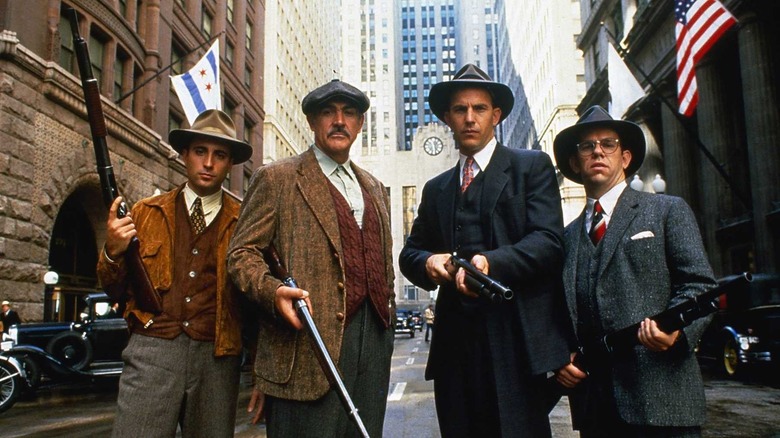 Paramount Pictures
"Scarface" director Brian De Palma returned to the period gangster drama genre four years later with "The Untouchables." Interestingly, "The Untouchables" looks at crime from the other side of the law, as it's based on an autobiographical book by Elliott Ness, the real-life Chicago-based prohibition agent who helped bring down the infamous gangster Al Capone.
Kevin Costner plays Ness in the film, who joins forces with veteran Irish-American officer Jimmy Malone (Sean Connery), rookie marksman George Stone (Andy Garcia), and D.C. accountant Oscar Wallace (Charles Martin Smith), forming a unit that the press dubs "The Untouchables," whose sole intent is to find a way to put a stop to Capone's (Robert De Niro) criminal activities while navigating the corruption of 1920s Chicago.
Connery won a best supporting actor Oscar for his role in "The Untouchables," one of four Academy Award nominations the film received. It also won for costume design, art direction, and for its original score by film maestro Ennio Morricone.
Once Upon a Time in America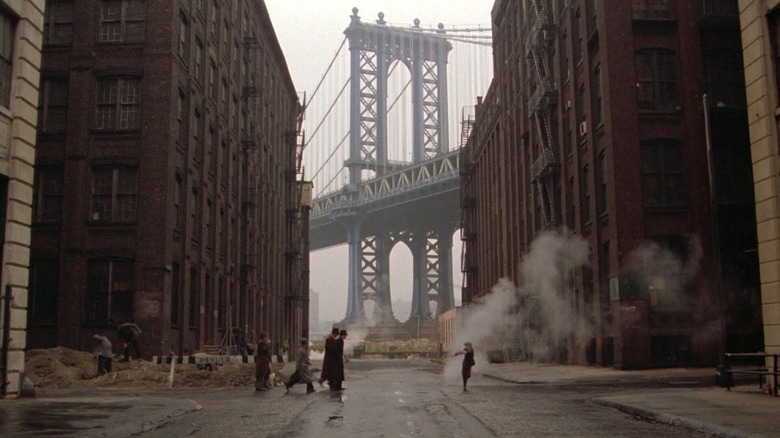 Warner Bros.
When it comes to crime dramas set during Prohibition, it doesn't get more epic than Sergio Leone's sprawling gangster saga, "Once Upon a Time in America."
Based on a semi-autobiographical novel by Harry Grey, the film chronicles the life of David "Noodles" Aaronson (Robert De Niro and Scott Tiler) and his friend Max Bercovicz (James Woods and Rusty Jacobs), covering their time as street kids in the Jewish ghetto of Manhattan's Lower East Side, and their rise to prominent gangsters. It's a story of friendship and betrayal set against the backdrop of a changing country, told mainly via flashback as Noodles recounts his tales and his regrets.
"Once Upon a Time in America" was Sergio Leone's passion project, and the final film the famed Italian director would work on. An approximately four-hour long cut was released in Europe to much critical acclaim, but against Leone's wishes, U.S. distributors cut it down by 90 minutes, and the American release is generally considered the far less superior version. Film critic Roger Ebert gave Leone's longer cut a perfect four stars, while calling the shorter version "a travesty."
Carlito's Way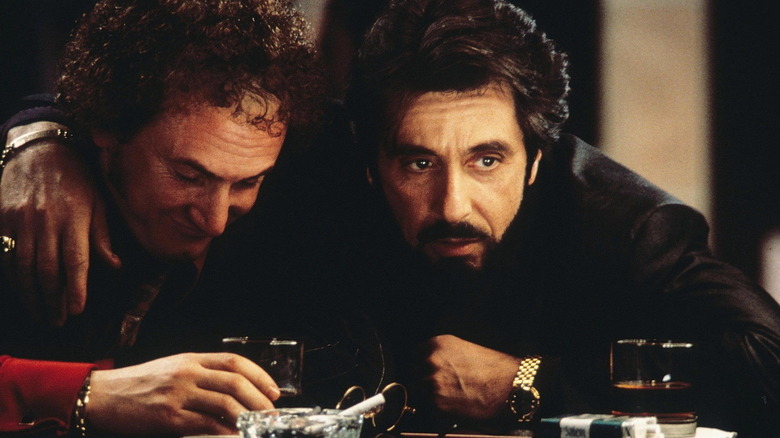 Universal Pictures
10 years after directing "Scarface," Brian De Palma would reunite with Al Pacino for another, slightly more introspective '70s crime story. "Carlito's Way" stars Pacino as the titular Carlito, a career criminal who intends to clean up his act after his sleazy lawyer friend, Kleinfed (Sean Penn), gets him out of prison, only to find himself being drawn back in to his old life of crime.
John Leguizamo plays a scrappy young up-and-coming gangster while Penelope Anne Miller plays Carlito's stripper girlfriend. Despite Carlito's desire to start over and live out a simple life in the Caribbean, circumstances, including the company he keeps, conspire to keep his goal a distant dream.
"Carlito's Way" initially received mixed reviews and a relatively lukewarm reception at the box office, but it has since garnered reappraisal. Regarded as a cult movie, as many of De Palma's films are, "Carlito's Way" is certainly worth a watch, especially for fans of crime dramas.
Heat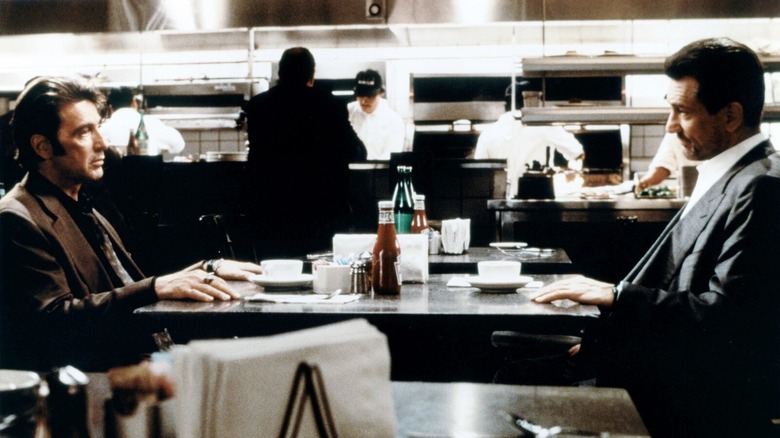 Warner Bros.
When it comes to stylish crime thrillers starring Al Pacino, no list would be complete without Michael Mann's "Heat." Not only is it considered one of the greatest heist films of all time, but it also marks the first time Pacino and Robert De Niro, both well known for playing criminals, would appear in a movie together.
The film finds its two leads on opposite sides of the law. Based in part on real-life Chicago police officer Chuck Adamson's pursuit of career criminal Neil McCauley, "Heat" stars Pacino as LAPD Detective Vincent Hanna, while De Niro stars as McCauley. In Michael Mann's signature fashion, "Heat" takes a brooding, meditative, and existential approach to the two men's relationship, as they develop a sort of mutual respect for one another despite their different paths. Both men are obsessive and dedicated to their craft, making them formidable opponents with more in common than they'd perhaps like to think.
Though it didn't receive a lot of awards love, "Heat" remains a highly influential entry in the crime drama catalog, one that fans of "Scarface" won't want to miss.
Casino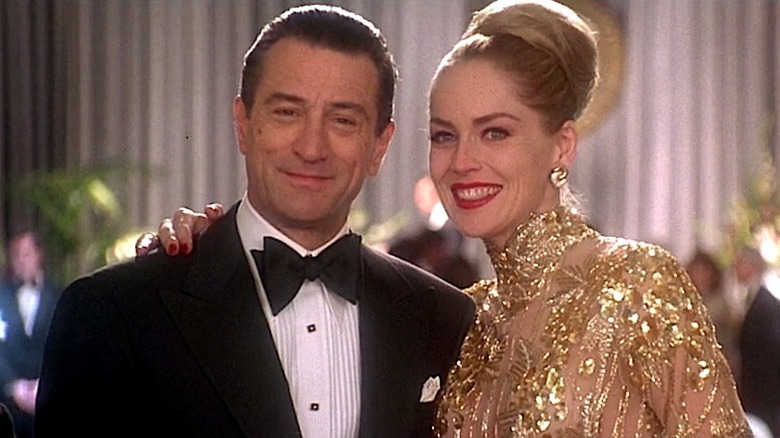 Universal Pictures
Returning to the theme of '70s decadence, organized crime, greed, and power, Martin Scorsese's "Casino" would reunite the director for the eighth time with Robert De Niro, who plays Sam "Ace" Rothstein, a gambling handicapper recruited by the Mafia to run the Tangiers casino in Las Vegas.
Ace, along with his friend and mob enforcer Nicky Santoro (Joe Pesci), and his hustler love interest turned wife, Ginger (Sharon Stone), manages to achieve the pinnacle of wealth and power, at least temporarily, but eventually it all comes tumbling down.
Based loosely on the life of casino executive "Lefty" Rosenthal, "Casino" taps into the fascinating history of the mob's involvement in Las Vegas while offering a compelling tale of power, ambition, and corruption, common themes in the genre elevated by Scorsese's unique flair. Sharon Stone was nominated for an Academy Award and won a Golden Globe for her magnetic performance as Ginger.
The Wolf of Wall Street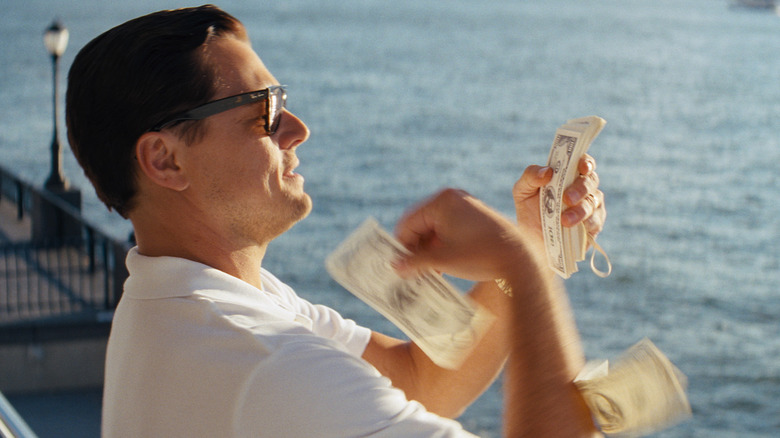 Paramount Pictures
Martin Scorsese opted for a different type of anti-hero rags-to-riches tale in "The Wolf of Wall Street," focusing not on the Mafia but on real-life stockbroker Jordan Belfort, played by Leonardo DiCaprio in the film, who goes from entry-level broker in 1987 to starting his own firm, Stratton Oakmont, in just a few short years.
Along with his friend Donnie Azoff (Jonah Hill) and a group of ambitious trader-bros, Belfort amassed a fortune via shady pump and dump schemes, living lavishly and lasciviously along the way (think booze, drugs, prostitutes, $26,000 dinners, and so forth) — that is, until the feds caught up with them.
"The Wolf of Wall Street" remains Scorsese's highest grossing film to date, with DiCaprio earning praise for his audacious performance as the opportunistic trader. Once again, as in "Goodfellas" and "Casino," Scorsese gives us an entertaining albeit cautionary tale about the corruption of the American dream.
Wall Street
20th Century Fox
Greed, for lack of a better word, is good. So says Gordon Gekko, one of the main characters in Oliver Stone's "Wall Street," which may very well have inspired Jordan Belfort considering that it was released about the time his career was just getting started.
In "Wall Street," Gekko (Michael Douglas) is a corporate raider and Wall Street legend, while Bud Fox (Charlie Sheen) is a junior stockbroker who idolizes him. Bud desperately wants to work with Gekko and tries to impress him by offering him some honestly researched stocks and some inside information into his father's airline company. He soon learns that honest work won't get you far in the high-stakes world of stock trading, and while the rewards for unscrupulous dealings and insider trading are high, so too is the price.
"Wall Street" is the ultimate tale of '80s excess and Wall Street run amok. Michael Douglas won an Oscar for best actor for his iconic portrayal of the ruthless and morally bankrupt Gekko.
Blow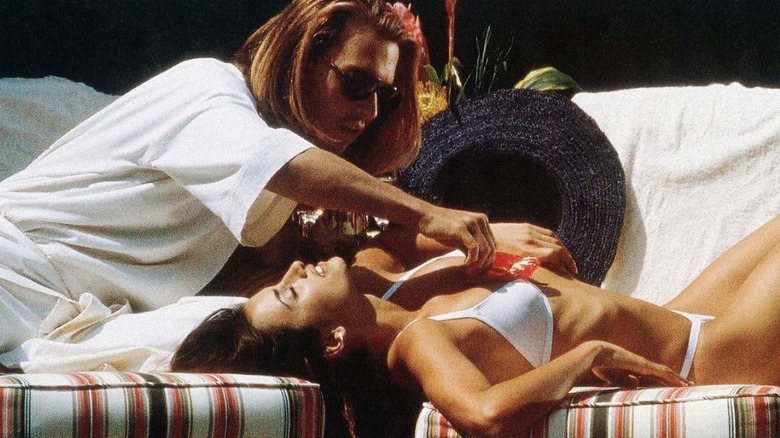 New Line Cinema
Fans of "Scarface" seeking another rise and fall story set in the '70s and revolving around cocaine need look no further than "Blow."
Directed by Ted Demme, "Blow" stars Johnny Depp as a fictionalized version of real-life cocaine smuggler George Jung, who rose from obscurity to become the world's premiere importer of cocaine with the help of Colombia's Medellin cartel.
Much like Tony Montana in "Scarface," George manages to achieve a spectacular level of wealth through his criminal activities, but ultimately loses everything that ever mattered to him, including his wife, Mirtha (Penelope Cruz), and his daughter. He also manages to wreck his relationship with father, Fred (Ray Liotta), who tried to teach a young George that money doesn't matter. Unfortunately, George learns this lesson far too late. Though "Blow" received middling reviews from critics, Johnny Depp's complex performance as the misguided George won general praise.
Boogie Nights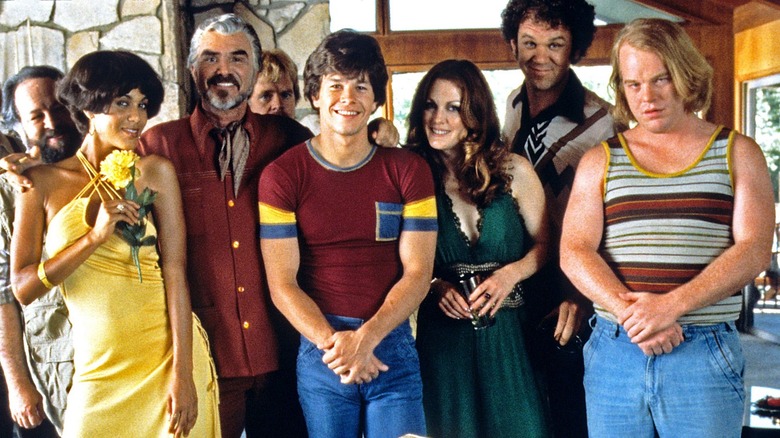 New Line Cinema
Though it's not technically a crime drama or about gangsters, the parallels between Paul Thomas Anderson's "Boogie Nights" and "Scarface" are pretty clear. Like De Palma's film, "Boogie Nights" is a sprawling tale about '70s excess and the rise and fall of a sort of kingpin.
In this case, that kingpin is Dirk Diggler (Mark Wahlberg), a young man with a special "talent" who rises to the top of the porn industry in Los Angeles' San Fernando Valley. Set in the late '70s, "Boogie Nights" charts the last days of an era, right before videotape, which is much cheaper to shoot on than film, took over as the industry's dominant format. Within that setting, we follow Dirk and his adopted family, which includes the young starlet Roller Girl (Heather Graham) and the house mother-esque Amber Waves (Julianne Moore), all of whom work for adult film director and pseudo-father figure Jack Horner (Burt Reynolds).
As the saying goes, what goes up, must come down. Dirk Diggler's scaled-down version of a Hollywood rags to riches tale may not be quite as extravagant as Tony Montana's ascent and descent, but it's no less dramatic or compelling. The critically-lauded "Boogie Nights" helped launch Wahlberg's acting career and gave Burt Reynolds his only Academy Award nomination (he won a Golden Globe for the role). It also features an outstanding ensemble cast that includes Don Cheadle and Phillip Seymour Hoffman.
There Will Be Blood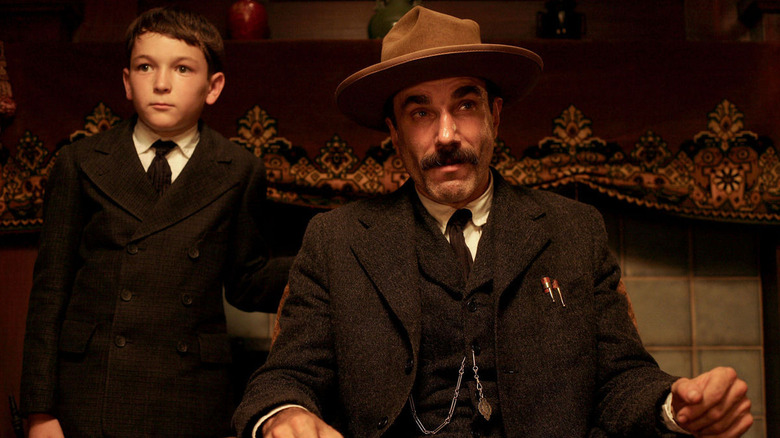 Paramount Vantage
10 years after the release of "Boogie Nights," director Paul Thomas Anderson returned to period rags to riches sagas with the epic "There Will Be Blood." The story centers around Daniel Plainview (Daniel Day-Lewis), an early 20th-century silver miner who strikes it rich as an oilman and ends up losing his soul in the process.
Daniel is shown early on as a man willing to travel a moral grey area in his pursuit of wealth, but he only becomes more sadistic and selfish over time, a situation that lies in stark contrast to the pious Eli (Paul Dano), a preacher whose family's land Daniel uses to amass his fortune.
"There Will Be Blood" paints a grim and haunting portrait of American industriousness, capitalism, and greed. Hailed as a masterpiece, the film was nominated for seven Academy Awards, with Daniel Day-Lewis winning for best actor.
Citizen Kane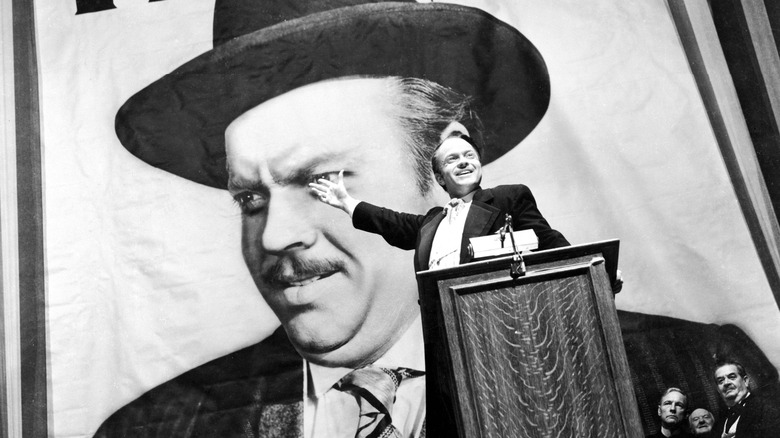 RKO Radio Pictures
Perhaps the ultimate rise and fall saga, "Citizen Kane" is also widely considered one of the greatest films ever made.
Loosely inspired by the life of newspaper magnate William Randolph Hearst, "Citizen Kane" stars Orson Welles as Charles Foster Kane, a publishing tycoon whose life is investigated by a reporter after his death in an effort to discover the meaning behind Kane's last utterance, "Rosebud." The reporter interviews Kane's best friend, Jedediah Leland (Joseph Cotten), as well as his mistress and second wife, Susan Alexander Kane (Dorothy Comingore), and they paint a fascinating portrait of Kane's life from boarding school to the heights of his wealth and notoriety, but the meaning behind the enigmatic "Rosebud" remains elusive.
Orson Welles was just 25 years old when he produced, directed, starred in, and wrote (along with Herman J. Mankiewicz) "Citizen Kane," bursting onto the scene with such an innovative and ambitious achievement that it has left an enduring legacy as one of the most respected and influential films of all time.