Bruce Willis Gets Threatened By Chad Michael Murray In Fortress Clip [Exclusive]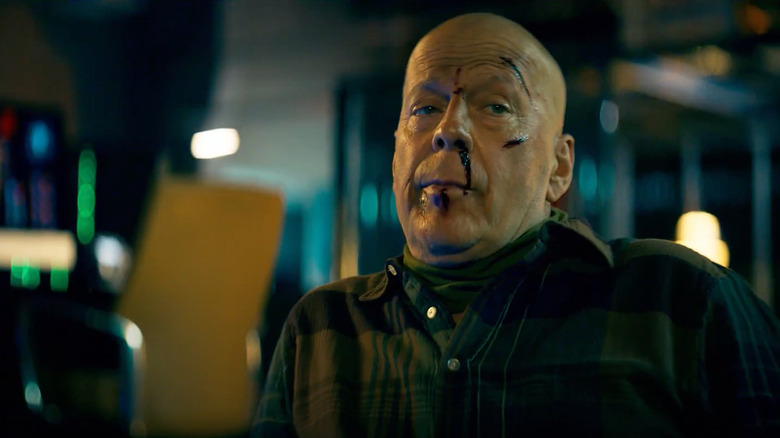 Lionsgate
Lionsgate has provided /Film with an exclusive clip from their new thriller "Fortress" starring none other than the king of Christmas action himself, Bruce Willis. In the film the "Die Hard" star plays a retired CIA spook named Robert who matches wits with his archenemy Balzary, played by "Riverdale" regular Chad Michael Murray. In this clip you get to see the two go toe-to-toe even as Willis is tied to a chair, showing off his trademark laissez-faire attitude. As much as Murray taunts and threatens him in the scene, Willis remains unflappable. 
Now playing in select theaters, on demand and on digital, "Fortress" also stars Jesse Metcalfe ("Escape Plan 2: Hades"), Kelly Greyson ("Broken Memories"), Ser'Darius Blain ("Jumanji: The Next Level"), Shannen Doherty ("Beverly Hills 90210") and Simon Phillips, who recently appeared in another movie with Willis and Murray titled "Survive the Game" from the same director.
Exclusive Fortress Clip: 'I Should Have Killed You'
If this clip appears to have all the hallmarks of a Bruce Willis action film, that's because it does. It features Willis beat up, bloody and in a compromising position, while still not giving too many f***s, not giving the bad guy an inch. The more Murray threatens him, the less Willis seems to care. That's the power of Willis, who reportedly shot the entirety of all his scenes on the film in one afternoon! 
It should also be noted that even though "Fortress" just came out, the sequel — titled "Fortress 2" — is already in post-production, having been shot back-to-back with the first one and intended to be part of a trilogy all featuring Willis, Metcalfe, Murray, and Greyson.
Directed by James Cullen Bressack ("Beyond the Law") from a screenplay by Alan Horsnail of the Willis vehicle "Midnight in the Switchgrass," the film is rated R for violence, language and for providing Willis with the "Right" amount of money to appear. 
Here is the official synopsis:
"In this dazzling action cyber-thriller, Bruce Willis ('Pulp Fiction') plays Robert, a retired CIA agent living at a secret resort in the woods. One day, his estranged son drives to the camp for a visit — but he's followed by Robert's old nemesis, Balzary (Chad Michael Murray, 'One Tree Hill'). As the site is besieged by Balzary's attack squad, father and son retreat to a high-tech bunker. But are its steel walls and advanced weapons powerful enough to match Balzary's bloodthirsty plans for revenge?"