The Matrix: Resurrections Will Feature A John Wick Easter Egg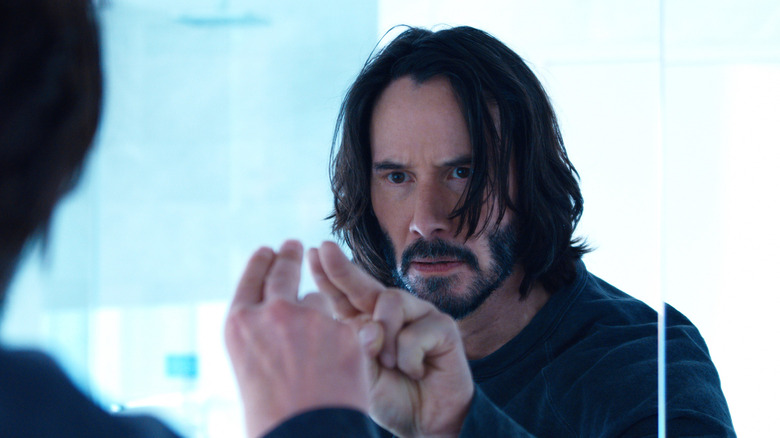 Warner Bros.
15 years before making his directing debut on the first "John Wick," Chad Stahelski served as Keanu Reeves' stunt double on "The Matrix." This would also mark the first of several collaborations for the Wachowskis and Stahelski, the latter of whom would go on to act as a stunt coordinator on the siblings' next two "Matrix" films, as well as their live-action "Speed Racer" movie and "V for Vendetta" (which the Wachowskis co-wrote and produced). And while Stahelski has mostly focused on helming the "John Wick" series since 2014, he still found the time to lend Lana Wachowski a helping hand on her solo directing debut with this month's much buzzed-about sequel, "The Matrix Resurrections."
In April 2020, Stahelski confirmed that he and his uncredited "John Wick" co-director, David Leitch (who's similarly worked with the Wachowskis on several occasions), boarded "Resurrections" to "help out with the choreography and some of the physical training" for the movie's intense action scenes. However, in an interview with Collider, Reeves revealed that Stahelski also co-stars as "Handsome Chad," a character who's married to Trinity (or, rather, "Tiffany") in the film's topsy-turvy version of The Matrix.
The Truth About Chad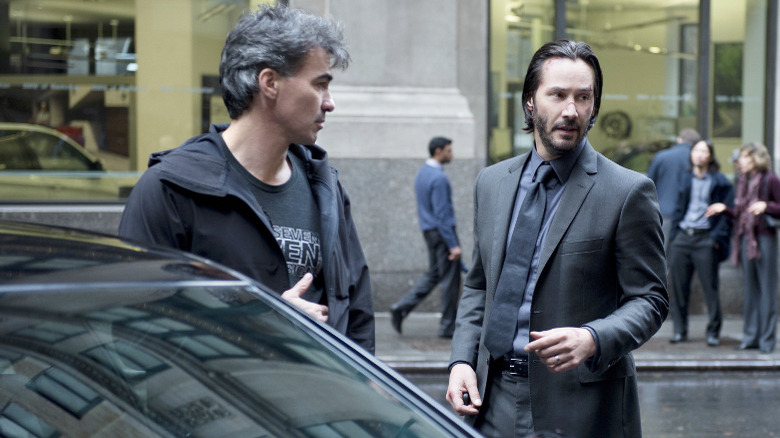 Lionsgate
Reeves elaborated on this subtle "John Wick" Easter Egg and explained how it's one of the examples of Lana Wachowski interweaving life and art in "The Matrix Resurrections":
"I think that [Stahelski and Wachowski] have a real affection for each other, and I know that Chad always describes going to Wachowski film school. Chad was my stunt double on the trilogy and I think that Lana, the director and writer, appreciates Chad and his film making. And there was a lot that Lana was trying to interweave in terms of life and art for all of the people in the film and artists in the film. And I think for her, it gave her a chuckle that Chad was the husband to Trinity's Matrix counterpart."
One could argue that interweaving of life and art extends to Reeves' John Wick-style look as "Thomas Anderson" in "Resurrections" — a far cry from the clean-shaven guise he customarily had back when the original "Matrix" trilogy came out. What's more, it seems that and Stahelski's minor role are but two of many self-referential elements in "Resurrections," a film that early reactions describe as the antithesis to the modern trend of legacy sequels banking on nostalgia. (Or, as /Film's Chris Evangelista put it: "'Resurrections' is "the 'Gremlins 2' of the 'Matrix' series. I mean that in a good way.")
"The Matrix Resurrections" begins playing in theaters and streaming on HBO Max (for a limited period of time) on December 22, 2021.