The Horror Film Tobey Maguire And Kirsten Dunst Almost Co-Starred In Before Spider-Man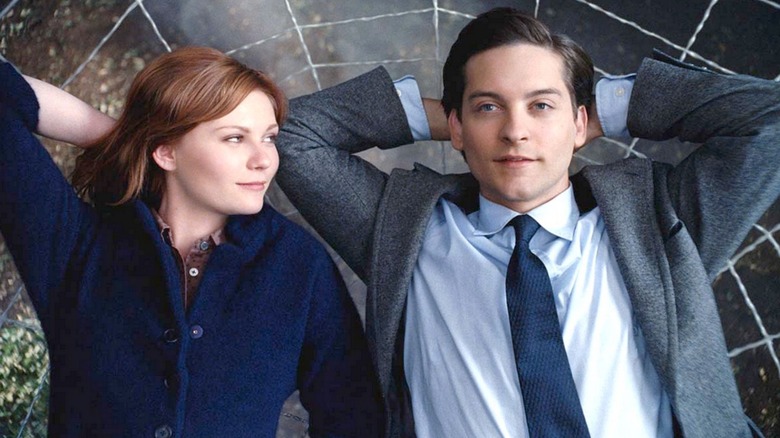 Sony Pictures Releasing
Tobey Maguire and Kirsten Dunst made cinematic history in "Spider-Man" after the adorable couple shared a now iconic upside-down kiss in the rain, but before they took on the roles of Peter Parker and Mary Jane Watson, the duo was almost paired up together in the first installment of the biggest horror movie franchise of the 2000s. Just two years before Sam Raimi's "Spider-Man," both Maguire and Dunst were the favorites considered for New Line Cinema's "Final Destination," but the roles eventually (and fortunately, if you ask me) went to Devon Sawa and Ali Larter as co-leads Alex Browning and Clear Rivers.
New Line was actively pursuing Maguire and Dunst for the leading roles, which would have marked the first time the two would share an on-screen romance. While Alex and Clear's relationship is mostly platonic, there's serious on-screen chemistry that indicates the two were heading toward a relationship; that is, if they can do the whole "cheating death" thing. "Final Destination" went on to spawn four sequels with a fifth currently in production, and while the roles would have been a lot of fun for Maguire and Dunst, it more than likely would have prevented the two from starring in "Spider-Man."
Did The Duo Leave the Project for Spider-Man?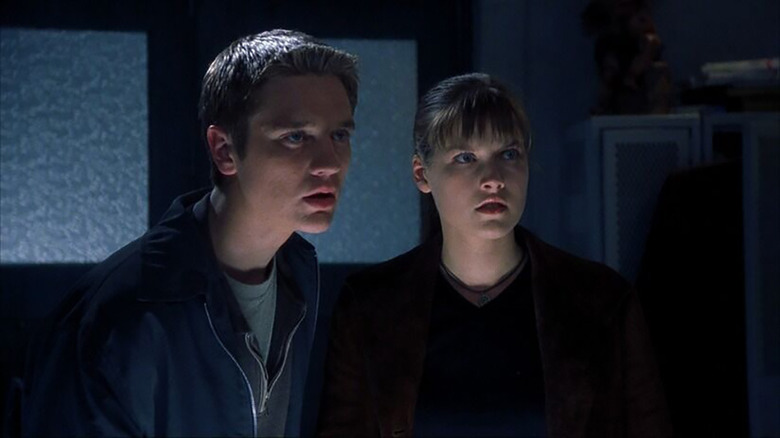 New Line Cinema
Devon Sawa was famously the final part cast in "Final Destination," nabbing the role due in large part to his performance in "Idle Hands." It's never been publicly stated why Maguire and Dunst left the project, but it's been widely accepted that it was probably due to "Spider-Man." The official casting announcement for Tobey Maguire as Peter Parker was made a few months after "Final Destination" premiered, but for a film attached to such a massive IP, there's no way the casting process didn't begin much earlier, likely in direct conflict with the shooting schedule of "Final Destination." Dunst has gone on record admitting that Maguire's casting is what inspired her to audition for MJ, and with the two originally set to play opposite in "Final Destination," this might have been the motivating factor to leave the project as well.
Their initial casting in "Final Destination" may have even helped the two get cast together, as it was clear the two had great on-screen chemistry and made a great on-screen couple. Had they been cast as a couple in "Final Destination" Sony would have likely not pursued them, as audiences would have just seen them together in a different property, and may have struggled to differentiate the characters in their minds. The unfortunate reality is also that horror movies had a reputation during this era of changing the career trajectory of young stars, not always in good ways, due to many studios thinking less of the genre.
Things ultimately seemed to turn out for the better, with Sawa and Larter becoming beloved staples of the horror genre and Maguire and Dunst becoming one of the superhero genre's favorite couples.