Here's Where You Can Stream Or Buy Every Season Of King Of The Hill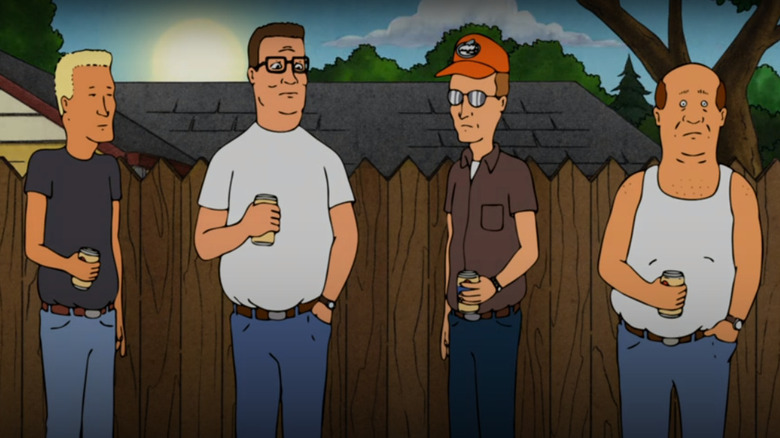 Hulu
We may receive a commission on purchases made from links.
Mike Judge's "King of the Hill" did something few things in comedy have ever accomplished: It both satirized the state of Texas and its residents, but also remains beloved by them. The show's portrayal of life in southern suburbia left audiences, especially Texans, endeared to it, and it also used its platform to comment on current events of the time, from the 2000 Election to trend of banning trans fats in foods. In a way, "King of the Hill" was the southern animated cousin to "All in the Family," with a protagonist in Hank Hill who wasn't nearly as prickly as Archie Bunker. It was fun to watch Hank, a humble propane salesman, navigate the world as it evolved beyond his comfort zone, often forcing him to question his own world views as society changed around him.
If you're interested in a little southern comfort, we're here to help y'all find out how to watch every season of "King of the Hill." 
Streaming on Hulu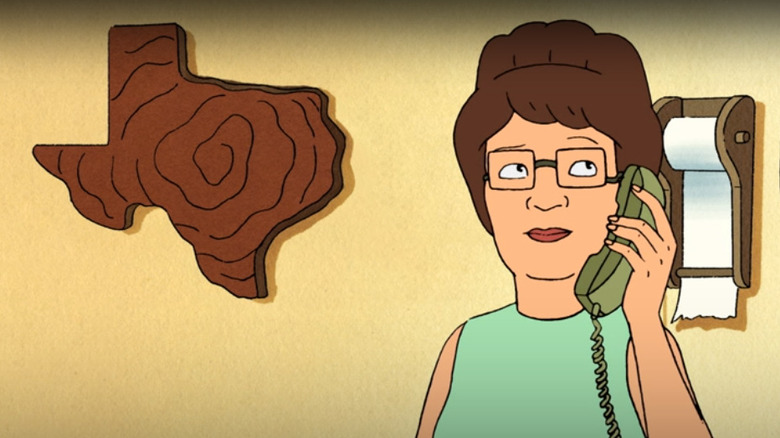 Hulu
For a while, fans of "King of the Hill" were frustrated that there wasn't more streaming access available for the show. It was on Netflix for a while after the show wrapped up, but was removed in 2013. So it was a relief when Hulu acquired exclusive streaming access for all thirteen season of the show, if for no other reason than it was finally back online somewhere. The show, once owned by 20th Century Fox, has since fallen under the Disney umbrella, and Disney also now fully controls Hulu, so hopefully Hank, Peggy, Bobby, and the rest of the show's characters will have a home there for a while. You can stream it there now.
Available on DVD and Blu-ray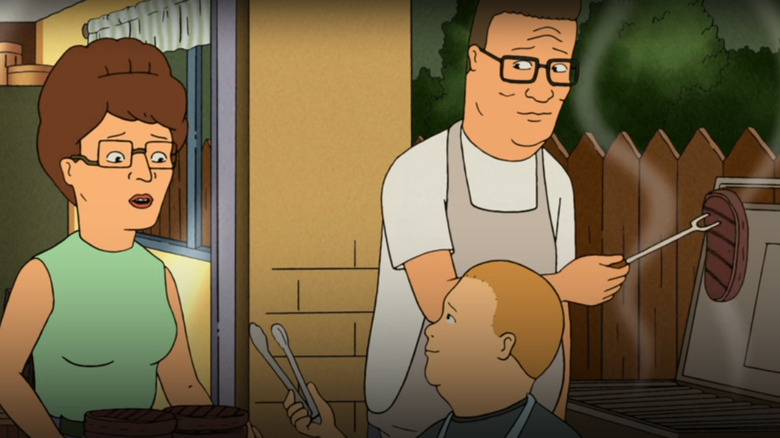 Hulu
If you're interested in having more permanent access to "King of the Hill," consider buying the full series on physical media. The seasons are sold both individually and as a set. All thirteen seasons can set you back around $150 if you purchase the DVDs from Amazon. Strangely, it looks like there's no Blu-ray bundle at this point for Hank and his pals. In fact, for some reason, only the 13th and final season is on Blu-ray, and it's available for just over $17 on Amazon. Dear Gods of Sweet Tea, please fix this injustice and release the whole series on Blu-ray. Considering the show started in 1997, it could really use a nice restoration so we can see all the propane and propane accessories in their finest glory. 
Also, if you love "King of the Hill" and miss those Texans keeping TV weird, there may yet be hope for a revival of sorts. In March 2021, writer Brent Forrester addressed rumors that a reboot was on the horizon, exciting us with the hopes of setting it 15 years after the 13th season ended.
It would be very interesting to know what the Hills have been up to since we said goodbye to them. Texas and the rest of the country have gone through enough changes that producers Mike Judge and Greg Daniels could have an excess of ideas to put the characters through. Is Dale Gribble coping now that conspiracies have gone mainstream? Is Bobby still butting heads with his parents over his dreams of stardom? How is Hank dealing with the influx of Californians coming into the Lone Star State? Tell you what: We'd love to find out.