Benedict Cumberbatch Had A Weird Year Full Of Peters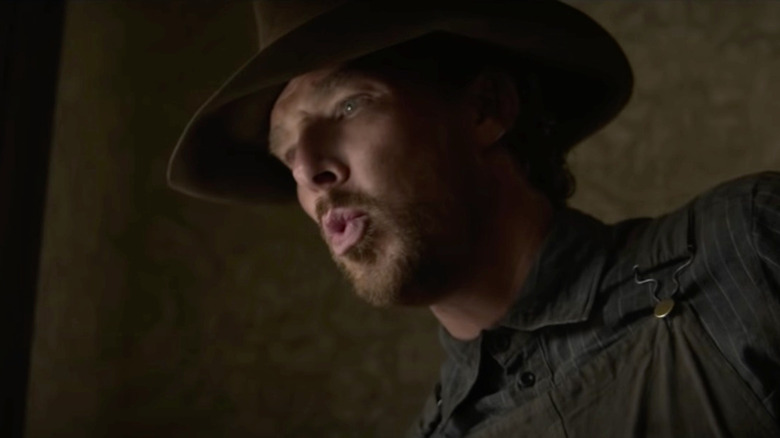 Netflix
Benedict Cumberbatch is a busy guy. He seems to always be working, and this year, he appeared in three very different films – "The Electrical Life of Louis Wain," "The Power of the Dog," and, of course, "Spider-Man: No Way Home." While these films could not be more dissimilar in tone or content, they do share a surprisingly strange connection. In all three films, Cumberbatch's character has to contend with a character named Peter. 
What could this mean? Is it all a coincidence? Is this some sort of CIA psyop? Are we putting too much thought into this? Has reality become too horrifying to handle, cracking my brain in the process? I really don't know. All I know is that the year is almost over, and we can't let 2021 end without addressing this very important matter. Potential spoilers for all three films follow, so be warned. Potential Peters follow as well. 
The Electric Life of Peter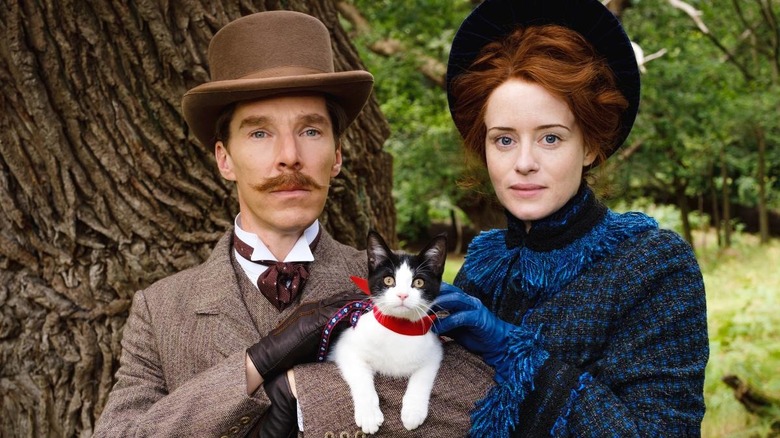 Amazon Studios
The more low-profile of Cumberbatch's three films this year is the Amazon flick "The Electrical Life of Louis Wain," a melancholy biopic of the eccentric English artist Louis Wain, who became popular in the late 1800s and early 1900s for his drawings of anthropomorphized cats. According to the film, the cat wasn't really considered much of a pet at the time – if people owned them, they tended to own them to help deal with vermin, like mice and rats. However, Louis Wain and his beloved wife Emily (played by Claire Foy) are such quirky weirdos that they buck tradition. One day, the pair discover a stray cat in their garden during a rainstorm. They decide to keep the cat and raise him as a pet – a decision that absolutely confounds Louis' acquaintances. 
And what do Louis and Emily name the cat? Peter. 
It must be said that this is all based on truth – Louis Wain really did have a cat named Peter. Here's what the website Fully Feline has to say on the matter: 
Wain's began his artistic career when he was a teenager. In his early twenties he worked as a freelancer and had modest success. His wife Emily developed cancer and after a long illness succumbed to the disease. During her illness, Emily derived pleasure from interacting with their black and white cat, Peter. Because of the strong bond between Emily and Peter, after Emily's death Wain began interacting more with the cat.He taught Peter tricks like wearing eye glasses, and began drawing pictures of the cat in a variety of situations. These pictures of Peter elevated Wain's career and the artist wrote "to him properly belongs the foundation of my career, the developments of my initial efforts and establishing of my work."
Sadly, in the film, as in real life, both Emily and Peter die. Emily dies from cancer and Peter seemingly dies of old age, leaving Louis alone. It's a surprisingly sad film, especially since the selling point on the whole damn thing is "A movie where Benedict Cumberbatch draws cats!" But Cumberbatch's interaction with Peters was just beginning. 
The Power of the Peter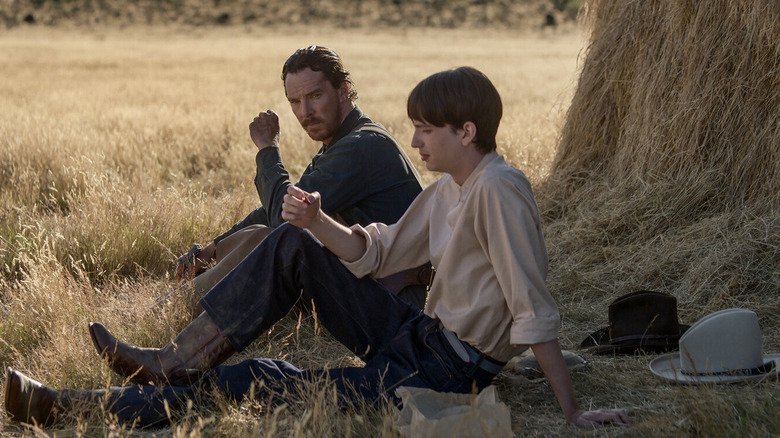 Netflix
Cumberbatch's best performance of the year, and perhaps of his entire career, is in Jane Campion's dark, brooding neo-Western "The Power of the Dog." Here, Cumberbatch plays Phil, a cruel rancher. Phil has an Ivy League education, but he'd rather play cowboy, working alongside his brother, Geroge (Jesse Plemons). Little by little, we learn more about Phil. Specifically, we learn that he had some sort of sexual relationship with his mentor, a now-deceased man named Bronco Henry. 
When George marries a lonely window, played by Kirsten Dunst, Phil is furious. He takes an immediate dislike towards his new sister-in-law – and also her son, a strange boy named ... wait for it ... Peter. Peter, played by Kodi Smit-McPhee, is quiet and shy, and he tries to steer clear of Phil. At least at first. But as Phil's torments of his mother grow worse, Peter does something unexpected: he befriends Phil. Phil does something equally unexpected: he takes a liking to Peter and takes him under his wing. 
However, there are more nefarious forces at work here. Phil is working his way up towards a sexual advance at Peter. And Peter? Well, he has a plan. And that plan involves killing Phil. He tricks Phil into making a rawhide rope from the hide of a cow that died from anthrax. Phil doesn't know this, and the exposure to anthrax leads to his sudden death. The moral of the story: don't befriend Peter. 
Peter-Man: No Way Home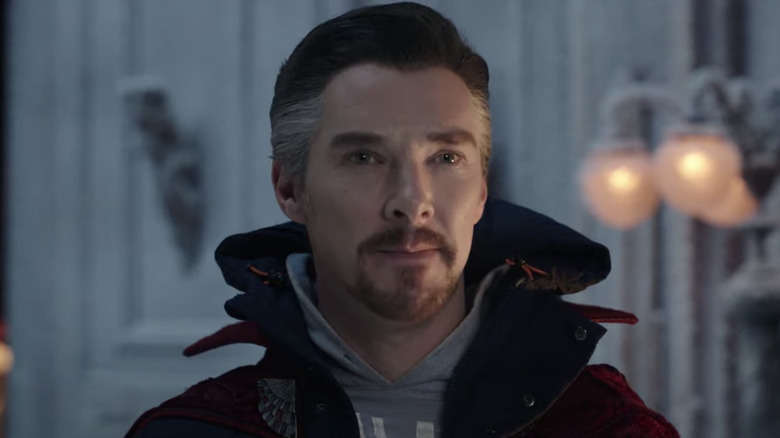 Marvel
Finally, Cumberbatch closes out the year dealing with not just one Peter, but three of them. In "Spider-Man: No Way Home," Cumberbatch reprises his role as Doctor Strange. Peter Parker (Tom Holland) has been outed as Spider-Man, and he wants Strange to help whip up a spell to make everyone forget all about this. But it backfires, opening doors to the multiverse and bringing two other Peter Parkers – played by Tobey Maguire and Andrew Garfield – into the fold. As you can imagine, this causes many headaches for poor Doctor Strange. 
But again I ask: what the hell is going on here? How can Cumberbatch have appeared in three different movies with Peters this year? What are the odds of something like that happening? I Just consulted a calculator for this, and when I hit enter, the screen simply flashed the word "IMPOSSIBLE!!!" over and over again. Very weird. 
I'm not a conspiracy theorist, but I think it's safe to say there's some sort of vast conspiracy at work here. Just how far up does this conspiracy go? And how far back does it go? In 2011, Cumberbatch appeared in "Tinker, Tailor, Soldier, Spy," where he played a character named Peter. Sure, you could shrug all of this off as a coincidence. Or you could remove the wool from your eyes and start realizing that something is going on here. One of Cumberbatch's upcoming roles is a TV miniseries adaptation of "The 39 Steps," the story of "an ordinary man, who becomes an unwitting pawn in a vast, global conspiracy to reset the world order." Surely this all can't be a coincidence ... right? Surely, Peter is coming. You've been warned.