The Righteous Gemstones Season 2 Trailer: The HBO Comedy Returns In January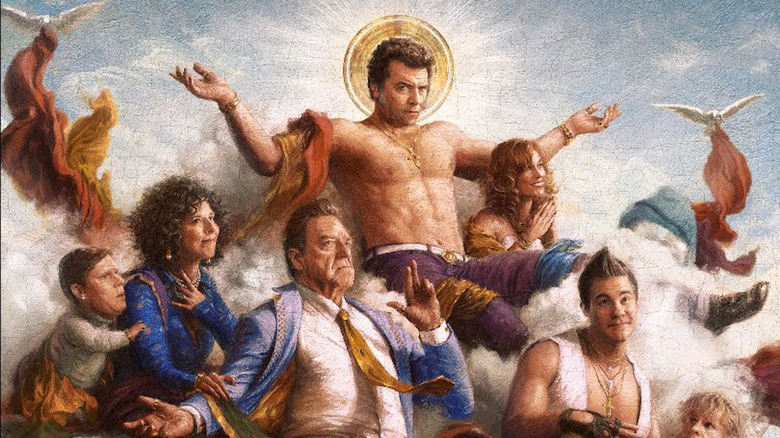 HBO
Put on your clogging shoes and get ready to "run through the house with a pickle in your mouth," folks: "The Righteous Gemstones" is coming back soon. The uproariously blasphemous HBO series about a Christian corporate empire returns in January and has already received a third-season renewal, per Collider. Now it has a new trailer extolling the virtues of its upcoming episodes, which seem to include motorcycle-riding assassins, familial power moves, and a new religious tycoon played by none other than Eric André.
The Righteous Gemstones Season 2 Trailer
André joins the series as Lyle Lissons, a cowboy-hat-wearing Evangelical who pitches the Gemstones family on his idea for a Floridian Christian resort called Zion's Landing. Judging by the Gemstones' deeply dysfunctional history, the proposed paradise will probably turn out like Fyre Fest but with Bibles. André is one of the most unpredictable comedians in the game right now, and the Danny McBride-created series thrives on chaos, so he's an exciting addition to the cast by all counts.
Andre isn't the only new face joining "The Righteous Gemstones" this season. Jason Schwartzman is also on board, playing a reporter who has a scoop on the Gemstone family. The trailer doesn't reveal much about what he knows, except that it's not about patriarch Eli Gemstone (John Goodman). The first season of the show established that the family has a laundry list of dirty secrets, from extra-marital affairs and drug-fueled parties to a violent hit-and-run. Schwartzman's character seems to be playing the straight man, but in a series as off-the-wall as "The Righteous Gemstones," it's likely he has some secrets of his own.
This Trailer Is Jam-Packed
The "Gemstones" trailer includes plenty of other familiar faces, from Walton Goggins as showman priest Baby Billy Freeman to Tony Cavalero as Kelvin's (Adam Devin) ex-Satanist roommate Keefe. One person who's conspicuously absent? "Licorice Pizza" actor Skyler Gisondo, whose role as estranged family member Gideon lent the series a through-line of sincere emotion last season. The last time viewers saw Gideon, he was doing charity work in Haiti, so until proven otherwise, I'm going to hope he's still there, away from these megalomaniacs.
This first look at "The Righteous Gemstones" Season 2 is jam-packed with wild teasers, revealing people on fire, masked gunmen, and plenty of ridiculous humor, especially from the family's only daughter, Judy (Edi Patterson). Most importantly (to me), there's also an ultra-quick shot of Judy on-stage singing. Let's pray that means we're in for another rousing round of Baby Billy's pickle-loving hit song, "Misbehavin.'"
"The Righteous Gemstones" returns on January 9, 2022 on HBO and HBO Max. See the new season 2 poster below.