Superhero Bits: A Major Marvel Villain Returns, Peacemaker Character Posters & More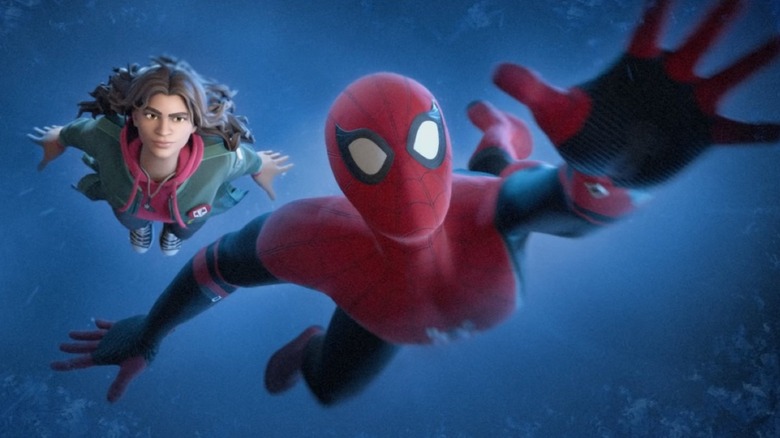 Marvel
(Superhero Bits is a collection of stories, updates, and videos about anything and everything inspired by the comics of Marvel, DC, and more. For comic book movies, TV shows, merchandise, events, and whatever catches our eye, this is the place to find anything that falls through the cracks.)
In this edition of Superhero Bits:
"Peacemaker" gets new character posters.
A Marvel villain returns from the ashes.
DC recreates a classic meme-able moment.
"Spider-Man: No Way Home" goods arrive in "Fortnite."
Peacemaker Character Posters
DC has revealed a new set of character posters for the upcoming "Peacemaker" series, which stars John Cena as the title character. Hailing from James Gunn, the series serves as a spin-off of this summer's "The Suicide Squad." As we can see in the posters, there are some familiar faces, as well as some new ones going along for the ride. The show arrives on HBO Max next month.
Hawkeye Episode 5 Easter Eggs Video
While we already did a rundown of the Easter eggs in "Hawkeye" episode 5, titled "Ronin," the folks at ScreenCrush have put together an extensive video breakdown of the episode. It goes over Easter eggs, references, and everything of the like that fans may have missed in the admittedly important installment of the Disney+ series. Check it out for yourself above. It probably goes without saying, but the video is loaded with spoilers, so only watch it if you've seen the episode.
Godzilla Vs. The Mighty Morphin Power Rangers Announced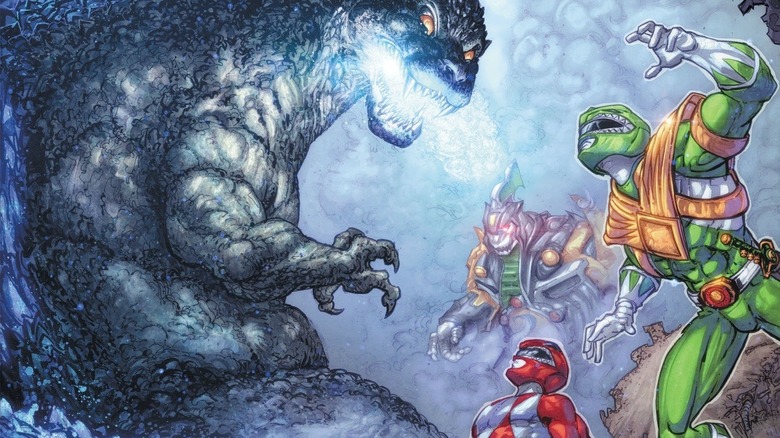 IDW
IDW has revealed a new partnership with Toho, BOOM! Studios, and Hasbro, that is bringing two huge franchises together for the first time. Yes, "Godzilla Vs. The Mighty Morphin Power Rangers" will do just what it says it will, bringing the young heroes up against the king of the monsters in a five-issue comic book series. Let them fight, as it were. Writer Cullen Bunn ("Deadpool") and artist Freddie Williams II ("Batman/Teenage Mutant Ninja Turtles") are behind the book. A synopsis for the book reads as follows:
When Rita Repulsa uses an ancient artifact to transport herself to a universe without Power Rangers, she finds herself in a world with aliens, kaiju, and... Godzilla! Hoping to annihilate this new foe, Rita hurls her own terrible creatures into battle. But she never expects that the Rangers have followed her to this alternate reality, pitting the Dinozords themselves head-to-head with the King of the Monsters!
Look for "Godzilla Vs. The Mighty Morphin Power Rangers" on shelves in March 2022.
Florence Pugh Had Fun With Hawkeye Episode 5's Big Scene
While we won't go into specifics, those who have seen "Hawkeye" episode 5 are aware that Florence Pugh's Yelena Belova gets an awful lot of screen time. They will also surely appreciate her recent Instagram post (seen above), as it is a playful reference to one of the biggest scenes from the episode. If we don't get "Hawkeye" branded macaroni and cheese, what has this all been for?
A Lobo Video Game Almost Happened In the '90s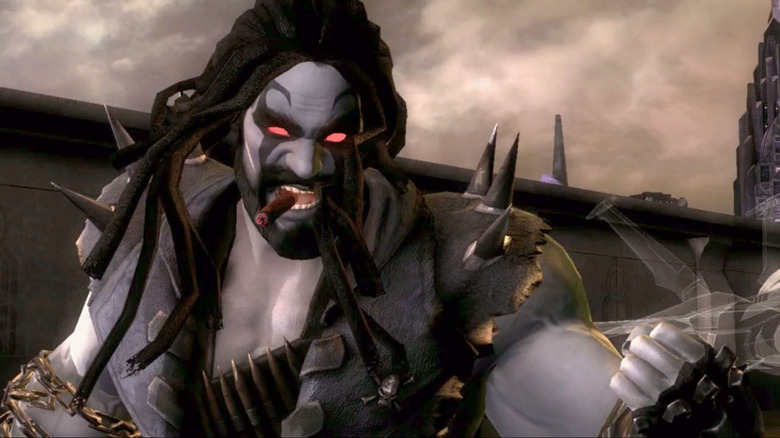 DC
Lobo is a popular antihero from the DC universe who, outside of the comics, has appeared in shows like "Krypton" and, at least at one point, had a movie in development. It turns out that a "Lobo" video game nearly happened in 1996 as well, and it would have been released for the Sega Genesis and Super Nintendo. The folks at Comic Book Resources recently broke down the ill-fated project, and some footage from the game has even surfaced online over the years.
"Lobo" was developed by Ocean of America and would have been a fighting game not unlike "Mortal Kombat," which had exploded onto the scene just a few years earlier. Unfortunately, for reasons that remain unknown to this day, it was scrapped at the last minute. It now exists firmly in the realm of "what if?" along with so many other comic book-based projects that never came to be.
A Batman Meme Gets Immortalized By DC On New Cover
Virtually anyone who spends any time on the internet is surely familiar with the "Batman slapping Robin" meme format, which is regularly put to use for various reasons. The meme generated from the pages of "World's Finest" #153, published in 1965. Now, DC has revealed a new variant cover for "Batman/Superman: World's Finest" #1, which flips the script and sees Superman slapping Batman. The cover was cooked up by Chip Zdarsky and is set to hit stands on March 15, 2022.
Benedict Cumberbatch Is Getting Paid a Lot for No Way Home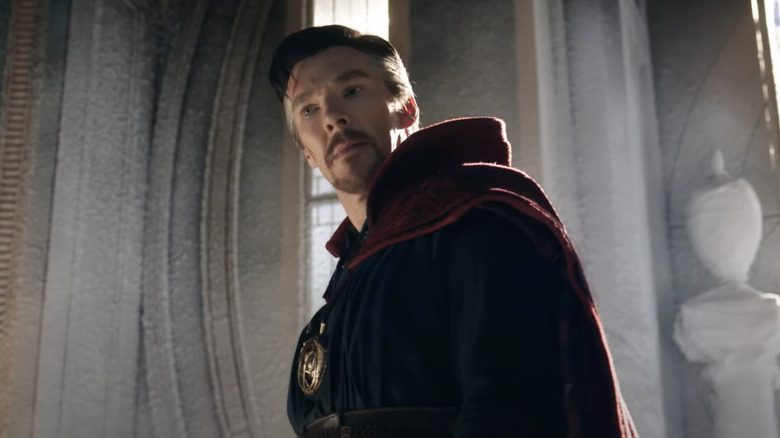 Sony Pictures
It turns out that being a big superhero in a major franchise is quite profitable. To that end, Benedict Cumberbatch, per a new report from Puck, is getting a huge payday for his work as Doctor Strange in "Spider-Man: No Way Home." The actor is said to be earning $7.5 million guaranteed for his work, with box office bonuses also in place. Given how good the opening weekend is looking so far, Cumberbatch should expect to hit some of those incentives. And he's also surely getting a nice chunk for next year's "Doctor Strange In the Multiverse of Madness" as well.
Eternals Disney+ Teaser
Marvel has released a new video hyping up the release of "Eternals" on Disney+. The movie will be available to subscribers beginning January 12, and the cast has assembled in a new video that sees them all texting one another excitedly about it. The whole thing is painfully manufactured but it is a good reminder that a lot more people are about to see this movie in the coming weeks, if nothing else. I, for one, feel it deserves its fair shake.
Hawkeye Brings [Spoiler] Back to the MCU, [Spoiler] Responds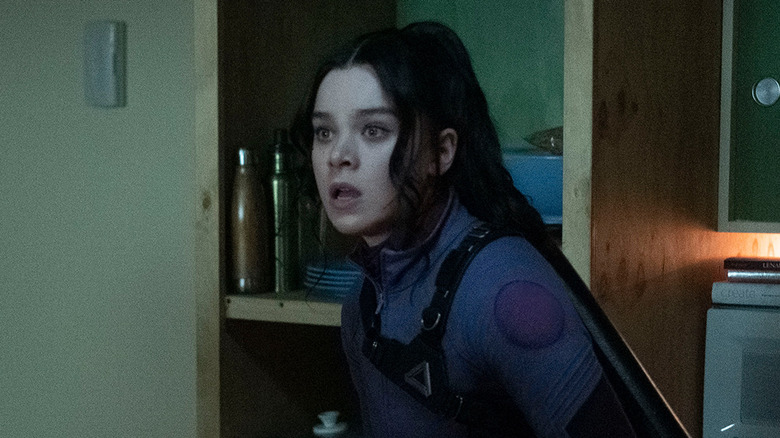 Marvel Studios
Yes, this item contains spoilers for "Hawkeye" episode 5. Look away if you have not seen it yet! Last chance. That said, viewers learned that none other than Kingpin is at the top of the food chain when it comes to the Tracksuit Mafia, with a glimpse at the character provided in the show's closing moments. None other than Vincent D'Onofrio, who played the villain in "Daredevil," is returning to reprise the role. D'Onofrio, taking to Twitter, shared an interesting moment from the episode's credits, acknowledging his return.
When I was a boy... pic.twitter.com/3iRk6OO6c6

— Vincent D'Onofrio (@vincentdonofrio) December 15, 2021
So there we have it. The "Hawkeye" season finale next week figures to be a big deal, to say the very least of it.
Fortnite Gets Spider-Man: No Way Nome Character Skins
Lastly, "Fortnite" recently kicked off its "Winterfest" in-game event, and they are bringing a pair of Marvel characters along for the ride. As revealed in the above trailer, both Spider-Man and MJ, modeled after Tom Holland and Zendaya, are coming to the game in honor of "Spider-Man: No Way Home." Various character skins will be making their way to the game's item shop, allowing players to become Spidey or MJ. Have a look.
"Fortnite" likes to keep things on even terms, so the skins are purely cosmetic and don't grant the player an unfair edge or anything of the like. But for big fans of the game who also happen to love Spider-Man, this may be worth checking out.