Disney+ Snags Rights To New Show About Kids Who Make A Shot-For-Shot Remake Of The Goonies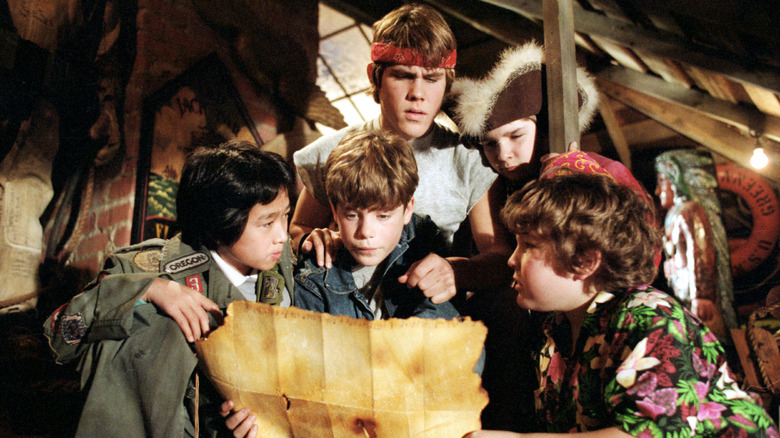 Warner Bros.
Goonies never say die! So proclaims Mikey (a teenaged Sean Astin) in "The Goonies." The 1985 comedy-adventure remains a childhood touchstone for so many adults to this day, despite being an otherwise messed-up movie, even by the standards of '80s kids films. It's also been the rallying cry for many of the movie's cast members when it comes to the idea of "The Goonies 2" eventually happening, even more than 35 years later. However, the "Goonies"-related project that actually is moving forward has nothing to do with searching for secret pirate treasure or battling crime families.
According to Variety, Disney+ has picked up "Our Time," a show that gets it title from another one of Mikey's better-known lines. The series' pilot was developed for Fox by "The Bold Type" creator Sarah Watson but changed homes after the network decided it skewed too young for its target demographics. Its official synopsis reads as follows:
After failing to make it in New York and carrying a heavy secret with her, Stella Cooper returns to her distressed automotive hometown to substitute teach. She finds inspiration, hope and ultimately salvation when she agrees to help three students who are pursuing their filmmaking dreams by putting on an impossibly ambitious shot-for-shot remake of one of their favorite movies —The Goonies. Over the course of the season of the potential series, their passion will inspire a town in desperate need of hope in this love letter to the power of cinema, storytelling and dreams.
Nostalgia: It Ain't All It's Cracked Up to Be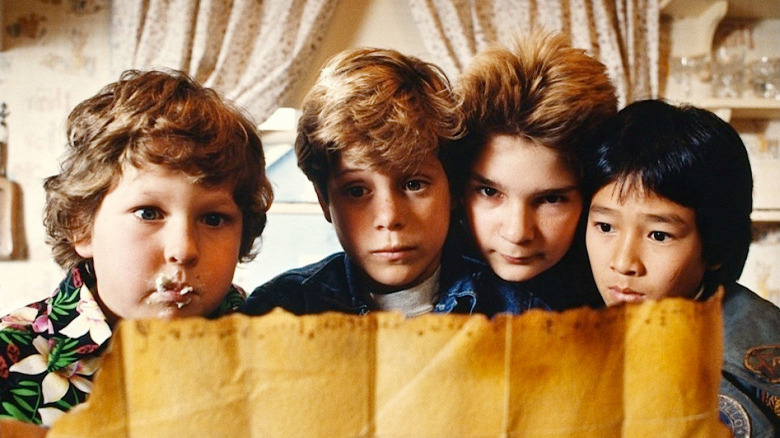 Warner Bros.
Executive producers on "Our Time" include Watson and The Jackal Group's Gail Berman and Hend Baghdady, as well as Amblin TV's Darryl Frank and Justin Falvey. Lauren Shuler Donner and the late Richard Donner, the latter of whom directed "The Goonies" for Amblin Entertainment co-founder Steven Spielberg (who, lest we forget, was credited for the film's story), will also receive executive producer credit.
As /Film's Chris Evangelista noted when "Our Time" was announced in 2020, the show's premise bears an uncanny resemblance to that of "Raiders!: The Story of the Greatest Fan Film Ever Made," the well-received 2015 documentary about three childhood friends who reunited after 25 years to finish crafting a shot-for-shot remake of Spielberg's classic "Raiders of the Lost Ark." But where that film was praised for telling a poignant true story that didn't shy away from exploring the dark side of fandom and nostalgia, it seems like "Our Time" is only really interested in portraying nostalgia as an inherent force for good. In this day and age, that doesn't seem like a great message to be putting out there.
"Our Time" has yet to receive a release date. That being said, if you want to see one of the Goonies back in action, you can catch Ke Huy Quan (who played Data in the original movie) in next year's bodacious-looking mind trip "Everything Everywhere All at Once."