The Morning Watch: How Sam Raimi's Spider-Man Should Have Ended, Tom Holland Gets Spicy & More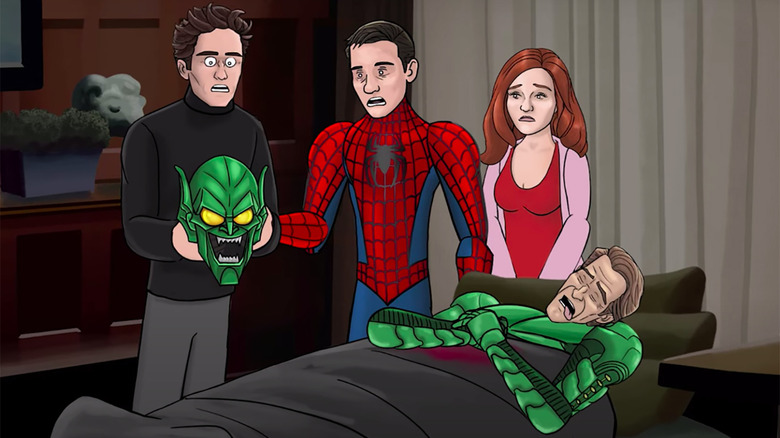 How It Should Have Ended
(The Morning Watch is a recurring feature that highlights a handful of noteworthy videos from around the web. They could be video essays, fan-made productions, featurettes, short films, hilarious sketches, or just anything that has to do with our favorite movies and TV shows.)
In this edition, find out how Sam Raimi's "Spider-Man" movie from 2002 should have ended, which could have saved Peter Parker a lot of headaches in the sequels. Plus, Tom Holland partakes in some deadly hot wings in a new edition of "Hot Ones." And finally, "Venom: Let There Be Carnage" gets in the holiday spirit with a Yule Log video straight from inside Eddie Brock's crappy apartment.
How Spider-Man Should Have Ended
First up, a new edition of "How It Should Have Ended" takes aim at Sam Raimi's original "Spider-Man" movie. First of all, there's a way that Peter Parker could have solved his money problems and kept Uncle Ben from getting killed. On top of that, with a little tough love and brutal honesty, Peter Parker could have also prevented Harry Osborn from blaming Spider-Man for the death of his father, Norman Osborn. 
Tom Holland Does Hot Ones
Next, for the "Hot Ones" 16th season finale, "Spider-Man: No Way Home" star Tom Holland stopped by to try his hands and tastebuds at the wings of death. While getting spicy and saucy, the conversations focuses on pub food, Holland's relationship with Robert Downey Jr., the challenges of acting in the Spider-Man suit, and much more. Stick around for the credits to see just how much water is required to keep the heat at bay.
Venom: Let There Be Carnage Yule Log
Finally, now that "Venom: Let There Be Carnage" is available on 4K Ultra HD, Blu-ray, and DVD, Sony Pictures is celebrating by getting in the holiday spirit with a Yule Log inspired by Eddie Brock's apartment. As you can see, the reporter got the short straw when it came to getting a proper stocking. Meanwhile, Venom's is stocked with his own movie on Blu-ray and a bar of chocolate. Unfortunately, you won't see Venom slinking around at all, which feels like a missed opportunity. Oh well!