The Morning Watch: Why Movie Theaters Aren't Dead Yet, The Royal Houses Of Dune & More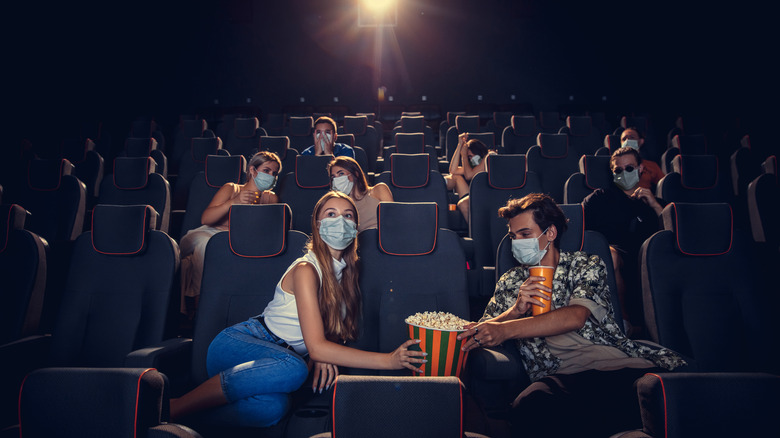 Mihai Borza/Shutterstock
(The Morning Watch is a recurring feature that highlights a handful of noteworthy videos from around the web. They could be video essays, fan-made productions, featurettes, short films, hilarious sketches, or just anything that has to do with our favorite movies and TV shows.)
In this edition, a video essay explores why movie theaters aren't dead yet despite the shrinking theatrical window and disappointing box office numbers. Plus, a new "Dune" featurette explores the various royal houses from the adaptation of Frank Herbert's classic sci-fi novel. And finally, "Binging with Babish" tackles a tall order by recreating the epic meal requested by the mayor in "Cloudy with a Chance of Meatballs."
Why Movie Theaters Aren't Dead Yet
First up, even as the coronavirus pandemic felt like it could be the death knell for movie theaters, they've somehow survived. That's mostly because studios are still opting to release certain big movies in theaters rather than giving them all a hybrid theatrical and VOD/streaming release. But why? This video essay from Vox explores how movie theaters are holding on in the face of major changes to the theatrical exhibition model. Will it last?
The Royal Houses of Dune
Next, with "Dune" now available on digital platforms, Warner Bros. Pictures has released a look behind the scenes that explores the large ensemble of characters who make up the various royal houses in this vast sci-fi world. There's a rich history in Frank Herbert's book, on which "Dune" is based, and Denis Villeneuve's film is just the first in a two-part story that will continue in 2023. 
Mayor's Request from Cloudy with a Chance of Meatballs
Finally, "Binging with Babish" takes on the hefty task of recreating the mayor's massive meal from the animated adaptation of "Cloudy with a Chance of Meatballs." In case you don't recall, it involves stuffing a turkey with pizza, deep-frying it, and dunking it in chocolate. That doesn't sound like the worst idea, but it doesn't sound like an easy recipe to make for an appetizing meal. See how it turns out in the video above, and then maybe try to make it yourself.