The Batman Vs. Superman Easter Egg You Missed In I Am Legend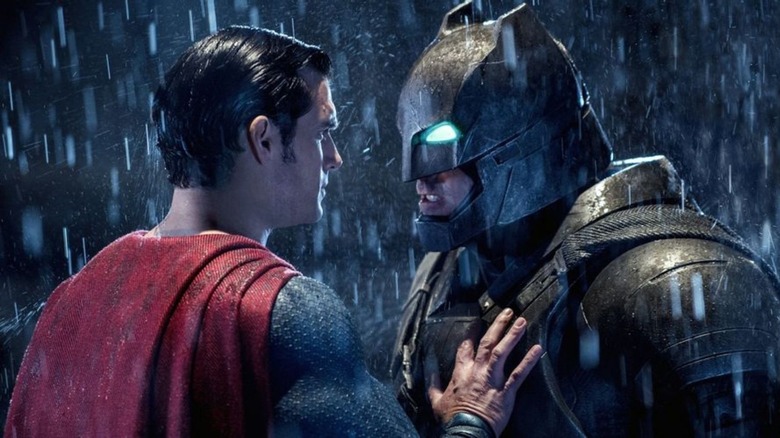 Warner Bros.
"Batman v Superman: Dawn of Justice" made history for being the first live-action film that featured DC Comics titans Batman and Superman together. Despite the film's reputation for being a convoluted superhero clash (or rather, mess) of sorts, it was the first DC Extended Universe project to pit two of their greatest heroes against each other, making it quite a big deal, regardless of how much you may dislike the film.
While "Batman v Superman" was released in 2016, it had technically been in the making for nearly a decade before that, which is why it ended up being referenced with an Easter egg in the post-apocalyptic thriller "I Am Legend" back in 2007.
"I Am Legend" features Hollywood superstar Will Smith as Robert Neville, the sole survivor of a deadly plague who is struggling to find a cure as the last man alive in New York City. In a scene where Smith is seen finding his way through a deserted, dystopian version of Times Square, his character walks past a rather large billboard promoting a Batman and Superman crossover movie. The surprising Easter egg moment that references the clash of DC's most prominent heroes lingers only for a few seconds. 
However, "I Am Legend" was released many years before Zack Snyder's movie was ever announced, and there was no way for the filmmakers to know about the 2016 film. So why was it there? The Easter egg is actually a reference to development of an abandoned "Batman vs. Superman" project from the past, not what was to come.
The History of Batman vs Superman in Hollywood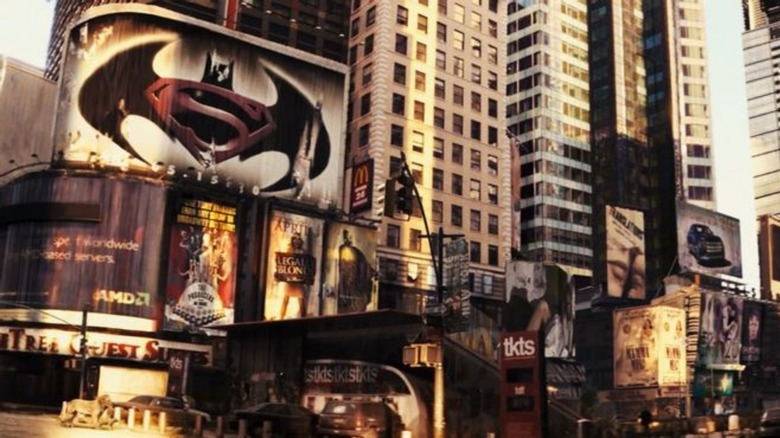 Warner Bros.
In 2014, "I Am Legend" director Francis Lawrence told Collider that Akiva Goldsman (who wrote the film) also wrote an early draft of a "Batman vs. Superman" movie, but it was never made, and Warner Bros. dropped the project.
Before that, "Sleepy Hollow" writer Andrew Kevin Walker had the idea to have Superman and Batman in a single movie, and Warner Bros. approved. Oscar-nominated filmmaker Wolfgang Petersen was brought in to helm the film, and later, Akiva Goldsman was hired to rewrite Walker's original script. Goldsman's treasure trove of knowledge of the Dark Knight thanks to his work on "Batman Forever" (1995) and "Batman & Robin" (1997) proved helpful, and the heroes were set to collide in a plot that tied their cities — Gotham and Metropolis together.
Unfortunately, Goldsman's rewrite was dropped too, and Warner Bros. instead moved forward with Christopher Nolan's "Batman Begins," which would kickstart his entire "Dark Knight Trilogy." Later, the studio hired Bryan Singer to spearhead another superhero reboot with "Superman Returns" in 2005.
When Lawrence and Goldsman were collaborating on "I Am Legend," the duo thought it would be interesting to imagine what movies would be released when the futuristic plague (as depicted in the film) occurred. The "Batman v Superman" Easter egg was a nod to Goldsman's script that never became a reality, and he decided it was the perfect opportunity to immortalize a glimpse of what could have been, if the film had been made.
Of course, nearly a decade later, Zack Snyder's "Batman v Superman: Dawn of Justice" was released, and what followed after is long, complicated Hollywood history that will make for an interesting book after a lot more time has passed.