Here's Where You Can Stream Or Buy Every Season Of Agents Of S.H.I.E.L.D.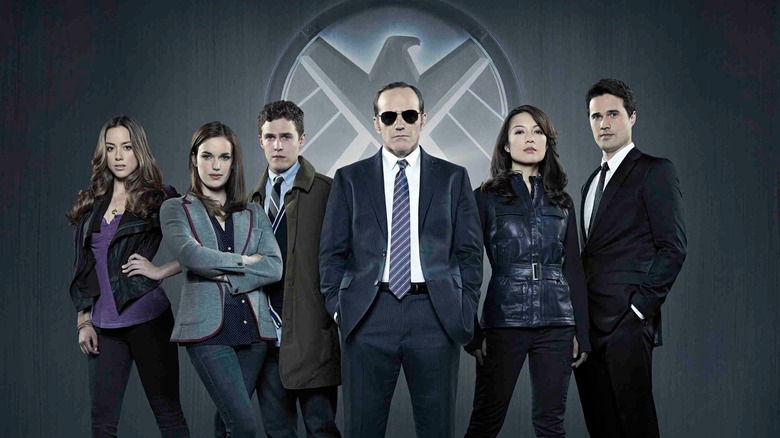 Marvel Television
(Welcome to Where to Watch, which provides a clear and simple answer to the question, "Hey, where can I watch this thing?")
Agent Phil Coulson is a beloved part of the Marvel Cinematic Universe. Along with Samuel L. Jackson's Nick Fury, Clark Gregg's fan-favorite S.H.I.E.L.D. agent is the glue that held Marvel Studios' Phase One together. But as he embarked on what would become his last mission in 2012's "The Avengers" thanks to Loki, True Believers weren't ready to let him go. Cries of #CoulsonLives echoed across the internet and into the hallowed halls of the Javits Center at New York Comic Con later that year. That's when Joss Whedon, Jeph Loeb, and the Marvel Television team announced that the Son of Coul would headline his very own TV show on ABC, which would come to be known as "Agents of S.H.I.E.L.D."
The series starring Gregg, Ming-Na Wen, Brett Dalton, Chloe Bennet, Iain De Caestecker, and Elizabeth Henstridge followed Coulson and his team of extraordinary agents as they tackled strange missions that required more finesse than the more epic battles that required the Avengers. Clocking in at 136 episodes over seven seasons, it ran from fall 2013 to summer 2020. And despite the initial promise of "It's all connected," the direct crossovers with the blockbuster films such as "Captain America: The Winter Soldier" decreased over time. Instead, there were thematic connections to the movies and special guest spots from familiar faces like Agent Peggy Carter (Hayley Atwell), Maria Hill (Cobie Smulders), Lady Sif (Jamie Alexander), Agent Jasper Sitwell (Maximiliano Hernández), and Baron Wolfgang von Strucker (Thomas Kretschmann).
And though it may or may not be MCU canon anymore, "Agents of S.H.I.E.L.D." is still a fun show filled with comic book Easter eggs and superhero action for Marvel fans to uncover. Plus, it laid the groundwork both in-universe and in real life for the Marvel shows on Netflix, Freeform, Hulu, and Disney+. So in case you're a completist looking to include the show in your complete film and TV rewatch of the MCU or if you just want to watch the show for the first time, here's where you can find it.
Where To Stream Agents of S.H.I.E.L.D.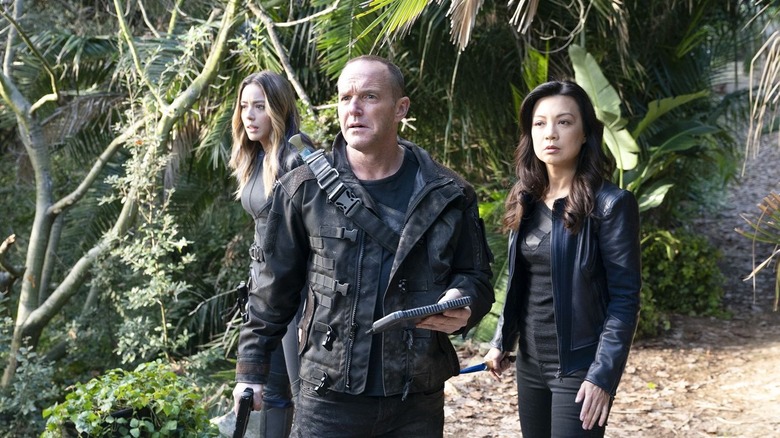 Surprisingly, "Agents of S.H.I.E.L.D." isn't available on Disney+. It would probably occupy the same space under Marvel Series And Specials with "Agent Carter," "Runaways," and "Inhumans," but I could have sworn that they were under the Marvel Legacy banner at one point. If they were, that would've meant they were among the shows and movies that aren't part of the Sacred Timeline of the MCU ... yet. That section currently has the X-Men movies (minus the less family-friendly ones like "Deadpool" and "Logan"), Josh Trank's "Fantastic Four" (or "FANT4STIC"), and the seminal animated X-Men series from the '90s. But that classification seems to change from week to week since the Darkhold, a mystical item that crossed paths with both Agent Coulson's team and the Runaways, popped up in "WandaVision."
But now that you know where it isn't, you can find all seven seasons of "Agents of S.H.I.E.L.D." streaming on Netflix alongside other amazing Marvel shows like "Daredevil," "Luke Cage," "Jessica Jones," and "The Punisher." "Iron Fist" and "The Defenders" are there too, I guess. 
Where To Buy Agents of S.H.I.E.L.D.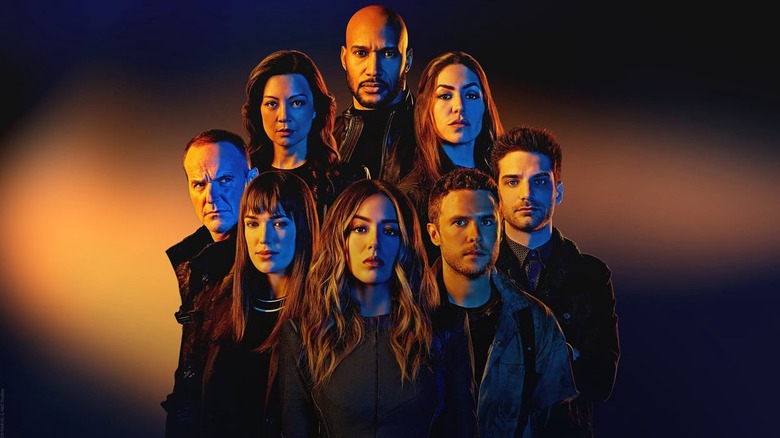 Marvel Television
If you're looking to own "Agents of S.H.I.E.L.D." digitally, there are currently three options: Amazon, Vudu, and iTunes. On Amazon, each episode is $0.99 and seasons range from $17.99 to $27.99. iTunes charges $2.99 per episode, then between $19.99 and $29.99 for the seasons. Vudu probably has the best deal at the moment. While each episode is $1.99, the seasons range from $9.99 to $17.99.
Fans of physical media will have a harder, more expensive time trying to add "Agents of S.H.I.E.L.D." to their collection. The first two seasons were released everywhere on Blu-ray and DVD, but seasons three to five were only released on Region 2 and Region 4. You might be able to find region free versions of these Blu-rays and DVDs on eBay and Amazon, but they're a little pricey at this point. Seasons six and seven have yet to receive a physical release. Time will tell if Disney and Marvel will put together a complete series box set somewhere down the line. But considering Marvel Studios' rocky relationship with Marvel Television before absorbing Ike Perlmutter and Jeph Loeb's TV division like Carl "Crusher" Creel (you know, the Absorbing Man), it may be unlikely.