Here's Where You Can Stream Or Buy Every Season Of Arrested Development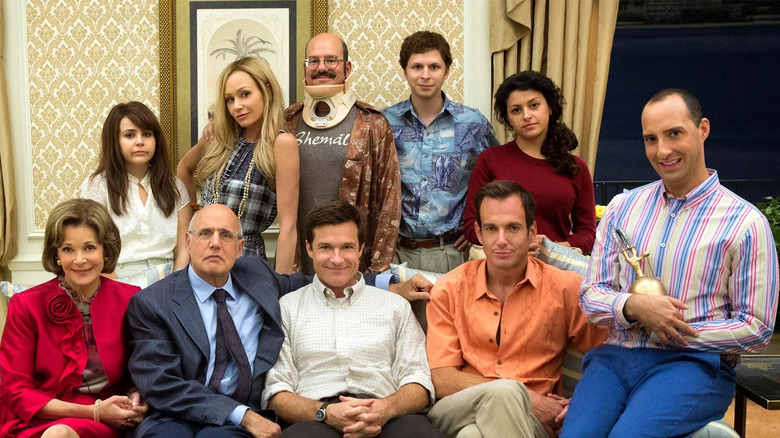 20th Century Studios
One of the great dysfunctional families in television history arrived when "Arrested Development" premiered on the Fox network nearly two decades ago. Though the show struggled to win viewers (as reported by The New York Times) and only had three initial seasons, Michael Bluth (Jason Bateman) and the rest of the clan still managed to develop a devoted fan base that still exists to this day.
Built on a foundation of cumulative running jokes and a then-unique, single-camera filming technique, "Arrested Development" has become a cult classic worthy of all its praise and accolades. Netflix revived the series for two new seasons not too long ago, allowing the show to carry on its legacy by teaching us what is most valuable in life (i.e. family ridicule and unlimited juice). 
If you're Lindsay Bluth (Portia de Rossi), that's an all-expenses paid shopping trip to the best upscale malls, but if you're like the rest of us (and, god, let's hope so), maybe all you need for a little holiday cheer is a funny sitcom and a couple of Bluth's Original Frozen Bananas to make your December spectacular. Get ready to sit back and relax in front of the TV with a nice, piping hot glass of hot ham water, because here are all the places you can buy and stream every season of "Arrested Development." 
Where to Stream Arrested Development
Who even knows what a Blu-ray player is anymore, right? This is the future! Don't get me wrong, I still exclusively use the PlayStation 4 to watch my vast collection of outdated physical media. So when the world is bursting into flames and streaming services are no longer up and running because everything is ending, at least I'll still be able to watch old episodes of "One Tree Hill" on DVD. But I digress. Because this is the 21st century, we would be remiss not to clue you in to all the places "Arrested Development" is available to stream.
For purists who refuse to acknowledge the existence of the revived Netflix series, you can find the first three seasons streaming in full on Hulu. This is the best option if you are into denial and hate reboots. With Hulu, you can stream the series for the relatively low price of $6.99 each month (with ads), or you can pay $12.99 each month if you go ad-free. You may not get to watch every season of "Arrested Development" there, but perhaps you can pretend it's still 2006 and the show just went off the air, leaving you to sit with your angst over never getting another new episode of your favorite family of narcissists. 
But if completion is your thing, Netflix is the place to go. There, you can watch the first three original seasons plus the two Netflix produced seasons. It's the best choice for those looking to get the complete Bluth experience. It's pricier than Hulu, coming in at $8.99 each month for just the basic plan, but it does afford you more Bluth for your buck, which truly is never a bad thing. If Netflix and Hulu aren't really your jam, though, there are multiple options for purchasing "Arrested Development" for your own library.
Where to Buy Arrested Development
For those looking to buy physical copies of "Arrested Development," Amazon is probably your best bet. You can purchase the first four seasons for $39.95. The only catch is that it's only available on DVD and not on the higher quality Blu-ray format. "Arrested Development" hasn't been given a high-definition physical release in the United States, but If you're fancier than most and have access to a region-free DVD/Blu-ray player, you might be able to get your hands on a Region B Blu-ray of the first three seasons. 
There's also the option of buying each season individually. However, we looked into places like Best Buy and Walmart, and availability for every season was spotty at best. You can find most seasons for under $15 each, but Best Buy was completely sold out of everything, and Walmart had the complete series but for nearly $20 bucks more than Amazon. It doesn't take a genius to figure out what the best option is here.
If you truly hate physical media and are one of those people who immediately went out and sold your entire Disney collection the moment Disney+ was breathed into existence, then here are the options for you. Amazon Prime, Apple TV, Google Play, and Vudu all have the first four seasons available to purchase digitally on their platforms. Prices per season range anywhere from $9.99 (in standard definition) on Amazon for the first season to $24.99 in high-definition on Vudu for the first three seasons. Basically, if digital is your preferred viewing method, there are a variety of options at you disposal. If you're completely insane and want to spend more money than necessary, you can always buy individual episodes for around $1.99-$2.99 depending on your chosen quality and platform. 
Otherwise, you can always choose to spend your hard earned money on other, more eclectic merchandise like a perfectly safe Bluth-patented Cornballer, but just remember that it's illegal and you should never ever touch it. If you're short on cash this holiday season, just take Lucille's advice and use what little cash you have to "go see a Star War," instead.