Will There Ever Be A Scrooged 2? Here's What We Know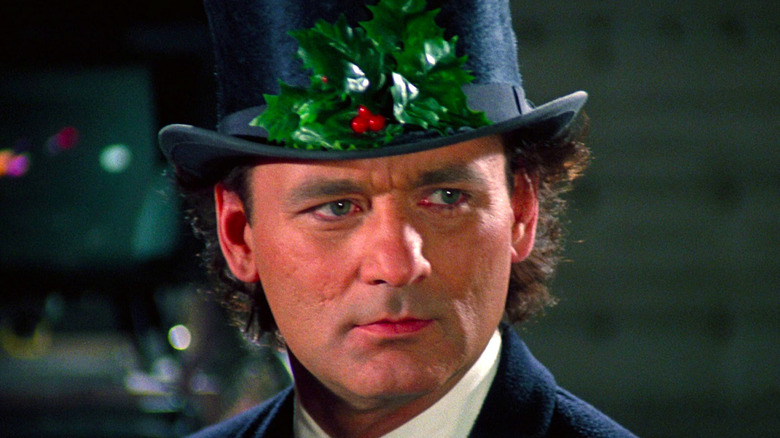 Paramount Pictures
Few actors play the a**hole better than Bill Murray – that's one of the things we love about him. From Peter Venkman in "Ghostbusters" to Phil Connors in "Groundhog Day," Ernie McCracken in "Kingpin" to Herman Blume in "Rushmore," it is this obnoxious quality that makes him just so damn watchable. The actor acknowledged as much himself in an interview with "Irish America" magazine back in the late '80s:
"You know I'm still just like a punk kid really. I'm just an obnoxious guy who can make it appear charming, that's what they pay me to do."
So when it came to casting "Scrooged," Richard Donner's glossy, pricy modern-day adaptation of the Charles Dickens holiday classic "A Christmas Carol," Murray felt like the perfect casting for the role of Frank Cross, the heartless Scrooge-like TV executive who encounters a change of heart after a visit from three ghosts on Christmas Eve. The studio certainly thought so – they paid him $6 million to play the part.
Despite the perfect casting in the lead role, "Scrooged" wasn't the happiest shoot. Speaking with "Rolling Stone" in 1989, Murray said he felt a little "rusty" on his return to acting after a four-year break, during which he only made a cameo appearance as a masochistic dental patient in 1986's "Little Shop of Horrors." It's been noted that Murray immediately wanted changes to the script and fought with Donner over how Cross should be portrayed and the overall vision for the movie.
The end result was only intermittently successful, better in the earlier stages where we find out how terrible Cross can be. Still, the film has its devotees and remains a popular cult Christmas classic. So what are the chances we could see a "Scrooged 2" anytime soon?
What Happens in Scrooged?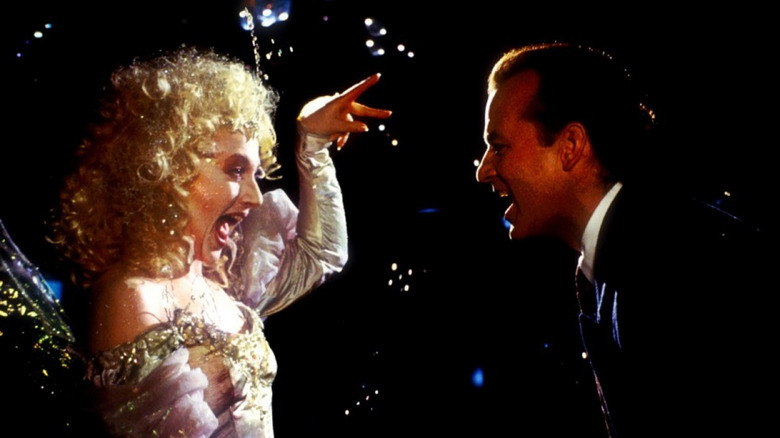 Paramount Pictures
Before we get into any possible "Scrooged 2" talk, let's take a look back at the original.
In "Scrooged," Ruthless television executive Frank Cross (Bill Murray), responsible for wholesome holiday programming like "The Night the Reindeer Died," is busy preparing his Christmas Eve musical extravaganza, a live TV adaptation of "A Christmas Carol."
After firing a subordinate, making his staff slave on the show through the holidays, and sending his colleagues and family cheap, thoughtless gifts, it's clear that Cross is permanently on Santa's naughty list. The night before the show, he is visited by the dusty old ghost of his miserly former mentor, who tells Cross that three apparitions will appear to help him avoid the same lonely fate.
The spirits arrive as foretold. The Ghost of Christmas Past is a cigar-chomping cabbie, the Ghost of Christmas Present is a violent fairy, and the Ghost of Christmas Future is a grim reaper-like character with tortured souls locked in its rib cage.
Through their visions, we see the miserable childhood Cross endured and how he fell in love with kindly Claire (Karen Allen). But Cross lost that love when he chose his career over their relationship. In the present day, we see the struggles of his assistant Grace and her family, and the death of a homeless guy from the shelter where Claire works. Finally, we see a bleak future for everyone and an unmourned death for Cross if he doesn't change his ways.
All this leads to the inevitable change of attitude, and Cross takes to the airwaves to implore people to put a little love in their heart, leading everyone in a nice holdiay sing-along.
There are some great scenes in "Scrooged," but it's also wildly uneven. Murray seems unusually self-conscious in his performance, perhaps reflecting the behind-the-scenes tension with the director. Some critics felt the final ad-libbed scene looked like an onscreen breakdown, and Murray's manic rant demanding love and good will is pretty awkward viewing. Even so, it's still revered by many. But is that love enough for there to be possible development on a "Scrooged" sequel?
Will There Be a Scrooged 2?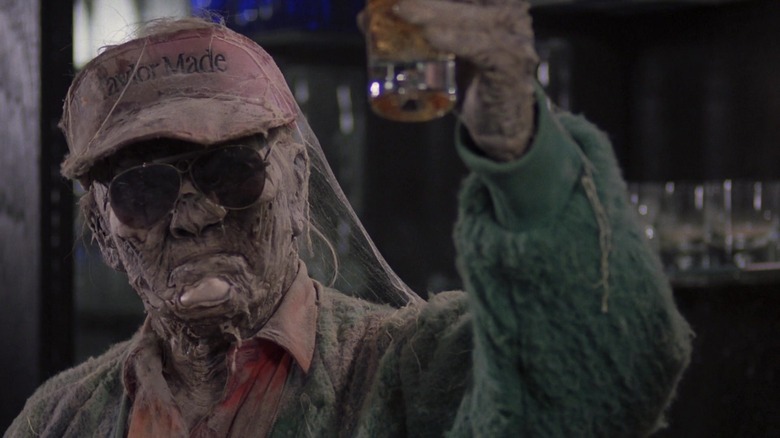 Paramount Pictures
"Scrooged 2" doesn't seem very likely since Murray himself expressed disappointment with the final outcome of "Scrooged." In a 1990 interview with Roger Ebert, Murray said:
"That could have been a really, really great movie. The script was so good. There's maybe one take in the final cut movie that is mine. We made it so fast, it was like doing a movie live. He [Donner] kept telling me to do things louder, louder, louder. I think he was deaf."
The film certainly had huge potential and the perennial popularity of Murray maybe leads people to give it more of a pass than it deserves. It also made decent box office, coming in as the 14th highest-grossing film of the year (via Box Office Mojo). But fans aren't exactly clamoring for a follow-up, which is a little surprising when other Christmas movies like "Home Alone," "The Santa Clause," and the godawful "Jingle all the Way" all got one or more sequels.
However, even though a sequel to "Scrooged" isn't in the works, something else is in development. In the summer of 2019, we learned that Kevin Hart is developing a "Scrooged" remake with Paramount. Much like everyone else in the world, Paramount are on an '80s trip of late, with their recent "Coming 2 America" and the upcoming "Top Gun: Maverick." It makes sense that they would view "Scrooged" as a good candidate for a remake, hopefully making the most of the original's unfulfilled potential.
Details are extremely thin on the "Scrooged" remake at the moment, but we'll keep you posted. What are the chances Bill Murray returns as the Jacob Marley character? Stay tuned.