The Daily Stream: Blood Red Sky Has The Best Loose Cannon Baddie Of 2021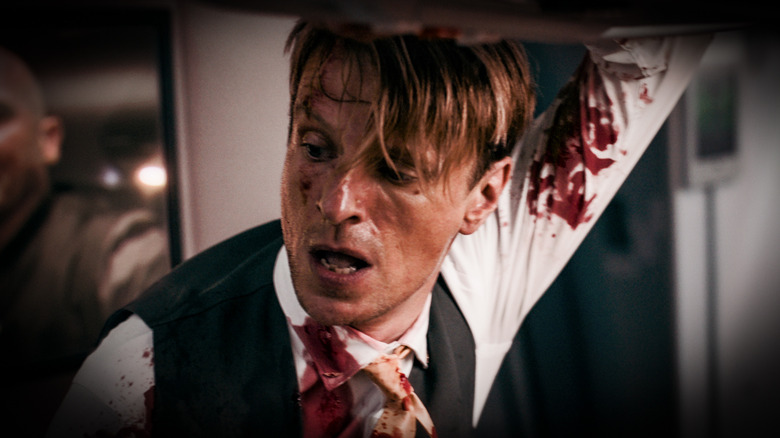 Netflix
(Welcome to The Daily Stream, an ongoing series in which the /Film team shares what they've been watching, why it's worth checking out, and where you can stream it.)
The Movie: "Blood Red Sky"
Where You Can Stream It: Netflix
The Pitch: You like Bram Stoker's "Dracula?" This is the Demeter's final voyage, on a plane, with terrorists. Simple as. Formerly titled "Transatlantic 473," this taut British-German horror film pairs director Peter Thorwarth with his frequent collaborator, screenwriter Stefan Holtz (the pair co-wrote the screenplay), to craft the most successful German film on Netflix to date.
The story goes that on a transatlantic red eye flight from Düsseldorf to New York, hijackers commandeer the plane and, for their own political reasons, guide it back east. This is a major problem for passenger Nadja (Peri Baumeister) — for you see, Nadja happens to be a vampire (unwillingly so, but whatreyagonnado) who was traveling to the U.S. in search of a cure for her condition, and now the plane is flying directly towards the rising sun. Nadja has her mortal, non-vampiric son Elias (Carl Anton Koch) with her, raising the stakes further. When she decides to fight back, things get wild.
Why It's Essential Viewing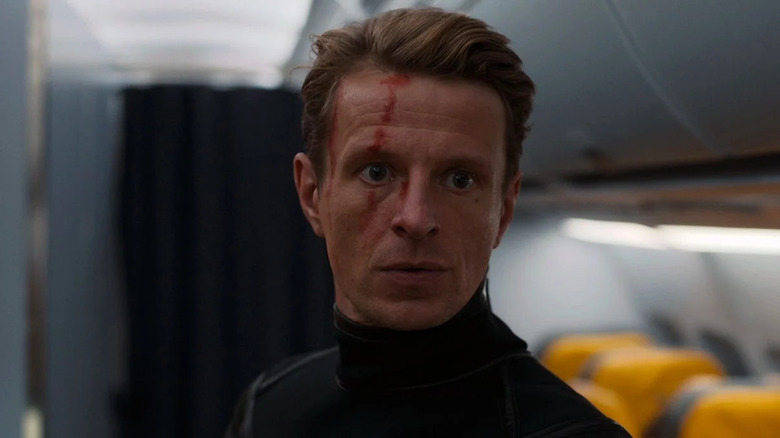 Netflix
Anyone who has seen "Con-Air," "The Taking of Pelham 123," or "Air Force One" knows that every team of terrorists in an action picture needs a loose cannon. You need a real bastard, a guy who clearly tortured animals as a kid and only joined the team to enable their most sadistic desires. In "Blood Red Sky," this character is immaculately named Eightball, and he is played by an actor everyone should have on their radar. Alexander Scheer is having the time of his life in the role, at first vamping it up as a flamboyant flight attendant and then revealing Eightball's monstrous true nature as quickly and shockingly as the mask is ripped off the Phantom of the Opera. He makes good on his threats to shoot any hostage who steps out of line, starting with Nadja – right in front of her young son. Eightball's fellow hijackers can't rein him in, and they get increasingly agitated as they realize they picked a Real Deal Holyfield psycho to help them carry out their suicide mission.
Here's where things get interesting.
Thowarth and Holtz seemed to know that they had a great nemesis in Eightball, and so, about halfway through the film, they use the mechanics of the "horror" part of this action-horror film to lean in and turn his sociopathy and bloodlust up to eleven. I can't say how without spoilers, but there is never a boring moment in the feature entire, especially when the camera is on a sneering Scheer.
The Berlin-born actor is a chameleon, having played (among a score of film and television roles) Keith Richards in "Eight Miles High," Andy Warhol in "Enfant Terrible," Friedrich Nietzsche in "Lou Andreas-Salomé, The Audacity to be Free," and East German songwriter Gerhard Gundermann in "Gundermann" (for which he performed the songs himself and earned a Deutscher Filmpreis award for his efforts). But after he blows you away in "Blood Red Sky," what you want to check out after that is "Tod den Hippies!! Es lebe der Punk!" in which Scheer slips into the role of industrial musician Blixa Bargeld (who was a one-time member of Nick Cave and the Bad Seeds). It might seem a shame to meet your new favorite actor via a vampires-on-a-plane action picture, but horror has long brought five-star performances out of five-star actors, and "Blood Red Sky" is no different.