How Robert Downey Jr. Convinced Mark Ruffalo To Join The MCU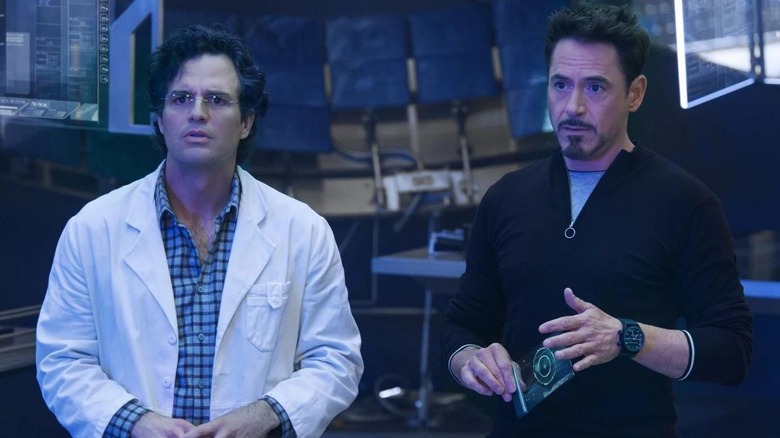 Disney
Today, everyone from Keanu Reeves to Jamie Dornan wants to be a part of the Marvel Cinematic Universe. It's the biggest superhero franchise in the world (sorry, DC Extended Universe), features some of Hollywood's biggest celebrities, and boasts some really great comic book movies. But not all actors were easily convinced to take on superhero responsibilities when Marvel Studios reached out to them. After all, with great power comes great responsibility.
Mark Ruffalo, who plays  Bruce Banner, aka the Hulk, was initially unsure about his place in the MCU and needed to be persuaded to take on the role. Fortunately, Robert Downey Jr. took one for the team.
Robert Downey Jr. Convinced Mark To Hulk Up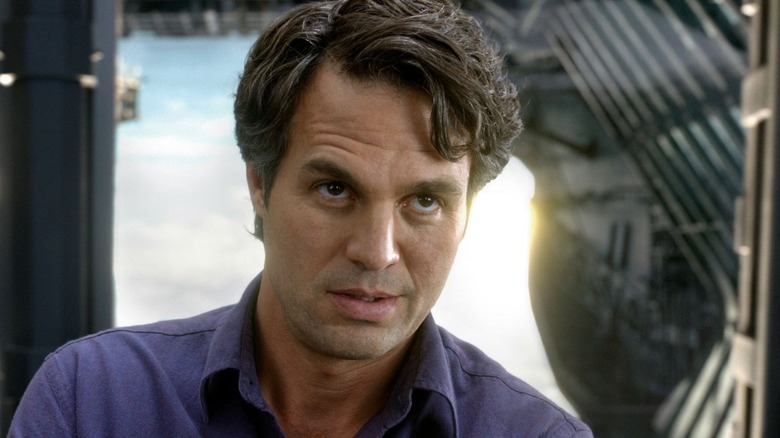 Disney
Tony Stark was responsible for assembling the Avengers to fight the bad guys, and it turns out Robert Downey Jr. played a very similar role in real life too! When Joss Whedon reached out to Mark Ruffalo to play Bruce Banner in "The Avengers," the actor was "scared" and felt uncertain about it. 
In an interview on "The Tonight Show Starring Jimmy Fallon" last year, Ruffalo shared that he didn't know what he could add to the role of Hulk since it had already been done "so well" before him. Edward Norton played the comic book character in the 2008 film "The Incredible Hulk," but the character hadn't been seen since. Ruffalo was also hesitant because of his indie movie career at the time, which made him apprehensive about playing a superhero in a big franchise. Furthermore, he didn't believe he was the "right person" for the role. 
Joss Whedon, who wrote and directed the film, tried to convince Ruffalo, but it wasn't until his future co-star Robert Downey Jr. got in touch that he finally signed on to play The Hulk.
When Ruffalo got a call from Downey, the "Iron Man" star simply said: "Ruffalo, let's go. We got this," which he described as "true Iron Man fashion."
And that was it. Mark Ruffalo was convinced and realized he just had to do it. He went on to reprise his role in "Avengers: Age of Ultron," "Thor: Ragnarok," "Avengers: Infinity War," and "Avengers: Endgame." He was also seen in a mid-credit sequence in "Shang-Chi and the Legend of the Ten Rings."
Ruffalo also explained that he promised never to sign a movie without reading a script as a young actor. Marvel Studios is very secretive about its projects, so while they refused to hand out a script, Joss Whedon gave Ruffalo "20 pages" he had written for Bruce Banner. The first thing Ruffalo read was the scene between Banner and Natasha Romanoff/Black Widow (Scarlett Johansson) when she tracks him down in India to recruit him for his expertise in gamma radiation, which could help them find Loki and the Tesseract. Ruffalo was impressed and recalled thinking, "It's humorous, and it's kind of playful, and I think I could do something with it."
Mark Ruffalo Has An Idea For A Solo Hulk Movie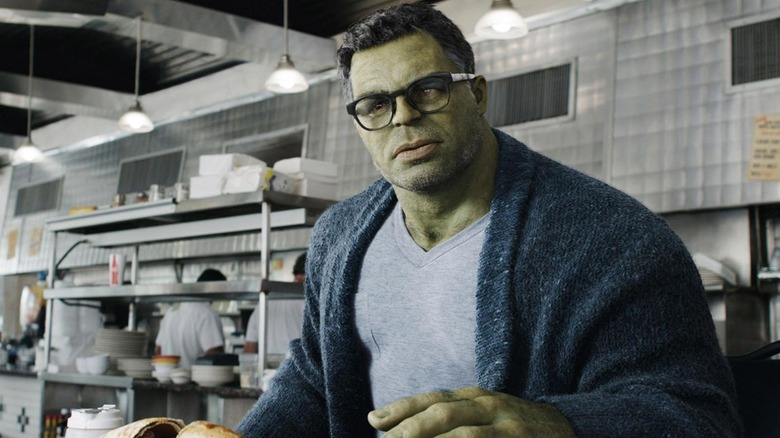 Disney
We've seen Mark Ruffalo transform into Bruce Banner's alter-ego many times alongside the other Avengers. However, we haven't seen this particular Bruce Banner actor leading a solo "Hulk" movie yet. "Avengers: Endgame" saw the character transform into Smart Hulk after Bruce spent 18 months in the laboratory putting the "brains and the brawn" together. We've never witnessed it happen, and neither has Ruffalo, who would love to explore the idea in a potential solo movie.
Mark Ruffalo's next project in the MCU is the miniseries "She-Hulk" starring Tatiana Maslany as Jennifer Walters, the cousin of Bruce Banner. The actor will reprise his role in the ten-part series. 
The extension of the MCU into a slew of shows on Disney+ has allowed Marvel Studios an opportunity to dive deeper into lesser-known characters and set up plot lines for bigger movies. "WandaVision" and "Loki" served as an introduction to the multiverse we will see in "Spider-Man: No Way Home" and "Doctor Strange in the Multiverse of Madness," while "The Falcon and the Winter Soldier" led to Anthony Mackie's Sam Wilson finally accepting his mantle as the new Captain America. With "Hawkeye" and "She-Hulk," the MCU is setting up the most significant phase of superhero films we've seen yet. I can't wait!