The Texas Chain Saw Massacre Game Will Feature The Legendary Kane Hodder As Leatherface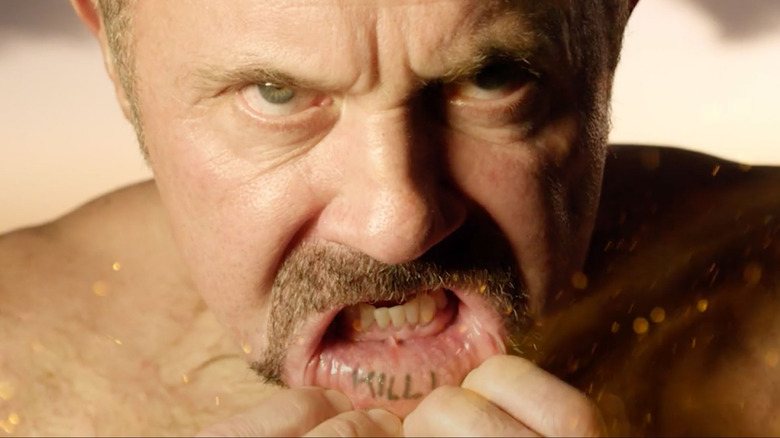 Masterfully Macabre Entertainment
The Game Awards popped off last night, and among the news is a holiday treat for horror fans. Gun Interactive (the folks behind the "Friday the 13th" game) and Sumo Nottingham dropped a world premiere trailer for "The Texas Chain Saw Massacre," based on Tobe Hooper's original 1974 film and described as "an asymmetrical multiplayer horror experience" that will be available for PC and ninth-gen gaming consoles. As a cherry on top, Fangoria announced that Kane Hodder is once again donning the skin mask and butcher's apron to play the iconic slasher, Leatherface. Hodder previously did motion-capture work for the "Friday the 13th" game as the machete-wielding Jason Voorhees (and Roy Burns, who put on the hockey mask for "Friday the 13th Part V: A New Beginning"), highlighting how well his physicality translates between the two slice 'n dice killers.
Ronnie Hobbs, Creative Director at Gun Interactive, says:
"It's no secret that the original "The Texas Chain Saw Massacre" is probably my favorite horror film ever created. Having the chance to really dive into the world of this IP with the team from Gun and working with Sumo to bring this vision to life has been almost surreal. I can't wait for everyone to see more of what we're doing."
Sumo Nottingham's Exec Producer Darren Campion elaborates:
"We're incredibly excited to finally reveal what we've been working on here at Sumo Nottingham. To be the first to truly bring the world of "The Texas Chain Saw Massacre" to life was an opportunity that could not be passed. The cult classic has been terrifying and spellbinding people for over 40 years and we're thrilled with how the game is developing, we cannot wait for fans old and new to become part of this truly authentic experience."
Trailer for The Texas Chainsaw Massacre Game
Kane Hodder enjoys a special distinction in the horror genre, like the late great Bill Paxton whose characters have been dispatched by Predator, an alien Xenomorph, and a Terminator. No, Lance Henriksen doesn't quite count because his droid character, Bishop, was assaulted by the Xenomorph queen, but not deactivated until the following sequel, "Alien 3." 
In addition to playing Jason Voorhees, Hodder has also been the sole actor to play three infamous slasher icons. In 1990's "Leatherface: Texas Chainsaw Massacre III," he did stunt work for Leatherface himself, and three years later in "Jason Goes to Hell," he slipped on Freddy Krueger's gloved hand. Hodder's longevity over the years has made him a fan favorite; a quick scroll through social media reactions to the "Leatherface" game announcement and his attachment vouches for his well-earned place in the horror pantheon. 
In the 2017 documentary about his life, "To Hell and Back: The Kane Hodder Story," the actor opens the film by saying, "I still think that it's accurate to say I've murdered more people on film than any other actor in history. Unless somebody can dispute that, but I doubt it — and if you do, I'll f***ing kill you."