Daily Podcast: Tom Holland's Spider-Man's Contract & What 2021's Box Office Means For The Future Of Movies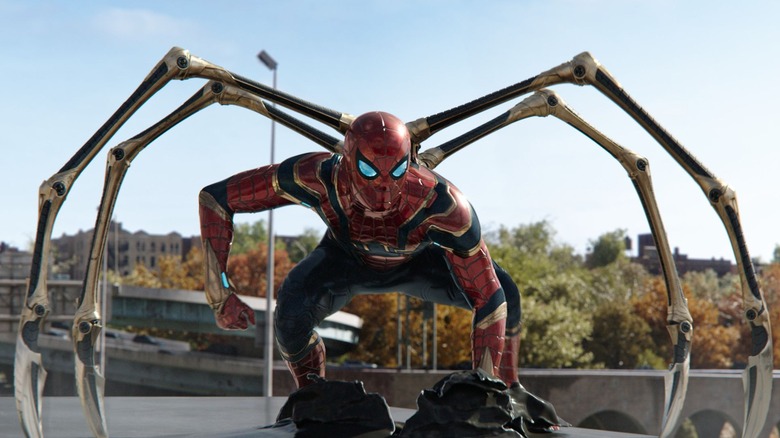 Sony/Marvel
On the December 10, 2021 episode of /Film Daily, /Film editorial director Peter Sciretta is joined by /Film editor Ben Pearson to discuss the latest film and TV news, including Spider-Man's contract and what 2021 box office might mean for the future of theatrical movies.
In The News:
Peter (og Ryan): 2021 Had Even Fewer Movies Than 2020 — Here's What That Means

455 movies were released domestically in 2020.

2021 Box office will probably more than double 2020

to date, just 408 movies have been released (domestic) this year, pacing below 2020.

400-500 movies a year used to be the norm.

In 2001, 413 movies were released, in the subsequent years it picked up to nearly 1000 movies

traditional studios will be more selective about what gets made and released in theaters, as audiences are being far more selective as we emerge from the pandemic. To that end, Market Watch reported last year that 70% of people would rather watch a movie at home.

Will the amount of movies pick back up?

Peter (og BJ): Universal's 2022 Theatrical Slate Will Hit Peacock Within 45 Days Of Release

People were shocked when Universal announced that "Halloween Kills" was going to be available to stream on Peacock the same day it hit theaters" NBCUniversal announced that the majority of titles from UFEG, which includes Universal Pictures, Focus Features, Illumination, and DreamWorks Animation, will release on Peacock as early as 45 days after their theatrical and PVOD releases. This new theatrical window will take effect in 2022, with Simon Kinberg's "The 355," Scott Derrickson's "The Black Phone," Ol Parker's "Ticket to Paradise," Julian Fellowes' "Downton Abbey: A New Era," and "Halloween Ends."

Ben (og Ryan): STX Entertainment, Studio Behind Hustlers And Bad Moms, Sold For $173 Million

STX Entertainment, the studio behind movies like "Hustlers" and "Bad Moms," which has been sold to a private investment firm The Najafi Companies

The studio's library of titles will likely be changing hands next year, we don't know which streaming service, or multiple streaming services they might end up on

The fate of one of the only studios still regularly producing mid-budget movies regularly now hangs in the balance.

What does this mean for mid-budget movies?

Jahm Najafi, founder and CEO of The Najafi Companies: "First and foremost, we believe in the power of storytelling and fostering an entertainment studio that is artist-friendly and supportive of storytellers."

What is Disney and Sony's Agreement with Tom Holland for Spider-Man Movies?
Also mentioned:
All the other stuff you need to know:
You can find more about all the stories we mentioned on today's show at slashfilm.com, and linked inside the show notes.
/Film Daily is published every weekday, bringing you the most exciting news from the world of movies and television as well as deeper dives into the great features from slashfilm.com.

You can subscribe to /Film Daily on Apple Podcasts, Google Podcasts, Overcast, Spotify and all the popular podcast apps (RSS).

Send your feedback, questions, comments and concerns to us at peter@slashfilm.com. Please leave your name and general geographic location in case we mention the e-mail on the air.

Please rate and review the podcast on Apple Podcasts, tell your friends and spread the word!

Thanks to Sam Hume for our logo.