West Side Story Star Mike Faist On Playing Riff & The 'Jet-Tivities' Weekend [Interview]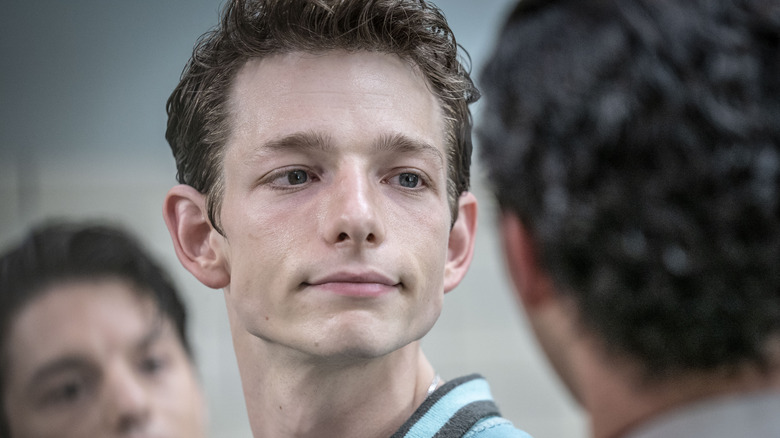 Disney
Mike Faist is no stranger to musicals. He originated the role of Connor Murphy in the Broadway musical "Dear Evan Hansen," for which he was nominated for a Tony Award for best featured actor in a musical. He also originated the role of Morris Delancey in Disney's "Newsies." He's been in films like "The Unspeakable Act," "Wildling," and "Panic." And now, he's taking on the role of Riff in the Steven Spielberg-directed "West Side Story." 
Faist is easily a standout in the cast, which is saying something. He's working with the original Anita, Rita Moreno, and the film also stars Ansel Elgort, Rachel Zegler, Ariana DeBose, David Alvarez, Brian d'Arcy James, and Corey Stoll. If you're not familiar with "West Side Story," it's based on the 1957 novel of the same name by Arthur Laurents, which is itself based on William Shakespeare's "Romeo and Juliet." It was famously adapted to film in 1961, but there are a few changes this time around. 
I got to chat with Faist about playing Riff, shooting with Steven Spielberg, bonding with the Jets, and LARPing, believe it or not. Between this and "Hawkeye," LARPing is having its day.
When You're a Jet, You're a Jet All the Way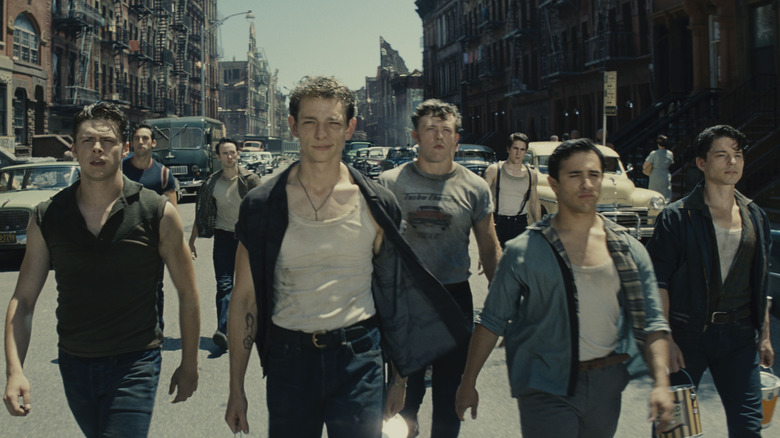 Disney
Riff is a difficult character to play, particularly in today's climate. So how did you approach him?
Well, you know, I think the way to approach any character is just with a deep sense of empathy for whoever it is, whatever position they're in. Obviously, of course, "West Side Story" deals with a lot of challenging and hard conversations, and the characters themselves are in tough situations. And there's a lot of complexity and nuance that goes with those things. You always have to come at every role as if your character is doing something — why they're doing it. They're always coming at it from a place of feeling, I think, as we do naturally, as humans, I think we always tend to play the victim in our own lives and we don't want to necessarily take responsibility for our actions. 
And so I think that's just that natural human instinct. It takes a very strong and smart person to think to accept what they're doing and learn from their own mistakes and lessons. I was always told and taught that you should always try to lean into the opposite of what is on the page. So you know, you always have to just try to find the good in the bad and the bad in the good.
My dad was telling me about gangs back in his day, and how it was almost more of a tribe or a friendship group. So what are your thoughts on the Jets?
Well, it is that. It is absolutely that in terms of tribalism. Was your dad in a gang at the time, or he lived in New York at the time?
He lived in New York, but he did not say. [laughs]
He did not say whether he was or was not?
Yeah.
At the end of the day, the Jets come from, obviously, very low income housing. And that low income housing, at this moment where "West Side Story" takes place, is being uprooted away from them — both the Jets and the Sharks at this point in time in the story. The Jets, coming from families that are not loving or no families at all — a lot of these kids are orphans, and they don't have opportunities. So I think naturally, with anyone that's in those situations — and I think we see this today, this isn't a new story in that regard, in the sense of, if there's a lack of opportunity that's in front of you today, you're going to cling to whatever you have. And for the Jets, it's each other. That is the family. That is the tribe. They protect each other and they look out for each other because no one else is really doing that for them. So that's the mentality that formed the gang and got all these guys together.
'Riff's Inability to See'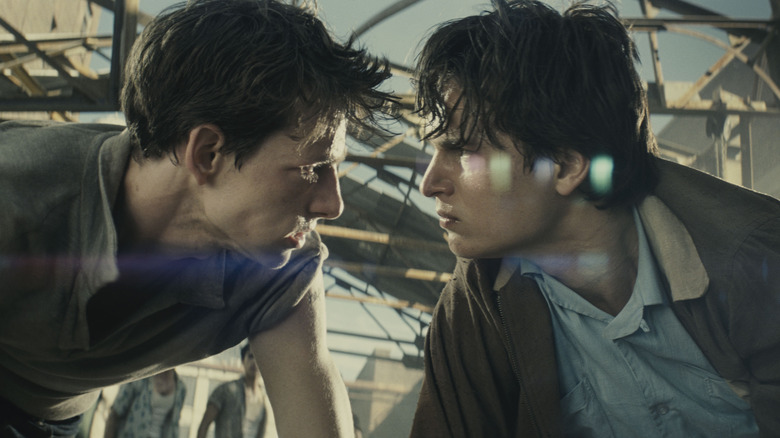 Disney
One of the big standout numbers, which was really amazing, was "Cool." It's very different from the other film. Can you talk about shooting that?
Sure. Well, initially when Tony and Steven were talking about making this movie, they wanted to shoot in the original Broadway order of the songs. So they went back to the 1957 order of those songs, and I believe that in the stage version of the show, "Cool" is a number sung by Riff to the Jets as a way to calm their nerves going into the rumble. Or talking to the cops about what's going on. It's probably a mixture of both. 
But in this version, we really wanted to expand the storyline between Tony and Riff, and Tony being this guy who comes from this tribe, and wanting to actively be different, wanting to change, wanting to be better than who he was. And Riff's inability to see that, accept that, or want that, selfishly. So "Cool" became, in this version, that story arc. That A to B to C of, 'Here's this friendship, what was. Here's where it is. And here's where it's going.' It's them breaking up, letting go of each other, and just the betrayal of the both of them and how they feel with each other.
And the choreography was absolutely amazing.
Yeah, by Justin Peck. He's really incredible, isn't he? And his partner, Patricia Delgado, who was an amazing assistant, and Craig Salstein, who whipped Ansel and I into shape in terms of being able to execute that stuff.
Summer in the City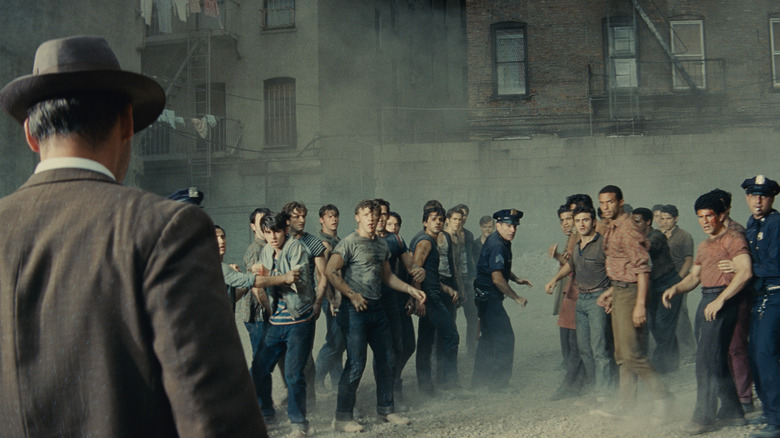 Disney Press Site
You guys had a rough shoot, too, in terms of heat.
Yeah, certainly. We started shooting shoot like early June. June 7, I think, was our first shoot date in New York, and it ended up being — as New York does over the summer — being hot, but this one was exceedingly so. There's a good story. There was a day we were shooting on film, and naturally what happens with film when you're shooting on it, it automatically kind of darkens, so you have to overexpose the lighting in order for the film to actually capture what's going on. But we were shooting outside – it's the scene at the very beginning of the film, during the "La Borinqueña" number, the Sharks sing that, which is incredible. And then they have the Jets on one side, and on the other side, with Lieutenant Schrank in the middle. And I remember it was like 95 to 100 degrees easily, that day and [cinematographer] Janusz [Kaminski] just kept screaming, 'More light, more light, more light!' They brought out these huge, giant stadium lights that were just searing us and I was standing there after having stood there for like four or five hours, and the Jets on this side of the line had this side of their face burned, and the Jets on that side of the line had that side of their faced burned. So you put us together, we were whole. We all had to like go get treatment done in order to fix it. It was crazy.
'We went LARPing'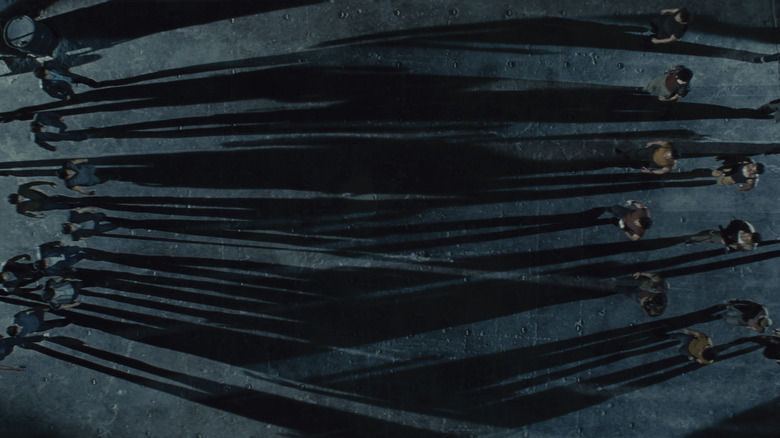 Disney Press Site
You have an extensive Broadway background, and as a former musical theater person, I have to ask you about your pre-show ritual. What do you do, and is it different when it's on film?
It's always different depending on what you're doing. I don't know. Just depends on the show and what the character is and what you're doing, you know? For, for "West Side," luckily we had an extensive amount of rehearsals. We had four months of rehearsals and a big part of that 'getting ready' process was just spending time with the Jets and building that relationship and that family. So on day one, I took the Jets out and we got a beer, we were talking, and I said to them, 'This is this is ours. This is going to be our version. And you have to own that, and you need to step up and get into this' kind of thing. One of the things that came about after that meeting were these 'Jet-tivities' that we decided to do. That's what we called them. Everybody got to choose an activity, and no matter what it was, we all had to do it. So we did a bunch of shenanigans that summer. That was so much fun. 
We rented a house in upstate New York in Rhinebeck with the Sharks and hung out for a weekend. Played laser tag. We went LARPing. Do you know what that is? ... We thought it would be fun, like silly, playing pretend. But it gets like intense, and we were actually beating the crap out of each other. We did a whole bunch of stuff, and we really just bonded and spent a lot of time, and I don't think there was a single day where — not one of us was alone. We were always together at one point, either in small groups or as a whole. I'm really proud of the work that we did and building those relationships, and I think that that shows.
Working with Rita Moreno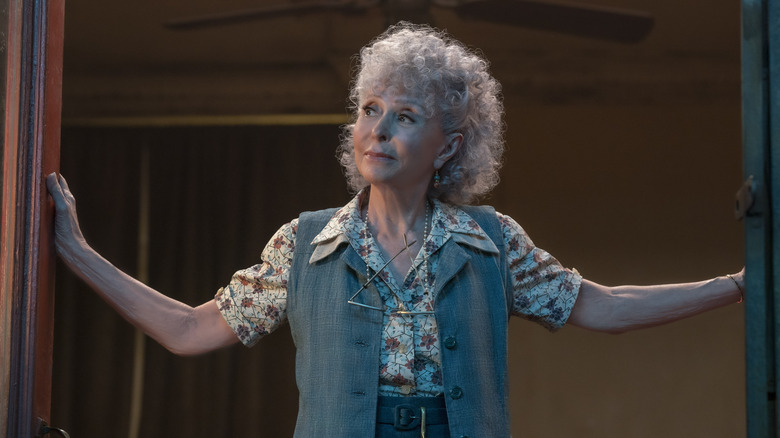 Disney Press Site
I had read that you said "West Side Story" was one of the things that convinced you to become an actor. And here, you get to work with one of the original stars [Rita Moreno] of the 1961 film. What was that like?
Working with Rita? She's incredible. [laughs] I think at this point now we've all seen Rita, either in interviews or if you've seen the film, and it's no doubt she's very authentically herself and wonderful. She was sweet. She left me a voicemail right before we started doing all the press tour stuff and we talked for a little bit. And I genuinely said to her, 'The only regret that I have is that we didn't have more of an on-screen time together,' because that one moment, that one scene that we had, it was so much fun to play with her. She's wonderful.
What do you want fans to take away from this version?
I think, look, this is a complicated story. There's a lot going on. There's a lot of layers, and I think it's important that people probably watch it a few times, if I'm being honest. One, I think it's good enough to warrant a second or third viewing. And two, I think it's worth doing because I think every time you watch it, at least for myself, as I've seen it, you just take away more from it every single time. It's going to bring about more discussions and conversations, which I think is great, naturally. 
But at the end of the day, the biggest thing that I think is the most important is that it brings people back to the theater. This is a theatrical piece, and the fact that it is going to be in a theater, shared amongst strangers, it's important. It really is a different experience. I'm biased. I can't really watch myself on the screen, right? But I watched it with the original cast, like five of us, in a dark theater. And then I watched it separate times with an audience, and it's just a different experience. The movie just jumps off the screen when it's shared like that, and you know, being in a theater and having that experience is extremely important I think for human empathy across the board. It's important to have that communal shared experience.

Sunday in the Park with George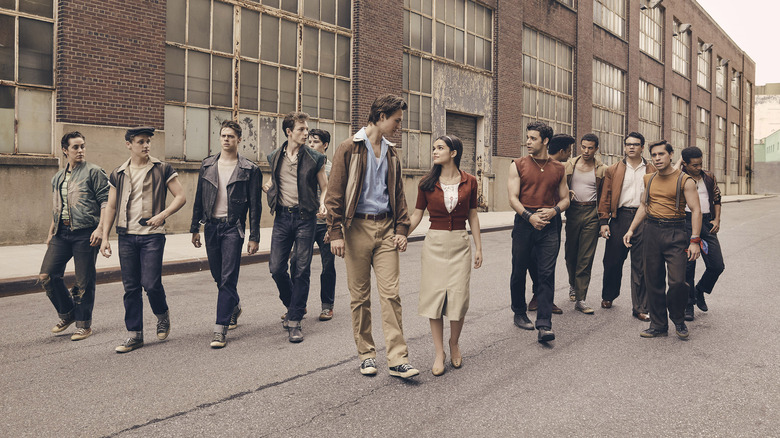 Disney Press Site
Before we wrap, I'd love to know what musical haven't we seen on the big screen that you'd like to either see or to be in?
I don't know. [laughs] Someone else asked me this and I kind of jokingly said it could be fun, maybe, if they wanted to do a "Sunday" ["Sunday in the Park with George] movie musical. Maybe, I don't know.
No, that's good.
I'm just gonna throw it out there, and maybe Steven and Tony will [read] this and then they'll start to get an itch in their brain or something.
Hey Mr. Spielberg, are you listening? A "Sunday in the Park with George" movie would be pretty fantastic. Let's get this idea rolling, okay? 
"West Side Story," directed by Steven Spielberg with a screenplay by Tony Kushner hits theaters on December 10, 2021.