Candyman Production Designer Cara Brower On Making An 'Elevated Arthouse' Slasher [Interview]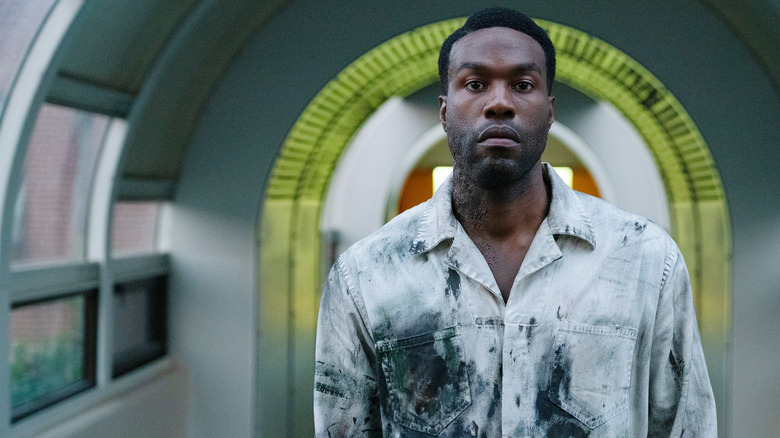 Production designer Cara Brower had a big world to create with "Candyman." There is the city of Chicago, of course, but also the art world and the mythology surrounding the titular character. Director Nia DaCosta's sequel is a fairly intimate psychological horror movie, too, so Brower had to communicate its themes in environments ranging from the realistic to the stylized. For the most part, though, Brower and DaCosta wanted to show the real Chicago, while also taking inspiration from a greatest hits list of heightened horror films.
"Candyman" isn't Brower's first entry in horror. She was the art director on "Us" and worked on "Twin Peaks: The Return," which has its fair share of horror. More recently, Brower collaborated with DaCosta again on "The Marvels." While filming the upcoming Marvel Studios movie, she took time out of her schedule to speak with us about her work on "Candyman," plus her time on "Twin Peaks: The Return." 
'A fugue state of pure adrenaline'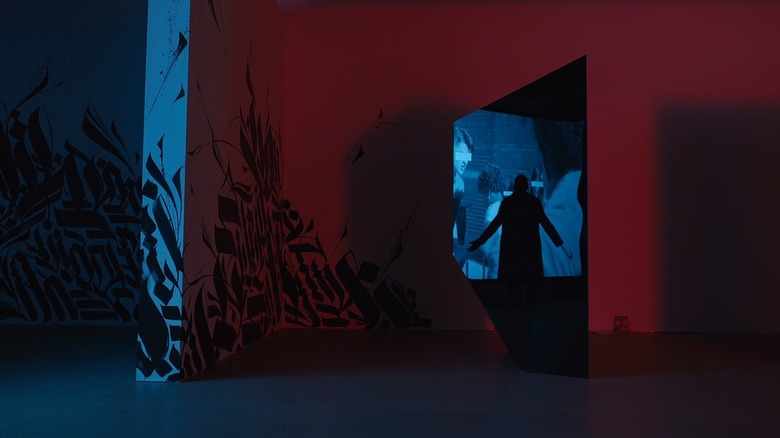 Universal Pictures
How's your shoot going at the moment?
Almost done. Almost done.
What's that feeling like right before you reach the finish line?
Oh my God. Just pure exhaustion. I have never been this tired in my entire life. Just like, "Who am I?" [Laughs]
[Laughs] So you'll know again in a few weeks once you're done.
Yeah, I hope so. I can just sleep in for a couple days, weeks, months, wake up and remember who I am.
Say for "Candyman," what's that experience like, of just immersing yourself in Chicago, its architecture, culture, and bringing that to life?
I like to say that I just go into a fugue state of pure adrenaline and just kind of immerse myself in research and imagery. On "Candyman," there was a lot of scouting, which I love, and I had never worked in Chicago before, and I absolutely adored it. I love architecture. I love art. I love going to galleries. It's something that I do in my free time anyway. I loved it. And the crews there were fantastic. I had such a great time.
Some of the hardest working crews out there.
Ah, they're just so great. And the other thing that I loved when I got there is we had such a diverse crew too, which, it just depends what area of the country you're in, is not always the case. And I felt like we needed that for a film like "Candyman."
How'd you and Nia connect as artists?
Nia is very, very specific, and that's one of the things that I love about her, I love working with her, but then the very strange thing, which sounds completely at odds with that, is she's very open to ideas. My experience with her was really great in that we had a lot of long, deep conversations in the beginning and looked at a lot of images together, and then agreed upon how we wanted the film to look, what we wanted the tone to be, what were some of the references we were drawing from. And then she was really open with me as far as bringing new ideas into the fold. And that was really exciting for me, because sometimes you don't get to contribute to the story, to the storytelling process as much as a designer.
There were definitely times when new ideas came across when I was scouting, and sometimes I find that you can't predict when and where a new interesting take will come, and she was really open during the scouting process. If I ever found something and thought: "We talked about this, but then I found this, and it's so much better. What do you think about it?" She loved that kind of stuff, so I think that's the reason that we got along so well.
'An elevated version of Chicago'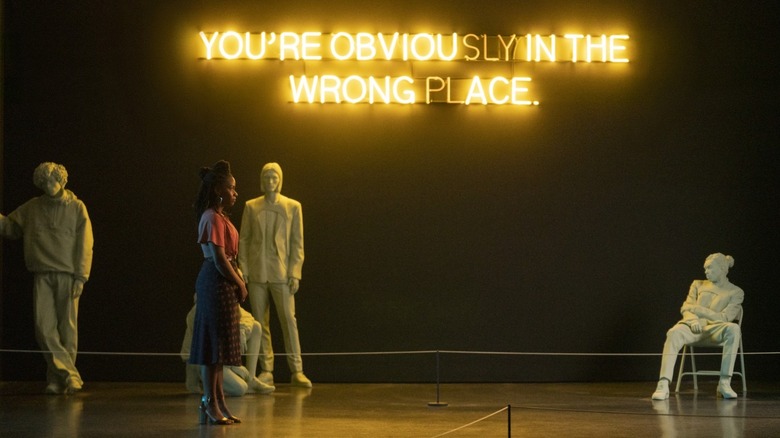 Universal Pictures
What were some of the initial images you both were looking at?
Well, we looked at a lot of art, a lot of contemporary art, because that's the thing that I thought was going to be the hardest thing to nail, really, were the paintings, just because you're on such a rushed schedule. Sometimes, it doesn't really allow for working through the process of creating fine art. You're working at the speed of light. So we looked at a lot of contemporary art together, a lookbook of a contemporary artists that I thought fit the character. I also pulled lots of images of curators' homes and galleries, different galleries, like The Underground Museum. We talked a lot about what we wanted the exhibition to look like.
We also talked about films. She really wanted the film to feel like "Rosemary's Baby," to have that sort of elevated art-house feel to it in the visual of a slasher film. I was coming at it with, "I love the Italian horror films of the 70s." We talked about Dario Argento, and we talked about "The Shining," so we talked a lot about sort of making a color palette to make the film feel very stylized and specific. And then, also creating an elevated version of Chicago that did feel like Chicago, but didn't feel like the Chicago maybe you see in other films. We both really love how some films, like "Clockwork Orange," it's a version of England.
Is that a tough balance to strike?
Yes and no. Yes, in that I wanted to do specific things to ground it to reality. To me, Chicago, especially coming from an outsider's perspective, I could clearly see how distinct all the neighborhoods looked. I insisted that we shot in the neighborhood that the specific character's home was supposed to be in. I got a couple comments when we were scouting like, "If the character's home's in Bronzeville, why does the house actually need to be in Bronzeville?"
But to me, it was so obvious when they would show me a place that was not in that area. If they tried to show me a place in Ukrainian Village, I'm like, "This looks exactly like Ukrainian Village, it does not look like South-Side Chicago." On one hand, I was making sure we were in the right neighborhoods, because all the neighborhoods looked so specific to me, but, on the other hand, I was also going with my taste. So it wasn't that hard to make it stylized, because that's my natural taste, so I was just drawn to things that looked in that realm.
'David Lynch is probably the reason why I work in film'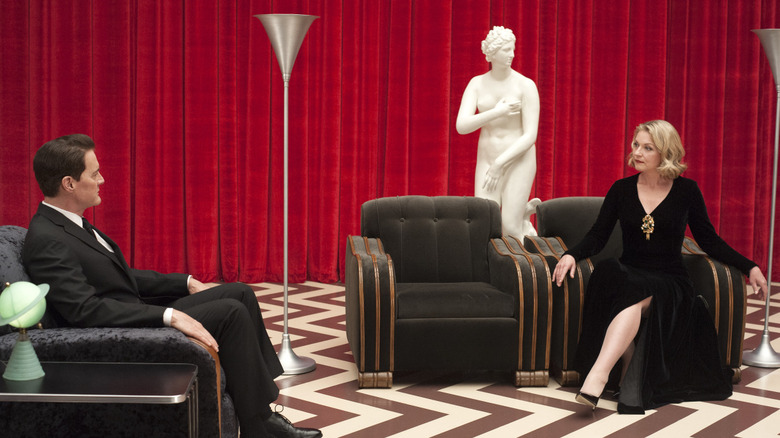 Showtime
It seems like you've worked on a lot of projects that suit your taste then, since both David Lynch and David Fincher are very stylized.
I feel very lucky about that. Well, I didn't at first, I didn't get to curate my career really at first. But then, after I started working my way up through the art department, I tried to work with people that I felt my tastes were suited to, or people whose styles I loved. David Lynch is probably the reason why I work in film, so it was a huge honor for me to get to work with him. I remember specifically the films that influenced me, and they were things like "The Shining." Obviously I can't work with Kubrick now, but I've seen "Fire Walk With Me" so many times. I've seen all of David's movies, so I feel like those images are just embedded in my brain.
You got to bring to life the red room. That must've been quite an honor.
Oh yeah. Well, there was a lot of pressure, because David specifically remembers the texture of the curtains and the feeling of the fabric between his fingers. He has the colors memorized. And so, that specifically, when we were recreating some of the older sets, there was a lot of pressure to get it right.
It was a really small art department. I was the art director and then my really good friend, Ruth, was the production designer. It was really just us. A couple of art department assistants and an art department coordinator, so I really gotta be involved with everything, which was just a dream.
My favorite sets were ... Well, we had names for them that were David names, David's names for them, which no one will ever know because they're not sort of named in the show. I really love the radio station. That was my favorite episode, the period episode where he just goes through the atomic bomb for about five minutes [Laughs]. I love the period radio station. There was something called "the fireman's house," that was the theater that had the woman singing in it. And then there was another one called "the old elegant building" with a fireplace and a Japanese woman with her eyes sewn shut.
David would give us sketches or plans for some of these and they were just really sort of simple pen-and-ink line drawings. And so, then you're having to sort of interpret what that is and bring that into a three-dimensional set, because you're really trying to get into David's mind on those projects, or at least on that one.
'I know what a buck and rail fence is now'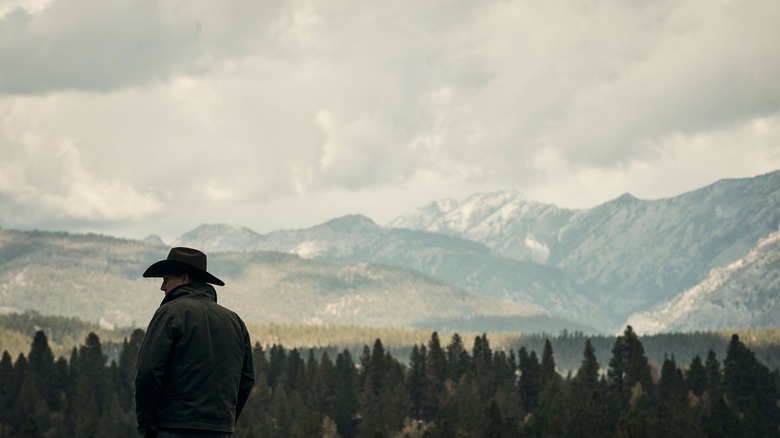 Paramount
You also worked on "Yellowstone" as a supervising art director, which I imagine was a very different experience, since Taylor Sheridan's work is very grounded.
Yeah, I mean, that was really in Ruth's wheelhouse. She's one of my closest friends now. We didn't know each other at all when we first started working together, but we just loved working together so much, we just kept on doing it. And we had loved Taylor's work that he'd written on and then we'd loved "Wind River." I'm very much a city person, so it was not completely in my wheelhouse at all at first, but that's the fun of what we get to do. It's a different adventure every day! I learned a lot on that one, and I know what a "buck and rail" fence is now, I know what the different corrals are. It was a learning curve for me, because I don't really come from that world of the Great West.
Taylor Sheridan is a great character, too.
He is completely just in the thick of it the whole time. I don't know how he gets so much energy. It was definitely a rodeo keeping up with him. He is just a machine, I mean, literally, a machine. He's just writing projects while he is doing that project, and Ruth and I are both exhausted and thinking, "Oh my God, we can barely do this one. How is he doing this one and all these other shows?"
Since you're a city person, how was it recreating old school Hollywood with "Hail, Caesar!"?
I love that. That was another dream project. Those were directors that I'd always wanted to work with, and Jess Gonchor was a designer that I'd always admired. And so, when I got asked to be an art director on that show, I mean, that was just a dream come true, really. I mean, that was so much fun. They are just incredible, incredible artists.
"Candyman" is now available on Blu-ray and digital.