14 Movies Like Encanto You Should Definitely See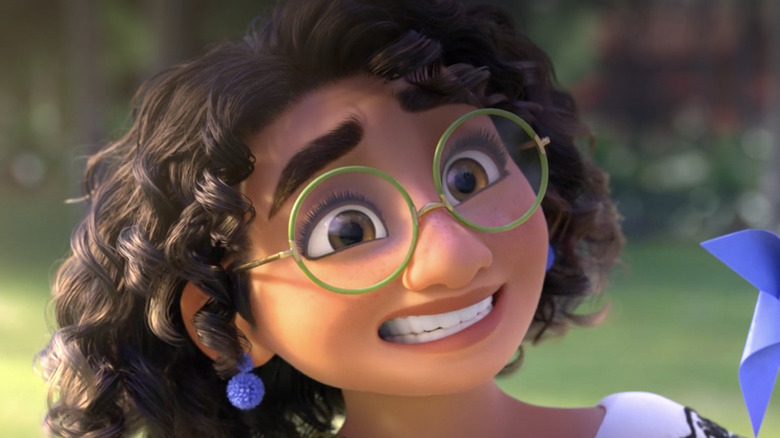 Walt DIsney
M. Night Shyamalan's "Unbreakable" does not make the list of 14 movies like "Encanto" we think you should see, but the two have more in common than you might think. "Unbreakable" is a secret superhero film, an origin story for Bruce Willis' David Dunn that disguises its most recognizable trappings in mystery MacGuffins. "Encanto," which is directed by "Zootopia" writers Bryon Howard and Jared Bush with music from Lin Manuel-Miranda, is similarly sly in how it initially presents the tale of Mirabel (Stephanie Beatriz), her magical family, and the labyrinthian home they occupy. To say any more would ruin the movie's surprises.
At its heart, "Encanto" is about how our personal desires and the lengths we'll go for family make us just as extraordinary as superheroes. Beyond that, it's a kaleidoscopically dizzying celebration of culture and a testament to both Lin Manuel-Miranda's musical talent and the radical power of self-actualization. Here are 14 movies, not including "Unbreakable," that you should definitely see if you enjoyed it.
Moana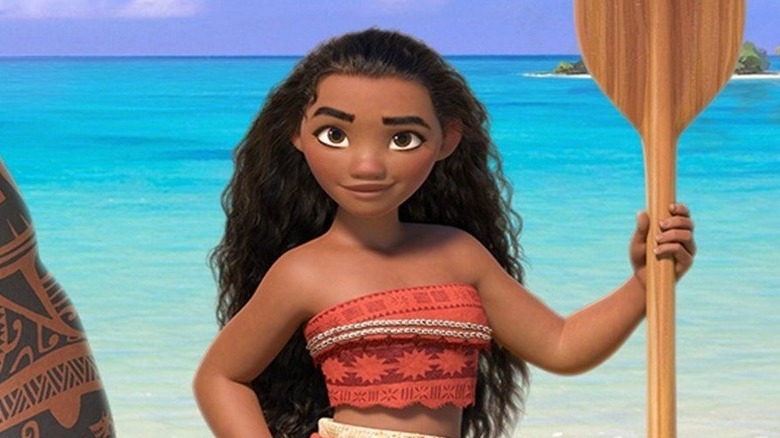 Walt Disney
"All I can say is that you're welcome" — you can finish the phrase, right? 
The Rock's performance of "You're Welcome," which is the centerpiece of Ron Clements and John Musker's "Moana," has become as iconic as the film itself, a top-tier entry in both his and composer Lin Manuel-Miranda's bodies of work. To recommend "Moana" to fans of Disney animated films is an act of plucking low-hanging fruit. That said, "Moana" is a remarkable companion piece to "Encanto" because it epitomizes the House of Mouse formula that the latter film so readily subverts.
In many ways, "Moana" is a peak "Big Disney" film. All the tropes are present — a culturally specific fairy-tale, a sheltered but plucky heroine, one very cute animal — but each of them feels like a logical expansion of said tropes. The setting is Hawaii. The heroine is capable of besting a demi-god. The cute animal? A deeply bug-eyed rooster (Alan Tudyk, who also voices the Toucan of "Encanto").  "Moana" works because it uses the familiar like an express lane, driving its audience to startlingly new places by speeding them down recognizable highways. It's expansive and excellent. 
All we can say is, "Thank you."
Vivo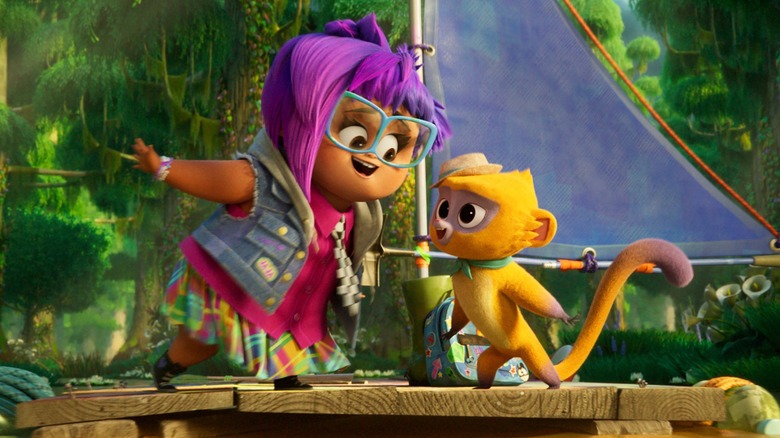 Sony Pictures
"Vivo" and "Encanto" would form an excellent and exceptionally tuneful double bill: Both films are love letters to their respective cultures (Colombian and Cuban, respectively), both gracefully portray complicated but loving mother-daughter relationships, and both establish Lin-Manuel Miranda as the natural heir to Alan Menken's movie-musical throne.
For one, they prove Miranda is the model of musical consistency. "Vivo" and "Encanto" may aspire to lesser heights than the Broadway-reshaping "Hamilton," but they aren't lesser works. Instead, both thread the composer's predilection for theatrical songwriting into each narrative's stakes (The consistently boisterous songs of "Encanto" serve to underscore its protagonist's self-doubt, while "Vivo" uses its larger-than-life music to accentuate the singularly rich kinship Vivo and Gabi form). It's the sort of stellar, unfussy stuff Menken churned out at a clip in Disney's heyday. 
For another, the original songs of both films effortlessly and respectfully honor two separate Latin American cultures; one can imagine the soundtracks of "Vivo" or "Encanto" as the gateway records to the work of Gloria Estefan, Buena Vista Social Club or the genre of reggaeton. That's no easy feat, and the fact that both films pull it off means "Vivo" is well worth spending some time with after you've seen "Encanto."
Tangled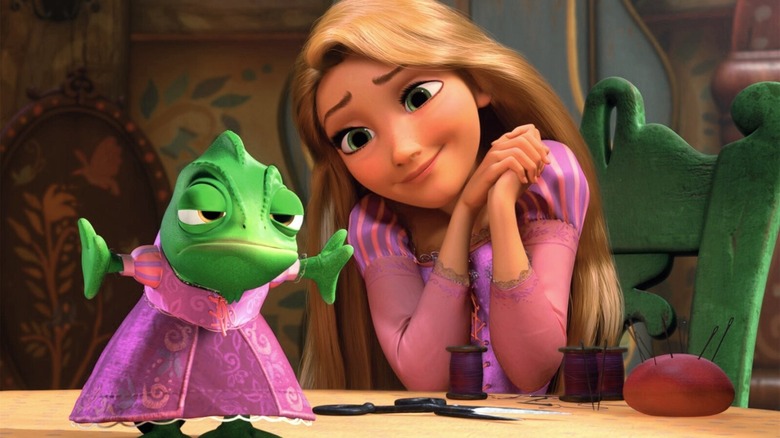 Walt Disney
There are irreverent takes on fairy tale tropes, and then there's "Tangled," a film whose irreverence begets irreverence. An interrogation sequence involving Rapunzel's hair formed into handcuffs and a lizard tonguing Flynn Ryder's ear literally doubles over on itself because the characters within it are preternaturally versed in the rules of their world. So they break them, and not entirely for the audience's benefit. It's like "Inception," if that Chris Nolan film was family-friendly and more a storytelling remix than flex.
Simply put, if the madcap streak of "Encanto" is the element you enjoyed the most, there's no missing Nathan Greeno and Bryan Howard's "Tangled." It was the first non-Pixar Disney CGI effort that won raves from both critics and audiences, and delights in both its own ridiculousness and stellar voice cast (which includes the brilliant Ron Perlman playing a character named "Stabbington"). "Tangled" purposefully tripped over its own dashing feet so "Frozen" and "Encanto" could soar, and there's no reason not to see a movie that fits that delirious bill.
Over The Moon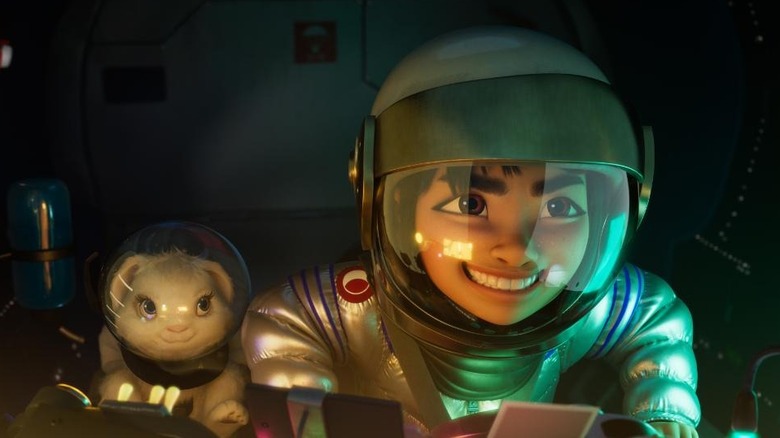 Netflix
When last year's Academy Award nominations for best animated feature were revealed, many were surprised to see Netflix's "Over The Moon" receiving a nod. That should've been an indication that many hadn't actually seen "Over The Moon," which is as celebratory and playful in its depiction of Chinese culture and "Encanto" is for Columbians. And though it is clearly indebted to Disney films of yore (its hero, Fei Fei, heads to the moon to find what's ostensibly a Disney kingdom on its surface, replete with princess and comic sidekick), it finds a hyperactive comedic gear that's all its own. 
The Disney connections also run deeper than rote homage: "Over The Moon" is directed by Glen Keane, who famously worked on "The Little Mermaid," "Aladdin," "Beauty & The Beast," and countless others. He's internalized the way these stories work. In many ways, both "Over The Moon" and "Encanto" are films that feel born of a classic model but attempt to make that model anew on their own, specific terms. And when those terms include a tremendous performance by "Hamilton" alum Phillipa Soo and several winning musical numbers, the results are well worth spending time with. 
Monster House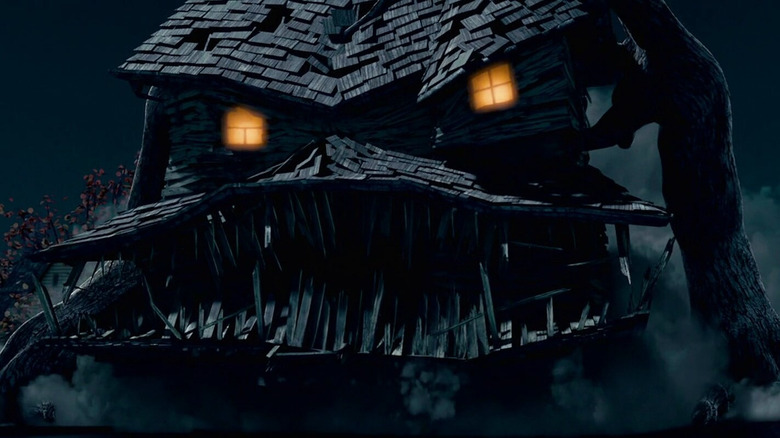 Sony Pictures
Last year, a pair of sneakers briefly took the internet by storm. Titled the "Invert Celtics," the shoe's exterior was pink and black with a green and white medial portion. Seen through a smartphone's "Invert" feature, however, those same colors would invert automatically. Though it's a strange analogy, I think of "Encanto" and "Monster House" as the two halves of this same pair of kicks. In some ways, they're irrevocably linked: Both are CGI animated films with notable pedigrees (Lin Manuel-Miranda, Robert Zemeckis), and both center around houses that are magically sentient. But the "Monster House" doesn't want to endow its inhabitants — it wants to end them. 
Though it's directed by Gil Kenan (writer of the recent "Ghostbusters: Afterlife"), "Monster House" represents Zemeckis and Steven Spielberg returning to their child-scaring roots. The movie has a nasty streak most modern family-friendly films would leave on the cutting room floor — dogs get eaten; bullies are lured to their doom, "It"-style. But the movie also offers a narrative in which owning your truth and rooting your personality within it prove far more nurturing than buying into the fiction offered by others. In that sense, it's a close cousin of "Encanto.' They belong in the same multiplex — if not on the same pair of sneakers. 
Wolfwalkers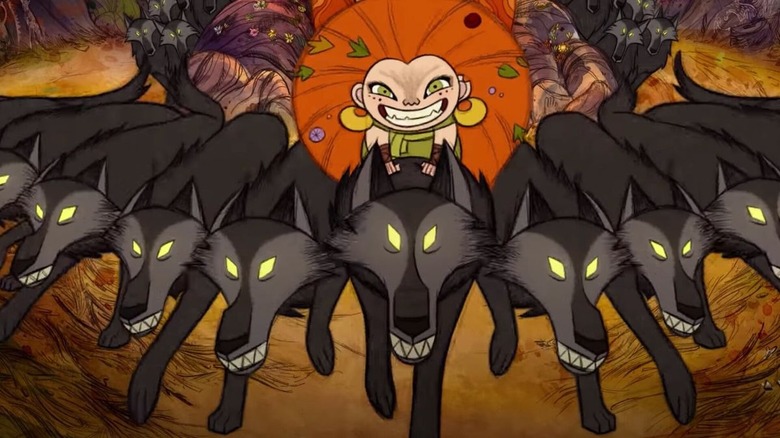 Apple TV+
If the magical children and creatures of "Encanto" were its most appealing component to you or anyone you love,  "Wolfwalkers" is an immediate must-watch. The 2020 best animated feature Oscar nominee is a lavishly realized tale of tolerance and self-discovery in the face of persecution that expands what 2D animation feels capable of. Its expansive scope and thrilling chase scenes feel like a natural yet speedy evolution of the fluid, painted cinema-style director Tomm Moore pioneered in the first two installments of his "Irish Folklore Trilogy" (2009's "The Secret of Kelis" and 2014's "Song Of The Sea"). 
Unlike "Encanto," however, "Wolfwalkers" examines the all-too-human forces which threaten to tear loving families apart. To be clear, "Encanto" also acknowledges both the horrors of displacement and how generational trauma can pass from family member to family member, but "Wolfwalkers" takes a more in-depth, unblinking approach. This is a movie where magic is in peril from the jump, and it's those heightened stakes that make the film's race to an almost operatic denouement all the more magical. 
The Mitchells Vs The Machines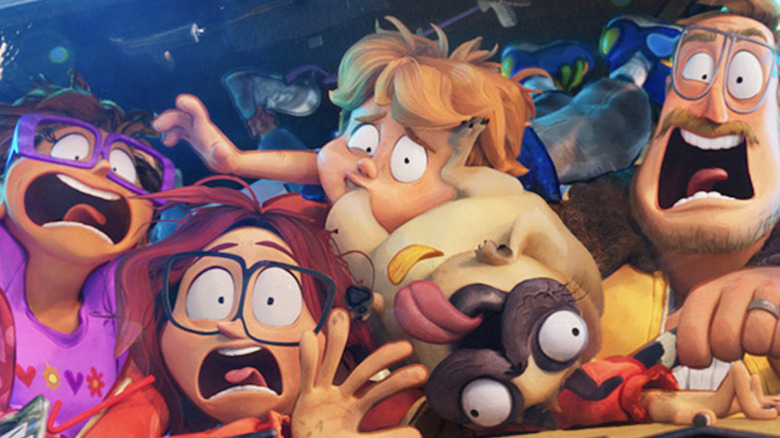 Netflix
The Madrigals of "Encanto" know they're special. Their powers manifest with ease, and their gorgeous home is a manifestation of all that makes them special. By contrast, there's the Mitchells of "The Mitchells Vs. The Machines." The Mitchells are perenially on the so-called struggle bus (or, more accurately, the struggle 1993 burnt orange station wagon). Even after they've defeated an army of sentient technological marvels, Furbies, and household appliances that have threatened to enslave humanity, the family's patriarch can barely upload a video to YouTube.
To be clear, director Michael Rianda (along with producers Phil Lord and Chris Miller) adore their misfit protagonists, and they make it their mission to convince audiences that it's the family's weirdness that makes them wonderful (and, eventually, heroic); it's hard for me to imagine any viewer not converted to this line of thinking by the time the credits roll. "The Mitchells Vs. The Machines" is one of 2021's tightest and most imaginative films in any genre, one that — like "Encanto" — can remind you how quirky and special your loved ones are.
Robin Robin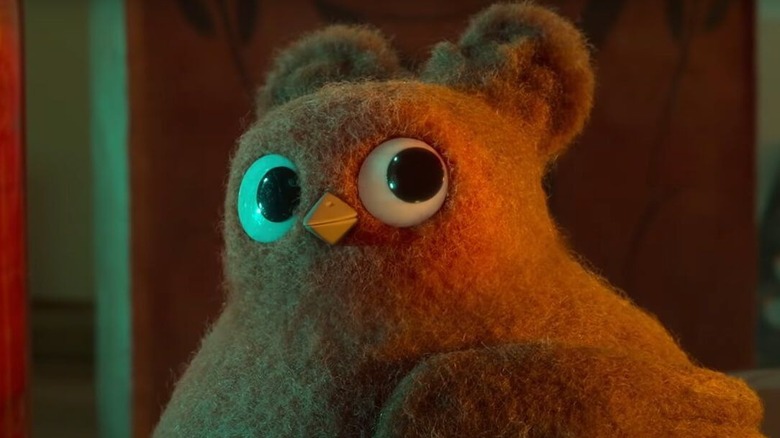 Netflix
The only Ardman film to appear on this list, "Robin Robin" is both the most recent and shortest of the studio's output. Don't hold either against it: the holiday season release is a compact, highly intelligent repurposing of human myths and why they matter to those who hear them, human or not. 
That's what happens for Robin, who is the protaganist of "Robin Robin" and comes to believe the Christmas star atop a nearby domicile's living room tree has the power to grant its owner wishes. Believing this warmly warped take on the tale of Santa, Robin plans a daring heist. Along the way, there's a villainous cat voiced by Gillian Anderson, sumptuous music, and an ending that delivers holiday joy without being saccharine.
Just as importantly, "Robin Robin" reinforces that love — in its many shapes and forms — is what bonds a family most of all, not abilities or species or tastes. It's a testament to supporting each other through thick and thin, and the fact that this sentiment is realized through highly-detailed and Easter egg-rich stop motion is the icing on the cinematic fruit cake. 
Spider-Man: Into The Spider-Verse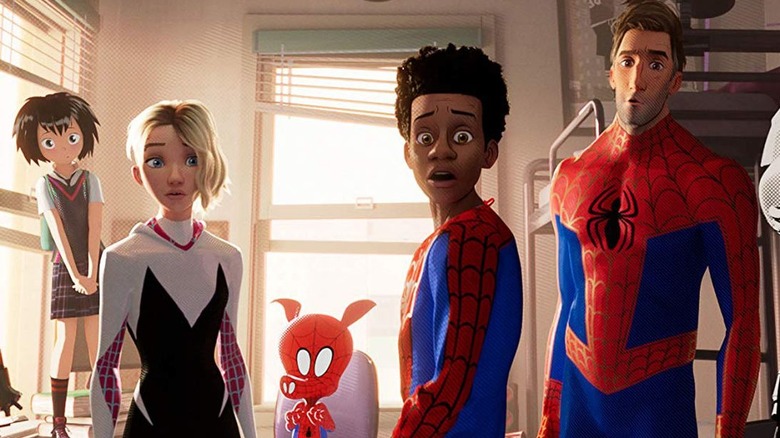 Sony Pictures
Being special, no matter how special you are or in what way, is a leap of faith. That's true if your Patrick Mahomes or Ridley Scott. It's true if you're stepping up as a parent or son or daughter, no matter what your job, passion, or dream is. The responsibility of being great, of having true power, means risking failure. Trust is frightening.
"Spider-Man: Into The Spider-Verse" is a cinematic leap of faith. It weaves multiple heroes from multiple timelines rendered via multiple animation styles into a whole, making each addition feel more natural than the last. At no point does Bob Persichetti, Peter Ramsey, and Rodney Rothman's movie forget that the very act of telling these stories — which matter to so many for so many different reasons — is in and of itself great power and responsibility. 
Though "Encanto" is a lovely meditation on similar themes (one that's also similarly culturally diverse and inclusive), "Spider-Verse" raises the bar for superhero storytelling to a multitudinous and technicolor plane every film released seems incapable of matching, much less outshining. It's an incredible, all-time leap.
ParaNorman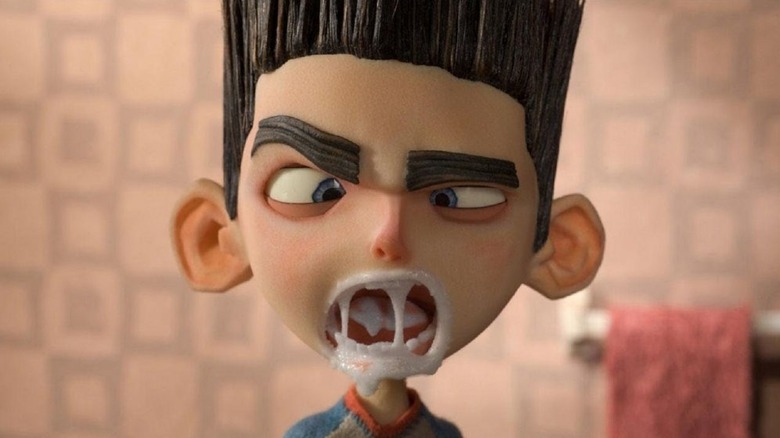 Laika
In Laika's "ParaNorman" (and just as it is in "Encanto"), an outsider within their own home and town must summon the courage to save his family and neighbors despite feeling like neither understands them; both films also portray worlds and stories deeply infused with magic. The biggest difference here is that Norman, the hero of "ParaNorman," can speak to and see the dead. 
Nine years removed from its theatrical release, it's remarkable how ingenious both "ParaNorman" and its realization of this conceit remain. The spectral characters move with a fluidity that remains a landmark for stop-motion animation; the voice work from an eclectic cast (Anna Kendrick! John Goodman!) remains some of the best its performers have ever mustered. And even if "ParaNorman" and his family begin the film they occupy at odds, as in "Encanto" they come to appreciate that life is too short to seek anything less than a deep emotional understanding of someone you love. 
Whether you understand them or not isn't the point, of course — trying matters more. And the rollercoaster ride of an effort that "ParaNorman" put into teaching audiences this lesson is resonant enough to last a lifetime. 
Kubo & The Two Strings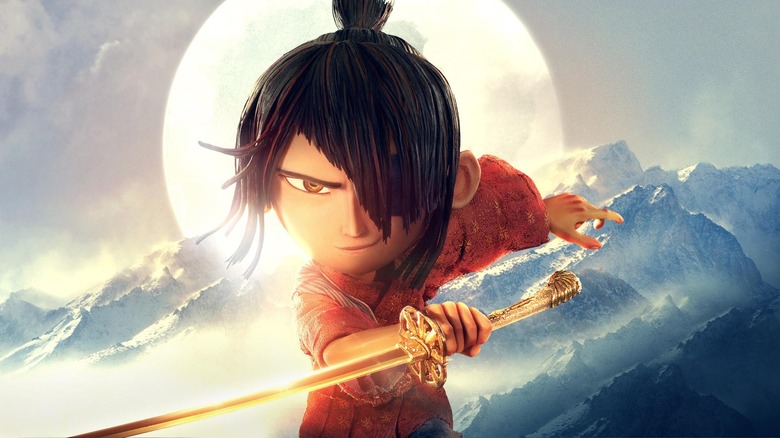 Laika Studios
"Encanto" isn't as focused on the notion of rebirth as Laika's "Kubo and The Two Strings" — while Mirabel certainly transforms by film's end, her evolution isn't as phoenix-like as the titular Kubo's. Both films share much in common, though. For one, they're strikingly gorgeous; where "Encanto" draws from the landscapes and traditional architecture of Columbia to build and flesh out its world, director Travis Knight and his animation team incorporate a wealth of Japanese art forms into their realization of ancient Japan. 
For another, they concern themselves with the ever-complicated nature of family. Over the course of "Kubo & The Two Strings," Kubo learns both that family isn't inherently trustworthy and that the memory of those we love, particularly family, can sustain and enrich our temporal lives. That it does so with a focus on the singular, landscape-shifting power of music makes it a stop-motion cousin to the lush CGI of "Encanto," and a wonderful follow up to Disney's latest. 
Maya And The Three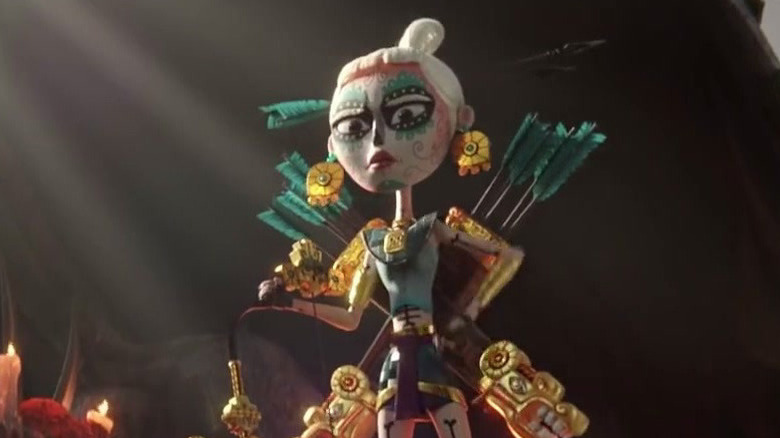 Netflix
Ok, I'm cheating a little by putting Netflix's "Maya and The Three" on this list — it's a television show, not a movie, and even though Jorge R. Gutierrez's series shares much thematic crossover with both "Encanto" and the general canon of classic Disney films, it takes distinct advantage of its extended format. That advantage, however, is exactly why it belongs on this list. 
If Disney films are the equivalents of weekend getaways in incredible lands, "Maya and The Three" is a residency. Viewers are offered ample time in the world of ancient Mesoamerica and, eventually, its spiritual kingdoms. Every landscape, palace, or ancient structure the show travels to is impeccably rendered; you could leave "Maya and The Three" on mute and still be enchanted by it.
That would be a mistake, however, because Guiterrez's show features a blockbuster voice cast including Zoe Saldaña, Diego Luna, and — most notably – Stephanie Beatriz. Beatriz makes an indelible impression as Mirabel in "Encanto," and she builds on that work here as Chimi, an archer from the Jungle Land who shares Mirabel's open heart but buries it under layers of precisely stacked stoicism. It's an impressive turn, and one that should encourage "Encanto" fans to rush Netflix's way post-haste. 
Tick, Tick...Boom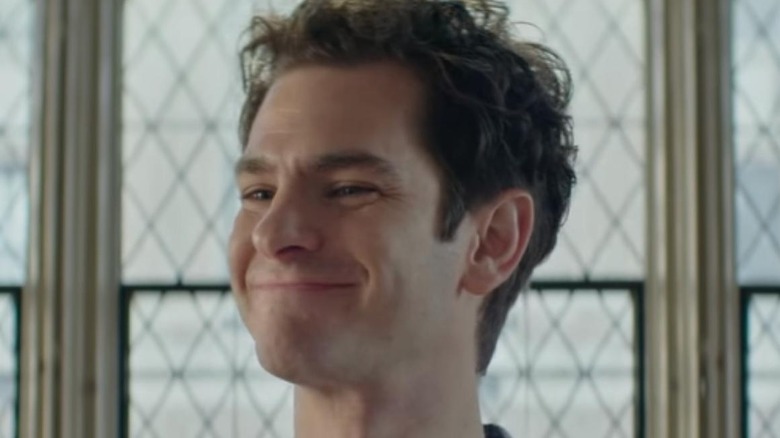 Netflix
Recently, the legendary Stephen Sondheim passed away at the age of 91. In a remembrance from Sondheim collaborator Richard Kind, the actor wrote the following: "When I met him, I introduced myself and told him I would only gush this once ... after gushing, he assured me 'I am not my songs. I'm just a nice Jewish boy from the Upper West Side.'" 
Sondheim was not his music, and yet that music bolstered him in life and altered the molecules of the air he and those around him breathed; he was also special for the gracious way he responded to Kind and countless others. This is a dynamic deftly explored in "Encanto" and the recently released "Tick, Tick...Boom," directed by "Encanto" composer Lin-Manuel Miranda and an autobiographical story of Jonathan Larson, the '90s Broadway wunderkind who died too soon at the age of 35. \
Larson was positioned to be an heir to Sondheim's throne. Life had other plans. But the way Larson lived informed his genius as much as the notes in his heart, a dynamic Miranda highlights throughout the Netflix original musical and which is impeccably captured by the great Andrew Garfield. For adult viewers who enjoyed "Encanto," "Tick, Tick...Boom" is a follow-up worthy of Larson, Sondheim, and anyone who's ever wished to inspire countless others. 
In The Heights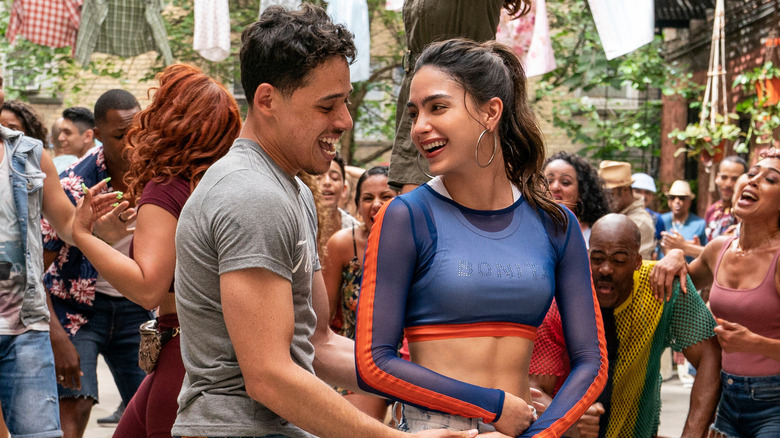 Warner Bros.
Most Disney animated films revisit ancient myths to unearth or tell modern stories — think "Aladdin," "Encanto," or "Frozen." "In The Heights," by contrast, makes a recent myth of modern living, electing to bring the Manhattan neighborhood of Washington Heights to live with the scope and verve of ancient Greece or medieval Europe. It's startlingly effective, and that's before you get to the bevy of euphorically staged music numbers the film doles out. 
"In The Heights" doesn't qualify as a family film — there's some adult material here that justifies its "PG-13" rating — but for those who are of an age to see it, "Heights" comes closer to expanding everything we love about Disney animated films (their bright hues, their respect for their audience, their music) into a realm for mature viewers. That it shares a creative voice with "Encanto" composer LIn-Manuel Miranda is further reason for parents or older teens who enjoyed that animated film to stream "In The Heights" as soon as possible.