The Expanse Cast And Creators Tease What To Expect In Season 6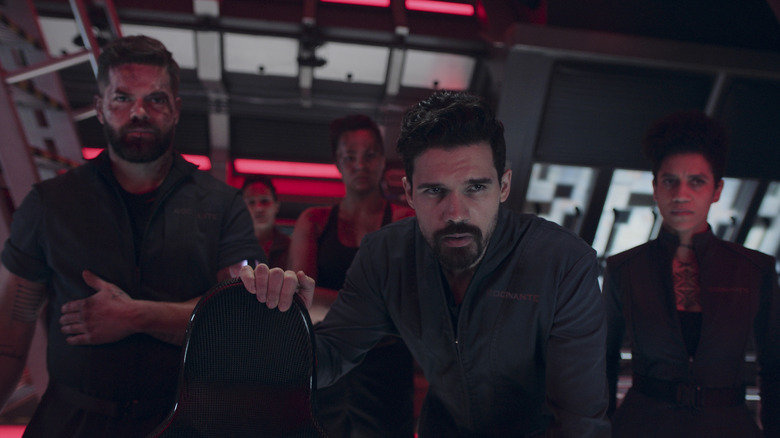 Prime Video
The sixth and final season of "The Expanse" premieres this Friday, with one episode dropping every week until the series finale on January 14. A lot happens in these final episodes (check out our non-spoiler review here), and /Film had the chance to talk with the show's cast and creative team about what fans can expect. 
Here's what they teased about the season and, where relevant, how their respective characters are feeling when the season starts. 
A Very Full Six Episodes (And Six Shorts)
Prime Video
Season 6 only has six episodes, fewer than any other "Expanse" season before it. And while there are also corresponding shorts released with each episode that dive deeper into some of the characters, there was still a finite amount of time to pack in the major themes and elements found in the books the show is based on.
"We just had a limited amount of space," showrunner Naren Shankar told /Film. "The whole thing had to be continually escalating — it was putting people at the absolute bottom and then having a slow agonizing crawl to the end of it. There wasn't quite as much up and down as there was in the novel."
The sixth season doesn't just pull from the sixth "Expanse" book written by Ty Franck and Daniel Abraham, who are also co-writers and executive producers on the show. It also pulls from the "Expanse" novella, "Strange Dogs," which takes place on a ring planet called Laconia.
The decision to start each episode with a vignette from Laconia stemmed in part to keep storylines from previous seasons moving forward. "We had the questions of the protomolecule and the breakaway Martian folks from season 5 and we didn't want to just drop those and not have that figure in it all," Abraham explained. "This is a way to have that story touch the mainline and inform it, and keep everybody in place."
Season 6, like the sixth "Expanse" book, is also a war story. The remaining episodes don't flinch from that and have scenes that reflect the horror and hardships of war. "It's very hard to tell a war story without any war," Franck shared. "You have to see the sacrifice in the tragedy of war to really appreciate the conclusion of it. And so we didn't want to shy away from showing the hardship and brutality of the conflict that's going on."
Naomi, Holden, and The Rest of the Rocinante Crew Are Barely Holding On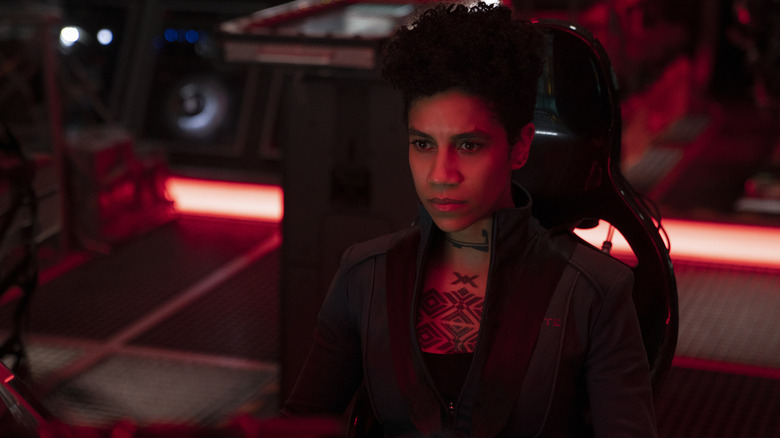 Prime Video
We experience this war story through the characters we've come to know and care about over the past five seasons. And when season 6 picks up several months after the end of season 5, most of the characters aren't doing so great.
"We find them over half a year later and nothing has really been accomplished," said Steven Strait about his character James Holden and the rest of the Rocinante crew. "It's just hard and emotionally draining day after day, after day."
Dominique Tipper, who plays Naomi Nagata — a Belter and Rocinante crew member on the show — shared how her character is faring at the beginning of season 6: 
"This war is pulling her apart in ways that she's so unhappy with. She is killing Belters all day every day. And I think she's starting to wonder in service of what ... we find her in a very exhausted, tired and empty place, and she's trying to do her best. But I don't think she's doing a very good job at it actually, given the circumstances."
As for Holden, Strait added that "he's trying to hold his family together the best way he knows how" but that "the stress is really weighing on him." Strait worked to show that stress on-screen in part by losing a lot of weight for this season. "He's a man barely holding it together and doing his best," Strait explained, "but it's not going great in the beginning."
Speaking of Holden, the arc he takes through the season is one that the writers think might surprise some viewers. "The take we've taken on Holden's story and Holden's arc through this [season], it is a version of space hero captain that I hadn't seen before," Abraham said. "We had to write it like this in order for it to exist. And I think there will be some conversation about that."
Marco, However, Is Doing All Right (Mostly)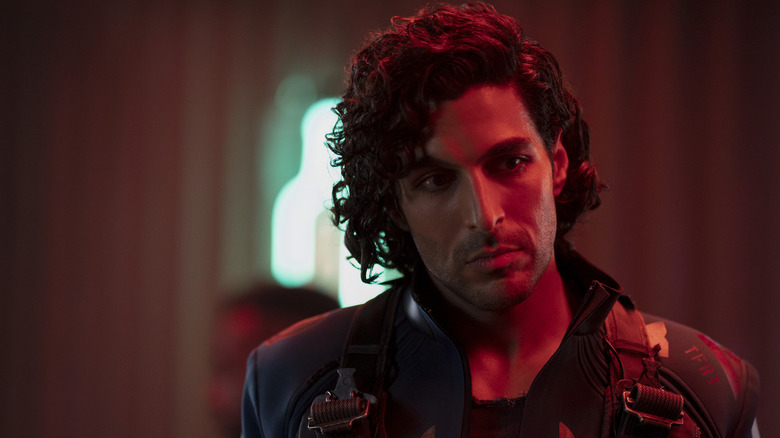 Prime Video
Not everyone is in such a bad state at the beginning of the season. Marco Inaros, the head of the Free Navy is still feeling pretty good about killing billions of Earthers. "He's accomplished everything that he dreamt of becoming and accomplishing," explained Keon Alexander, who plays Marco. "At the beginning of season 6, we see him at the height of his power. We see him relishing in it."
But even though Marco is enjoying his power, Alexander emphasizes that things aren't perfect for the Free Navy leader beneath the surface. "Marco is in his full glory, but also at the peak of an existential crisis because he does not know what he is now," he said. "He's moved from being the leader of a military to now a leader of a political system. And that's not the set of tools that he likes to wield the most, or he is most trained to wield. It sets him up for a very interesting journey that challenges his weaknesses and points out the cracks in his psychology."
One of Marco's foes in the season is Camina Drummer, played by Cara Gee. "Drummer, I mean, she is so alone," Gee shared about her character's state of mind at the beginning of the season. "Obviously, the choices she made in season 5 fractured her family — Serge died. And so the family who have stuck with her are in the middle of nowhere. Space is pretty vast, but there's still another layer to that ... she's feeling quite hopeless and completely isolated, and has nowhere to turn."
How The Series Ends, Sans Spoilers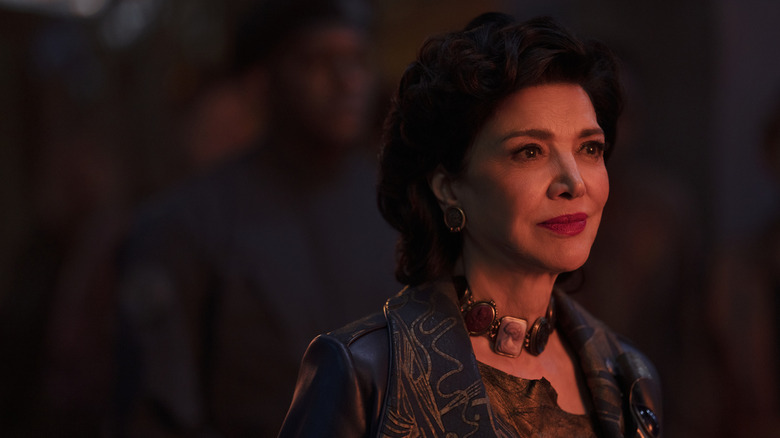 Prime Video
Without getting into spoilers, the cast and creative team did share how they feel about the show's conclusion, and what they hope fans will get out of it. "Just see where these relationships are going to go," teased Shohreh Aghdashloo, who plays UN leader Chrisjen Avasarala. "Whether they grow deeper ... or sometimes some people need to cut a relationship off to free themselves."
"I really think we've knocked out a really good final season and I think it really ends in a very satisfying way, a very beautiful way, especially for my and Steven's characters," said Tipper. "The nature of the power shifts throughout the season are really satisfying as well."
Gee also hopes that the series causes viewers to think how the themes in the show relate to what's happening in our current world. "I hope that people walk away feeling emboldened to question power structures as they exist in our society, and to contemplate what we might do differently," she shared.
Wes Chatham, who plays Amos Burton on the show, also had hopes for the future of "The Expanse. "I hope that it continues," he said. "The story that Ty and Daniel have created is so special and so complex and nuanced that I hope that it continues."
And will it continue? The creators were understandably cagey but didn't slam the door on the idea. "It's a big world and we got three more books," said Abraham. "Something could happen. We don't know. Maybe."
Season 6 of "The Expanse" premieres on Prime Video on December 10, 2021.