Guy Ritchie's Operation Fortune Images Feature Fit People In Bespoke Clothing Doing Action Movie Stuff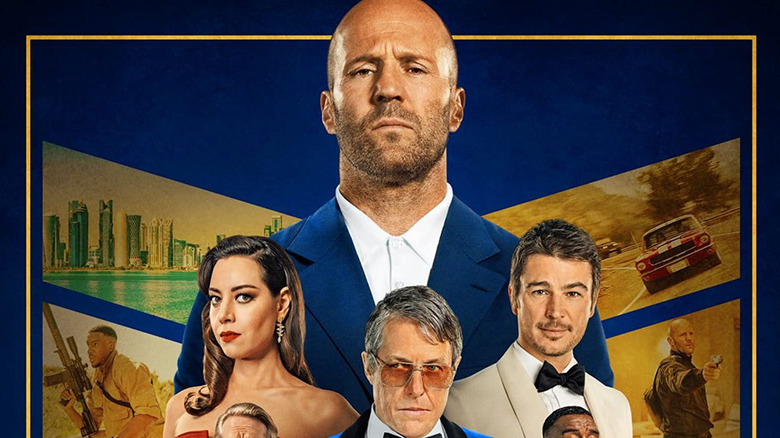 STXfilms
A globe-trotting spy adventure starring beautiful people wearing bespoke clothing, with Guy Ritchie calling the shots? "Operation Fortune: Ruse de guerre" already sounds like a blast, even before you throw in Josh Hartnett playing, in an "Argo"-style twist, a celebrity actor who gets caught up in a scheme involving eccentric billionaire arms dealers.
"Operation Fortune," which is a playful upgrade from the movie's original title, "Five Eyes," re-teams Ritchie with his go-to leading man, Jason Statham. This marks the fifth time the duo have worked together after their breakout success with the 1998 crime caper "Lock, Stock and Two Smoking Barrels," their reunion two years after on the equally stylish "Snatch," their bizarre attempt to make a philosophical crime film informed by Ritchie's interest in Kabbalah with 2005's "Revolver," and their recent reunion on the revenge heist-thriller "Wrath of Man."
"The truth is I wanted another alibi to give me a reason to work with Jason again because I enjoy collaborating with him so much," Ritchie told EW in an interview to promote "Operation Fortune" ahead of its release next year. STXfilms has also released new images from the film, which you can check out below.
Operation Fortune Images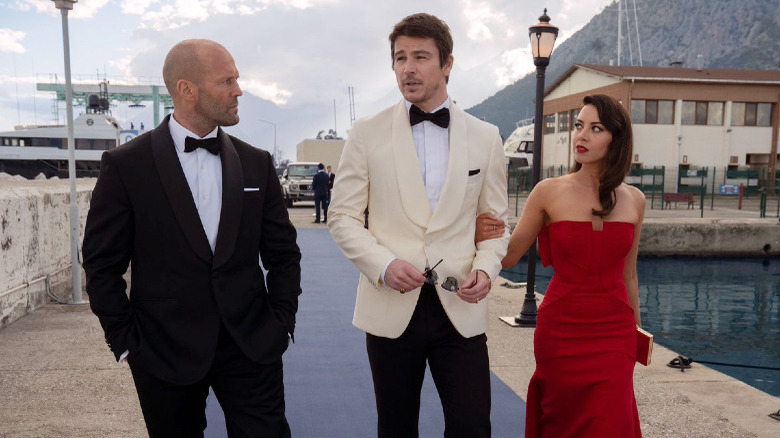 STXfilms
The first of these images shows Statham, Hartnett, and their co-star Aubrey Plaza wearing snazzy outfits with a color scheme identical to that of the attire that Dwayne Johnson, Ryan Reynolds, and Gal Gadot donned recently for their own globe-trotting romp "Red Notice." For my money, "Operation Fortune" already seems a lot more fun and effortlessly cool than that movie, if the majority of Ritchie's previous work is anything to judge by.
Up next is a photo of Plaza getting on her strut in what's bound to be one of many fast-paced action scenes in the film. (Don't worry, she's not in the driver's seat.) The "Parks and Recreation" alum has thrived in everything from dark satires to esoteric indie fare over the years, which makes the prospect of her starring in a proper action movie for the first time all the more intriguing. Ritchie clearly agrees with that sentiment, having told EW, "It felt fresh, and she felt capable. I am more than delighted with the result."
What We Know About Operation Fortune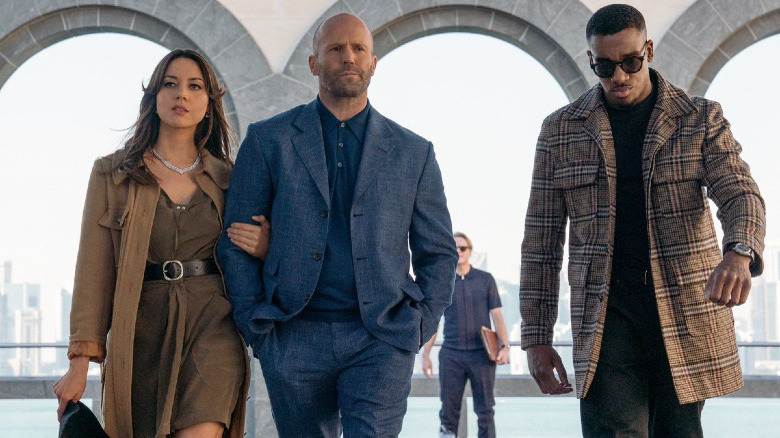 STXfilms
"Operation Fortune" stars Statham as Orson Fortune, a wonderfully-named super spy who recruits a Hollywood A-lister, Danny Francesco (Harnett), and a crack team of operatives from around the world (Plaza, Bugzy Malone, and Cary Elwes) to foil a weapons sale involving the wealthy arms broker Greg Simmonds (Hugh Grant, keeping his welcome streak of playing villains going). Ritchie directed the movie from a script he co-penned with his "The Gentlemen" and "Wrath of Man" co-writers Ivan Atkinson and Marn Davies.
As for the meaning of the film's eyebrow-raising title? Here's how Ritchie explained it to EW:
"You have to look up the meaning of 'Ruse de guerre;' it's too ironic a premise to ignore. Somehow only the French have managed to capture the meaning within a term, 'the accepted unorthodox approach to war' which is really what our film is about."
"Operation Fortune: Ruse de guerre" arrives in theaters on January 21, 2022.