Everything We Know About The Queer As Folk Reboot So Far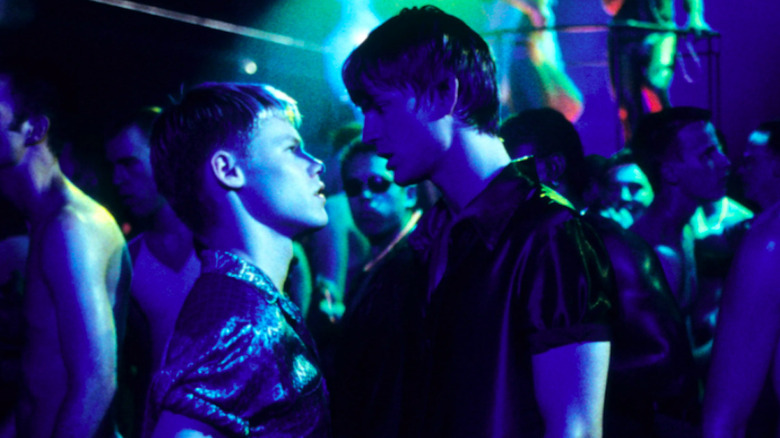 Showtime
It's time to get ready to head back to Babylon! "Queer as Folk" is coming back (hopefully) better than ever. Initially, a British TV show created by Russell T. Davies (mostly known for his "Doctor Who" fame, but who should always be remembered for his remarkable work on "Casanova" that left teenage me smitten with David Tennant years before I knew what a Dalek even was), "Queer as Folk" was eventually adapted for American audiences and became a long-running series on Showtime. The American version centered itself around the lives of seven gay men and women, and the show was groundbreaking for its portrayal of queer relationships on television. Now, after more than 20 years since the UK version's debut, the show is set to make its return to American screens. Let's all take a seat at the Liberty Diner and discuss everything we know about the upcoming reboot over a nice, hot cup of coffee served proudly to us by none other than everyone's favorite mom, Debbie Novotny. 
What's It About?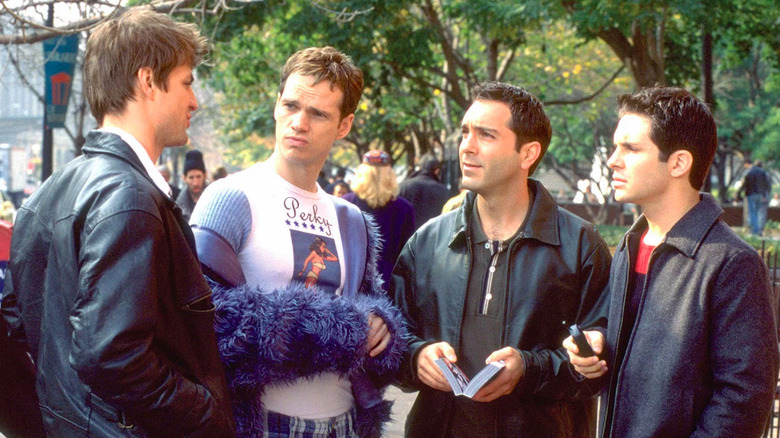 Showtime
The latest "Queer as Folk" reboot is set to take place in New Orleans, and according to an article in Variety earlier this year, the new series "is described as a modern take on the original British series that centers on a group of club-going friends who find support in the gay community following a tragedy." Not much else is known about the plot, but fans of the original series can rest assured that the show is in good hands. Stephen Dunn, who wrote and directed the 2015 Canadian film "Closet Monster," is the show's creator and executive producer, and Russell T. Davies, the creator of the original British series, is also on board as an executive producer. 
The show will premiere on NBCUniversal's new streaming platform Peacock, and Dunn has stated in an article by Variety that "When the show originally aired, the idea of unapologetic queer stories on TV was so provocative that I felt I could only watch 'Queer as Folk' in secret." Now, he hopes "the next generation [won't] have to watch 'Queer as Folk' alone in their dank basements with the sound muted, but with their family and friends and the volume cranked all the way to the max..." It's true that when the show first aired back in 1999 on British television, it was considered groundbreaking for its portrayal of the LGBTQ+ community, and the American version of the series has been praised for its decision to tackle important issues like HIV/AIDS and same-sex marriage. 
It's a very different world in 2021 than it was 20 years ago, and the LGBTQ+ community is finding more representation on screen than ever before. HBO's killer series "Euphoria" (who's desperately excited for season 2, y'all???) beautifully depicts issues of sexuality and gender identity without relegating any of its characters to one-dimensional plot devices, and even the latest "Gossip Girl" reboot (I'm obsessed. Please talk to me about it.) is making strides positively depicting LGBTQ+ characters. However, there is always room for improvement and more honest representation. Here's to hoping the new "Queer as Folk" reboot follows in its siblings' footsteps, especially since the original two series are often criticized for their lack of diversity in casting. I mean, Brian Kinney and Michael Novotny are great and all, but there's more to queer life (and all life, really) than just white men, amirite?      
Who's the New Crew?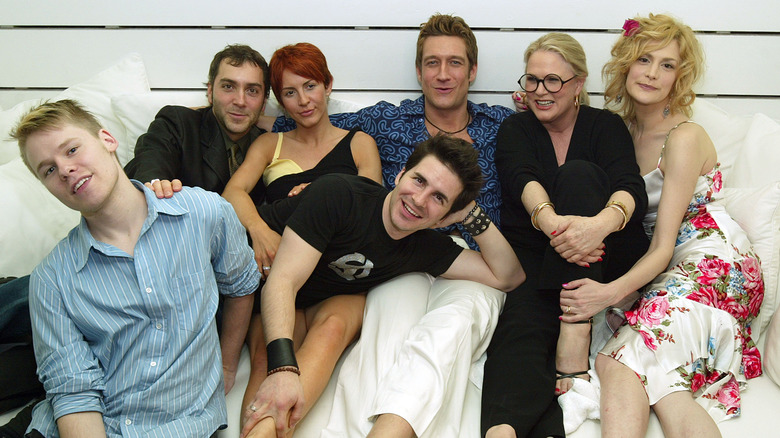 Frank Micelotta/Getty Images
This brings us to our next talking point: the cast! 
The first person to be announced as a series regular was Jesse James Keitel who was recently cast in the leading role on ABC's "Big Sky." Keitel is a nonbinary actor, and their inclusion in the upcoming cast of "Queer as Folk" is very exciting news. According to Variety, they will play "a trans, semi-reformed party girl [sic] who is struggling to grow up." From that description alone, I'm hoping they're set to play a new and improved version of the always enigmatic Brian Kinney. 
NBCUniversal has also updated their list of series regulars to include Fin Argus, Johnny Sibilly, Candace Grace, and Devin Way. Each of the new cast additions was accompanied by a character description in a Deadline post. 
According to them: 
Grace will portray a non-binary professor navigating the rocky transition from punk to parenthood. Sibilly stars as a successful lawyer who is not as put together as he seems. Way will bring to life a charming and sometimes chaotic commitment-phobe who finds a reason to stay in New Orleans after tragedy rocks his community. Argus will play a cocky high schooler whose confidence belies his lack of real-world experience. 
There has also been confirmation that Kim Cattrall will have a recurring guest role on the show. Deadline reports that everyone's favorite "Sex and the City" character will play "a martini-soaked, high-society Southern debutant with trailer park roots," which, I mean, I think we're all totally here for.
One thing is certain. This new cast is already shaping up to be far more diverse than the original versions of the show. It's refreshing to see not just a cast full of people of color, but one that is also representative of the LGBTQ community both on and off the screen. 
Other cast members have been verified as well, including Ryan O'Connell, Armand Fields, Benito Skinner, and Chris Renfro, truly proving that this reboot is shaping up to be one delightfully queer as folk time.
The new "Queer as Folk" reboot is set to stream on NBCUniversal's Peacock. Filming has begun in New Orleans, and there is hope that the series will premier sometime next year. Our Babylon beating hearts can hardly wait, proving that the "thumpa, thumpa" will carry on into a whole new generation.