The Daily Stream: Contempt Is A Gateway To Godard And The French New Wave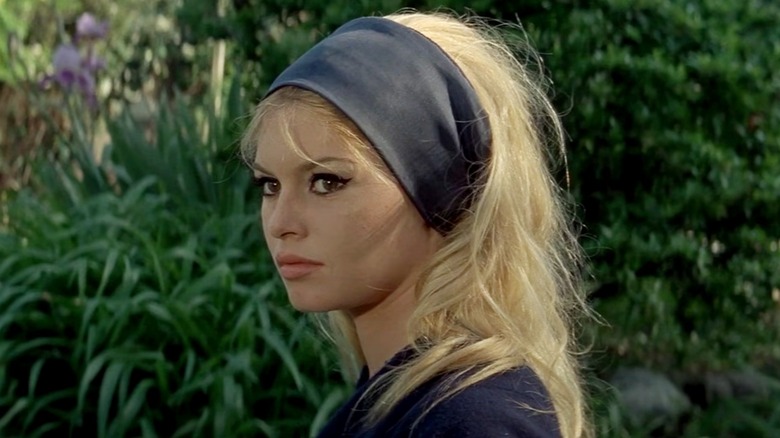 Marceau-Cocinor
(Welcome to The Daily Stream, an ongoing series in which the /Film team shares what they've been watching, why it's worth checking out, and where you can stream it.)
The Movie: "Contempt" ("Le Mépris")
Where You Can Stream It: The Criterion Channel
The Pitch: A French screenwriter, Paul (Michel Piccoli), sees his marriage break down as an American producer enlists him to rewrite a film adaptation of Homer's "Odyssey." Jack Palance ("Shane," "Batman") plays the producer, whose prurient interest in Paul's wife, Camille (Brigitte Bardot) is just one meta facet of "Contempt," Jean-Luc Godard's first big-budget film and the only one he made with an American co-producer (an uncredited Joseph E. Levine).
In Sight & Sound's once-in-a-decade poll of the 100 greatest films, "Contempt" (listed under its French title, "Le Mépris") tied with "The Godfather" at #21. Godard's directorial debut, "Breathless," ranked ahead of both of them at #13, which just goes to show what a heavyweight he is in terms of influence. He and François Truffaut, two Cahiers du Cinema critics turned filmmakers, were at the forefront of the French New Wave in the late 1950s and early 1960s.
Many of the directors whose work stateside cinephiles know and love were inspired by the French New Wave. When figures like Martin Scorsese and Steven Spielberg emerged in the New Hollywood era, or American New Wave, they took a cue from the iconoclastic techniques of their French forerunners — whose influence would extend beyond the '70s to independent filmmakers of the '80s and '90s like Steven Soderbergh and Quentin Tarantino. Truffaut had a role in Spielberg's "Close Encounters of the Third Kind," while Scorsese utilized Georges Delerue's "Theme de Camille," a signature piece of music from "Contempt," in his mob epic "Casino."
Why It's Essential Viewing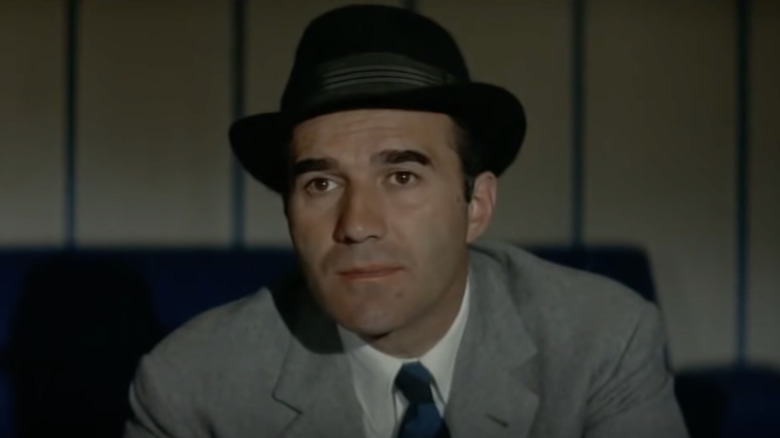 Marceau-Cocinor
"Contempt" is a classic of world cinema and, together with "Breathless," is often cited as Godard's most accessible work. It's certainly his starriest. In addition to Bardot and Palance, Fritz Lang, director of the German expressionist masterworks, "Metropolis" and "M," co-stars as himself. He's the one helming this "Odyssey" adaptation, and in the push-and-pull between him and Palance's character, Prokosch, you can feel the tension between art and commerce.
Paul and Camille are caught in the middle. On one level, the movie functions as a simple doomed romance, but on another level, it functions as the story of an artist betraying his muse and conforming to commercial standards, such that his muse abandons him. In one scene, Godard frames the dichotomy between Camilla/Lang and Paul/Prokosch by having them sit on opposite sides of a theater aisle.
There's some emotional heft to "Contempt," but it's also fascinating as a metacinema extension of film criticism. The movie opens with a camera gliding along a track next to a woman on a studio backlot. The voiceover observes how cinema substitutes "a world more in harmony with our desires," before the camera onscreen turns and looks right down into our camera, the all-seeing audience eye.
The gender politics are what you might expect from a movie that is going on 60 years old. Bardot was an international sex symbol at the time, and producers wanted more of her and her body to sell their movie. Godard thumbed his nose at them by inserting a pillow talk scene where she itemizes her own body parts, asking Paul if he loves them, as the scopophilic male gaze travels down her back and lingers on her bare buttocks. "I love you completely, tenderly, and tragically," Paul says.
Soon, we're on the backlot again, only now, we're the ones gliding alongside the woman, Prokosch's assistant and translator, Francesca (Giorgia Moll), as she walks up the street. Our knowledge of the opening scene underpins this tracking shot and we realize that the viewer has switched places with the cameraman.
'The Market Where Lies Are Sold'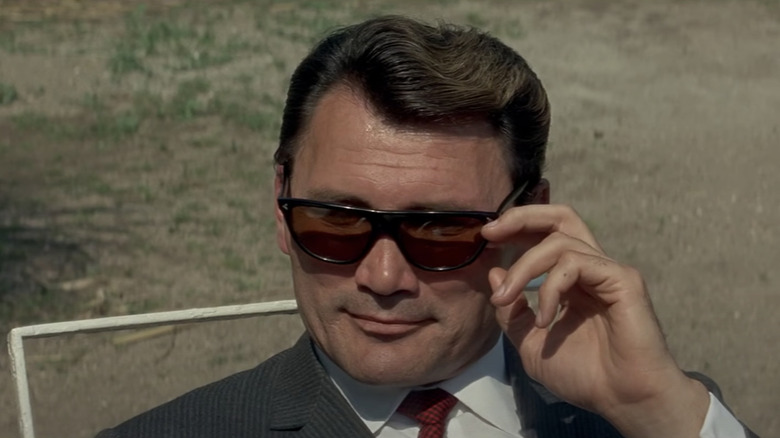 Marceau-Cocinor
In the screening room, Lang talks about the individual fighting against circumstances, as personified by the gods in the Greco-Roman myths of old. Over and above the abstract imagery coming from the projection booth, there are hints that Paul's story is a modern parallel to that of Odysseus or Ulysses, with Prokosch serving as his Poseidon or Neptune, the sea god who blew the hero off-course as he was returning home from the Trojan War.
Prokosch even smiles and says, "I like gods. I like them very much. I know exactly how they feel. Exactly." When he gets angry, he hurls a film canister like he's doing the discus throw in the Olympics. When he speeds off with Camille in his sports car, and again later, in his boat, it's reminiscent of the myth of Europa, in which Zeus made off with a mortal woman across the sea.
As "Contempt" retreats to Paul and Camille's apartment, where its 30-minute middle section plays out, Paul wraps a white bath towel around himself like a toga. He been handsy with Francesca and he hits Camille and there's always the question of his motivation. Is he using Camille's beauty to advance his career with Prokosch, or passively allowing the producer to move in on his wife, or just letting her — like Penelope in "The Odyssey" — entertain a suitor whom he does not consider a serious rival?
Camille feels that life is forcing her to go with him to the isle of Capri, where fate closes in on them on at the Casa Malaparte, a scenic villa with pyramidal steps leading to an open rooftop on a cliff overlooking the sea. She tells him he's changed since he met those "movie people," yet he still aspires to a non-existent world like Homer's or Hollywood's, "the market where lies are sold," as Lang calls it.
It can only end with a god-in-the-machine disaster, which shows how ill-equipped commerce can be as a custodian of muses. If you're like me and are always looking to fill blind spots in your film knowledge, "Contempt" offers a window into an important part of our cinema heritage. Give it a watch, and it may soon have you seeking out other French New Wave titles like "The 400 Blows."