The 14 Best Thrillers Of 2021 Ranked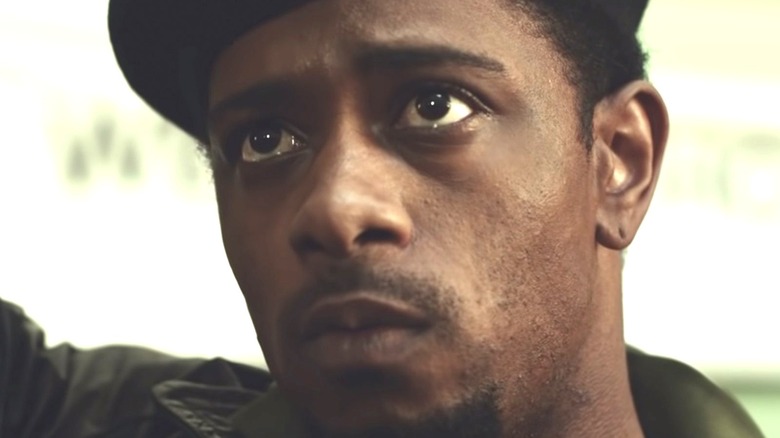 Warner Brothers
2021 has been a great year for film fans, although the second year of the new decade has certainly been an unpredictable one in terms of release schedules. Between the Academy Awards pushing their eligibility window to February and the simultaneous release of new Warner Brothers films in theaters and on HBO Max, it's become more difficult than ever to keep track of what films came out when, and where they're available.
The constraints of COVID-19 continued to impact cinephiles, as the production of many films was completed amidst the pandemic. In addition, many of the most anticipated films of 2020 were pushed back until 2021, so this year's slate of releases was even more packed with exciting projects than normal. At the same time, new thrillers have become more accessible than ever thanks to the continued success of streaming services like Netflix, Amazon Prime, HBO Max, Disney+, and Apple TV+. Not only do these services serve as a platform for major big budget releases, but they can help spotlight under the radar titles as well.
Thriller fans had no shortage of options in 2021. Here are the 14 greatest thrillers of 2021, ranked.
14. Encounter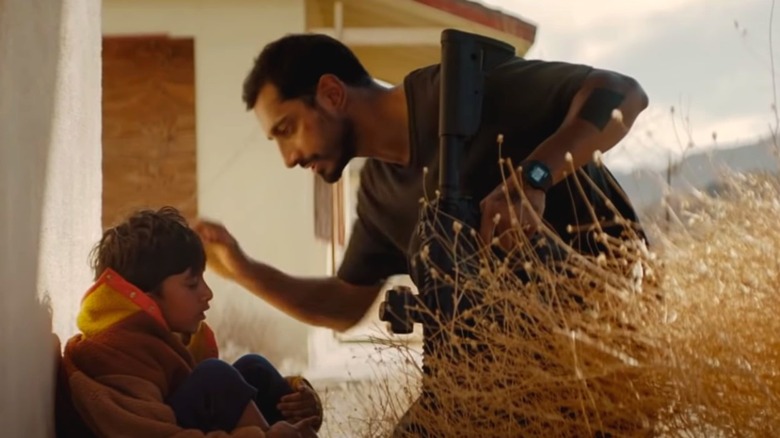 Amazon Studios
Great thrillers can not only tell gripping stories that audiences will be riveted by, but they can explore serious issues through genre-inspired premises. "Encounter" is a great example. It follows the former soldier Malik Khan (Riz Ahmed) as he deals with post-traumatic stress disorder. Khan tries to protect his two young sons amidst an ongoing alien invasion, which causes him to reminisce on his service.
"Encounter" is thrilling because Khan's perspective cannot entirely be trusted. It's unclear at points how much of the danger is real, and the film does a great job at deepening the viewer's understanding of Khan's condition without stigmatizing him. Ahmed delivers a sensitive, impactful performance, and is believable as a protective father. "Encounter" skillfully teases the science fiction plot without any heavy exposition; instead, it forces the viewer to pay close attention to background details as Khan's paranoia increases during his travels.
13. Siberia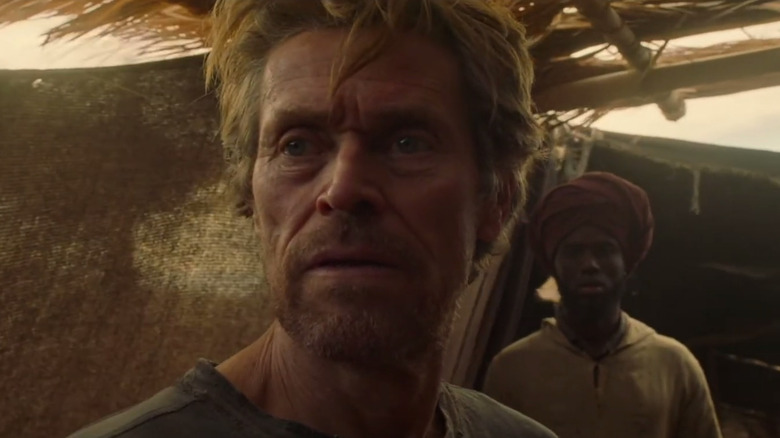 Vivo Film
Abel Ferrara is one of the most distinguished voices in the thriller genre, and while he may not crank out a classic like "Bad Lieutenant" or "The King of New York" every time he steps behind the camera, it's commendable that the older filmmaker continues to work on new films. Ferrara also released the thriller "Zeroes and Ones" this year, but his summer film, "Siberia," had been sitting on the shelf for a while. The psychological thriller was first screened at the 2020 Berlin Film Festival and had been awaiting an official release ever since. Thankfully, in 2021, cinephiles finally got the chance to enjoy the film's complex narrative.
"Siberia" follows lonely bartender Clint (Willem Dafoe), who tends to a bar in the middle of the frozen Siberian desert. Clint's infrequent customers speak little English, and he's cut himself off from almost any other social interactions. However, Clint becomes fascinated by a mysterious cave near his bar. Inside, he finds haunting visions of his past that force him to question the nature of his reality.
12. Shadow in the Cloud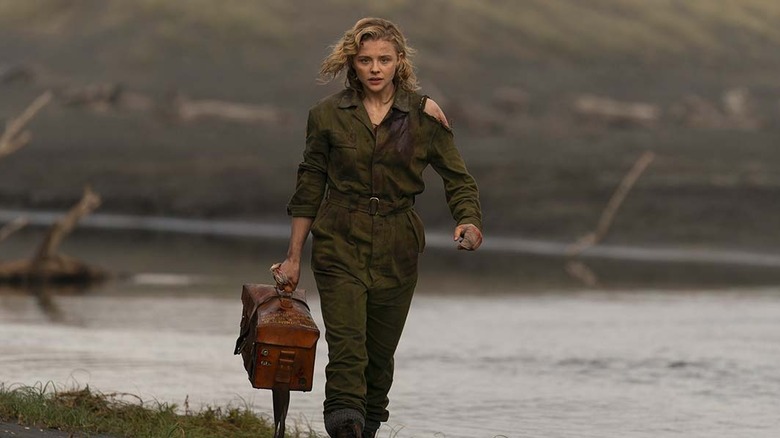 Vertical Entertainment
2021 was a great year for female representation on screen. "Shadow in the Cloud" had a tumultuous journey to theaters, as the screenplay came from Max Landis, who has been accused of abuse and sexual misconduct. However, director Roseanne Liange was able to rewrite large portions of the script and make it her own, and "Shadow in the Cloud" ended up being one of the best creature features in recent memory as a result.
In the final stage of World War II, Pilot Officer Maude Garrett (Chloe Grace Moretz) demands entry to a flight traveling between Auckland and Samoa. Garrett is mocked and dismissed by her male crew, who force her to stay below decks on the B-17 known as the Fool's Errand. While Garrett is isolated, a gremlin-like creature latches itself to the ship's posterior, leaving her unable to communicate with the rest of the crew.
11. The Courier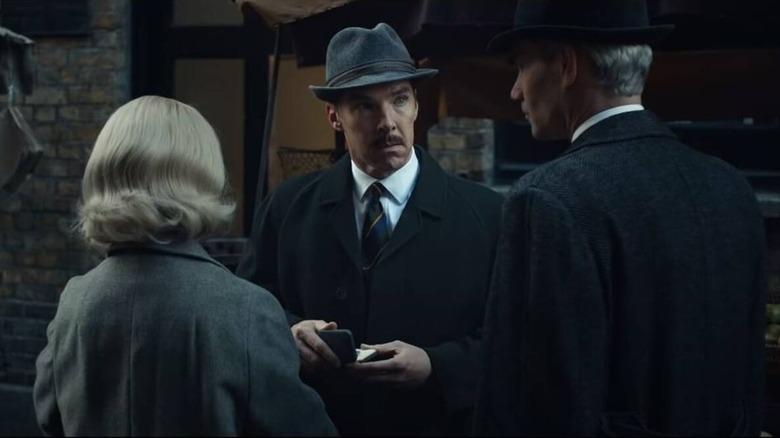 Lionsgate
Cold War-era thrillers are an important part of film history, and half a century after their emergence, modern filmmakers continue to find ways to reinvigorate their well-worn cliches. This year's "The Courier" combines the Hitchcockian notion of a common man in over his head with a detailed look at international relations reminiscent of the works of the great John le Carre. As such, Dominik Cooke's highly entertaining thriller is both an entertaining throwback and a novel reinvention.
"The Courier" follows a British businessman, Greville Wynne (Benedict Cumberbatch), who is recruited by MI6 officer Helen Talbot (Rachel Brosnahan) to make contact with the Soviet Union military intelligence officer Oleg Penkovsky (Merab Ninidze). Wynne has no experience as a spy, and it's entertaining to watch an outsider enter the fragile world of politics as the Cuban Missile Crisis breaks out. While there are some early comedic beats as Wynne adjusts to his new reality, the film becomes increasingly suspenseful as Wynne's paranoia increases and the stakes grow ever-higher.
10. Judas and the Black Messiah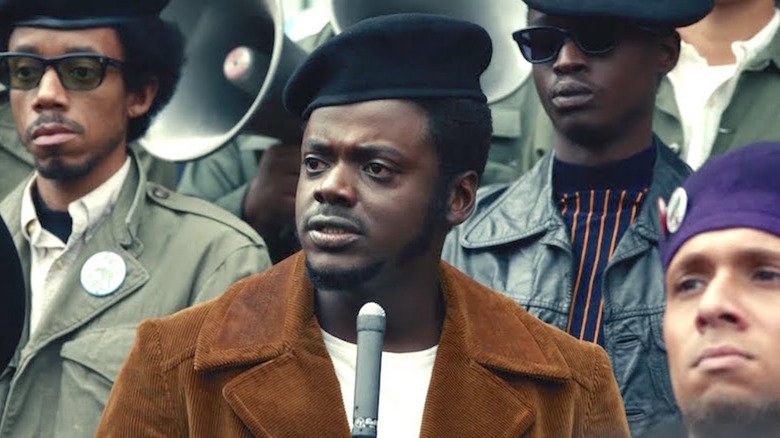 Warner Brothers
This year's release calendar has been so chaotic that it's easy to forget that some of the best films of the year were released in its first few months. Due to the untraditional eligibility period of last year's Academy Awards, February's "Judas and the Black Messiah" competed against the films of 2020 for the top prizes. Daniel Kaluuya took home the best supporting actor award for his incredible performance as the Black Panther party leader Fred Hampton, and the film was also nominated for best picture, best adapted screenplay, best original song for "Fight for You," best cinematography, and best supporting actor (Lakeith Stanfield).
While it tells an important story that is often unfortunately overlooked, "Judas and the Black Messiah" is also a great throwback to classic '60s and '70s crime thrillers. It follows the rise of Hampton in the aftermath of the assassinations of Dr. Martin Luther King Jr. and Malcolm X. FBI informant Bill O'Neal (Stanfield) is tasked with infiltrating Hampton's inner circle by case handler Roy Mitchell (Jesse Plemons), who begins orchestrating the assassination of the renowned leader.
9. The Harder They Fall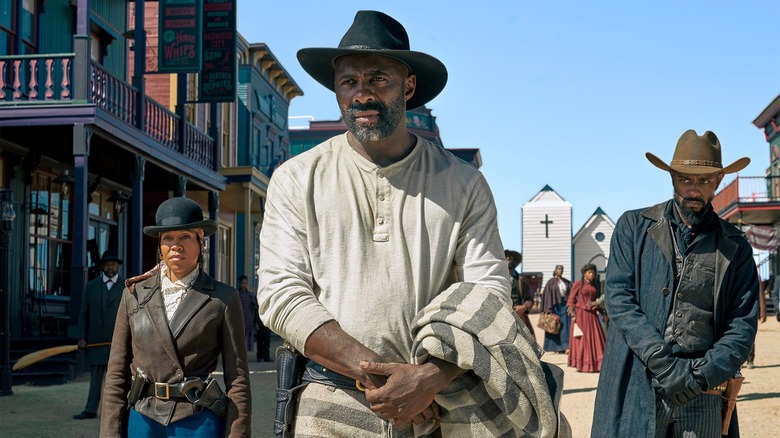 Netflix
Westerns, which frequently intersect with thrillers, have had a resurgence over the past decade thanks to the more realistic takes on the genre. Films like "The Revenant," "The Nightingale," "The Sisters Brothers," "Hostiles," and this year's "Power of the Dog" examined the actual history behind many of the western's established cliches and recurring tropes. It's important for these new perspectives to emerge, but as a result, the old-fashioned gunslinger adventure has fallen out of fashion.
Thankfully, this year's "The Harder They Fall" was a welcome throwback to the older era of westerns that tells its story from a Black perspective. The film follows the exploits of notorious murderer Rudus Buck (Idris Elba), who escapes from imprisonment on a train thanks to Trudy Smith (Regina King) and Cherokee Bill (Lakeith Stanfield), who are members of his gang. Local sheriff Bass Reeves (Delroy Lindo) is desperate to stop the infamous criminal, and reaches out to another gunslinger, Nat Love (Jonathan Majors). Love has a personal score to settle with Buck, and gathers his allies Stagecoach Mary (Zazie Beetz), Jim Beckwourth (RJ Cyler), Cuffee (Danielle Deadwyler), and Bill Pickett (Edi Gathegi) to help hunt him down.
8. The Guilty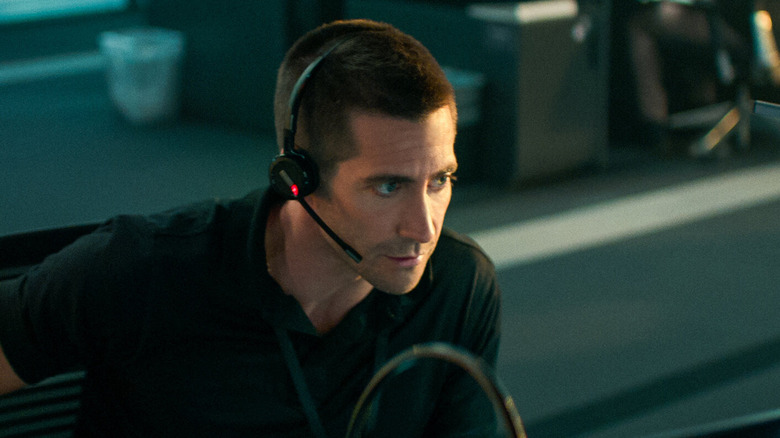 Netflix
The 2018 Danish thriller "The Guilty" is one of the most essential international films of the past decade, and one that was unfortunately overlooked for an Academy Award nomination. The crime thriller is a more sensitive take on the police procedural that doesn't lionize law enforcement or glorify the profession, but instead shows the reality of what life with such a demanding career is like. The film takes a fascinating approach to the material, as it is entirely set within one room and follows a 24-hour ambulance dispatcher as he answers a series of calls over one stressful night.
This year, noted genre filmmaker Antoine Fuqua remade the film, moving the setting to modern Los Angeles. Jake Gyllenhaal leads the American cast as LAPD officer Joe Baylor, who becomes obsessed with a caller whose emergency message he receives. Baylor attempts to solve a complex crisis while bound to his desk, but is constantly interrupted by the demands of his superiors and other callers. The supporting voice cast includes Ethan Hawke, Peter Sarsgaard, Paul Dano, Riley Keough, and Bill Burr.
7. Stillwater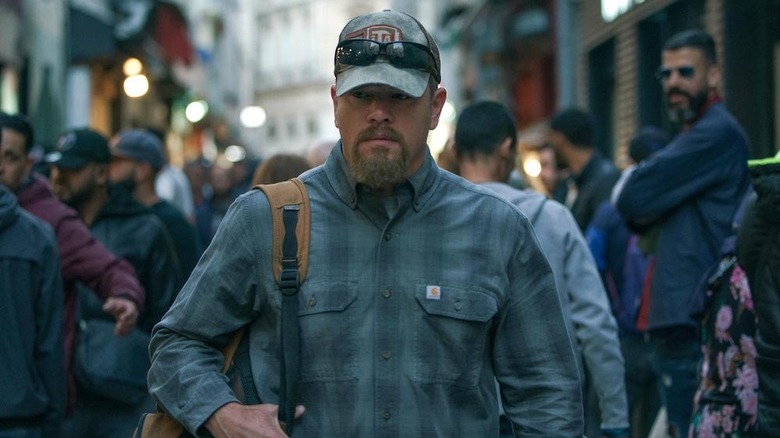 Universal Pictures
2021 was a great year for reflective political commentary. "Stillwater," for example, examined the paranoia and vulnerability of an American who ventures overseas. While it hardly lionizes the middle-American point of view that is frequently referenced in the news media, "Stillwater" is still sensitive to a character caught in over his head. In it, director Tom McCarthy, who so brilliantly explored modern journalism with his best picture winner "Spotlight," masterfully examines the challenging nature of international court proceedings.
Bill Baker (Matt Damon) is an Oklahoma oil worker who learns that his young daughter Allison (Abigail Breslin) has been imprisoned in France, where she is studying. Baker is shocked to learn that Allison has been accused of murder, and decides to travel overseas for the first time to begin defending her on his own. Baker is forced to question his daughter's innocence, and unravels a complex conspiracy involving local gangs and law enforcement. Damon gives one of his most restrained and emotional performances as an overwhelmed father.
6. The Card Counter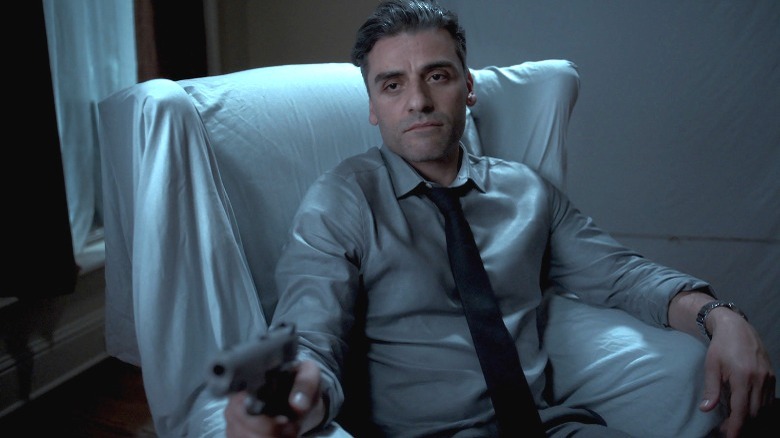 A24
Few filmmakers are as integral to the development of the thriller as Paul Schrader, who influenced generations of neo-noir classics with his brilliant screenplay for Martin Scorsese's 1976 classic "Taxi Driver." Schrader has frequently worked as Scorsese's screenwriter since then, but he's also developed as an incredible director in his own right. 
Schrader isn't always consistent, as he can be an indulgent filmmaker, and not all of his work is equal in quality. Thankfully, Schrader's 2021 effort continues the hot streak he began with 2017's "First Reformed." "The Card Counter" is a fascinating combination of different influences. While the gambling movie elements are more classic, Schrader crafts an entirely unpredictable narrative and explores modern themes by focusing on the addictive nature of the gambler's lifestyle. He also incorporates a heavy dose of commentary about post-traumatic stress disorder and corruption in the modern U.S. military.
The film centers on serial poker player William Tillich (Oscar Isaac), who embarks on a road trip alone in order to compete in the World Series of Poker. William is approached by a mysterious young man, Cirk (Tye Sheridan), who claims to have knowledge of William's experience fighting overseas. William also encounters a prominent military figure he knows very well: Major John Gordo (Willem Dafoe), who performed illicit experiments on him, and many other soldiers, without their consent.
5. House of Gucci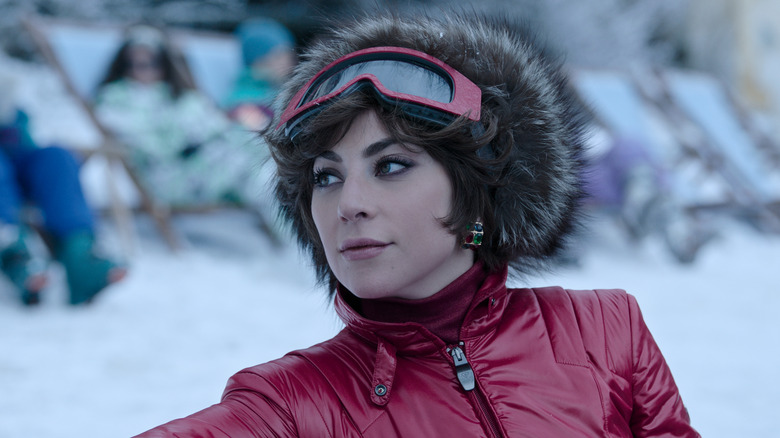 MGM
In 2021, Ridley Scott released two old-fashioned Hollywood thrillers with big budgets and star-studded casts within a month of each other. Both "The Last Duel" and "House of Gucci" were based on shocking true stories. In the case of "House of Gucci," the epic nature of the film's spectacle didn't prevent Scott from including gripping sequences of paranoia, violence, and suspense. The 157-minute runtime flies by, thanks to the real scandals and controversies that plagued the Gucci family from the early 1970s to the late 1990s.
The film follows the young heir apparent to the Gucci brand, Maurizio (Adam Driver), who falls in love with the working-class office manager Patrizia Reggiani (Lady Gaga). Maurizio owns a 50% stake in Gucci, but he's disinherited by his pretentious father Rodolfo (Jeremy Irons), who doesn't approve of his marriage to Patrizia. However, Patrizia is able to gain the favor of Rolfo's brother Aldo (Al Pacino), who is frequently frustrated by his own son, Paolo (Jared Leto). Patrizia manages to negotiate Maurizio back into the family, and they begin to take ownership of the infamous fashion brand together.
Maurizio is content living outside of his family's sphere of influence, but Patrizia is more ambitious and aims to take complete control of the lucrative business. She forces Maurizio to help her pit Aldo and Paolo against each other to increase their stake in the business, but their relationship grows rockier when Maurizio becomes disenfranchised by his initial passions.
4. The Many Saints of Newark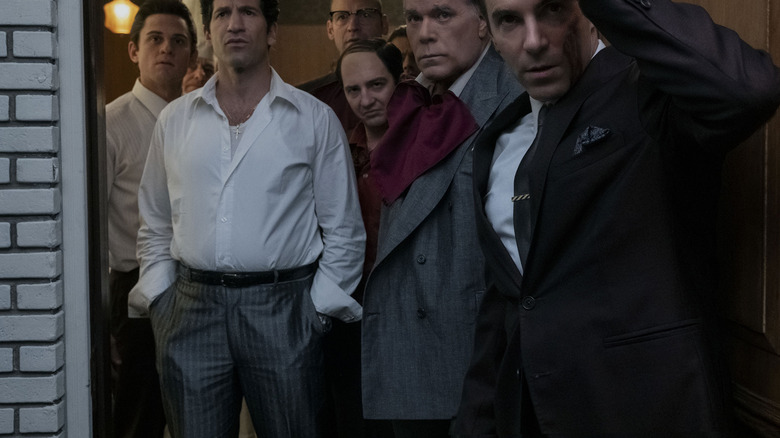 Warner Brothers
"The Sopranos" is one of the most thrilling television shows of all time, and the life of Tony Soprano (James Gandolfini) closed with an uncertain final note in the season 6 finale, "Made in America." Not only did the ambiguous nature of Tony's fate make it unlikely that there would ever be a sequel project, but Gandolfini's tragic real-life passing made it impossible for the show to continue. However, showrunner David Chase had more stories to tell in "The Sopranos" universe, leading to this feature film prequel.
"The Many Saints of Newark" explores the adolescence of Tony Soprano, who is played here by Gandolfini's son, Michael. The film examines Tony's relationship with Dickie Moltisanti (Alessandro Nivola), the father of Christopher (Michael Imperioli), who fans know from the series. Although some details of Dickie's life were explained in "The Sopranos," there were many secrets that fans had been speculating about. "The Many Saints of Newark" tells the definitive story of how Tony became the famous gangster that he was in the show.
While the fact that he looks exactly like his father certainly helped, Michael Gandolfini delivers an incredible performance, and shows a more sensitive side to the ruthless character. Tony isn't necessarily a bad kid, but he's caught between the warring influences of his distracted mother (Vera Farmiga) and his criminal father (Jon Bernthal). As a result, Dickie becomes his mentor, and Nivola is fantastic as he brings a complex character to life. The shocking closing moments also provide additional insights that recontextualize the entire history of "The Sopranos."
3. The Last Duel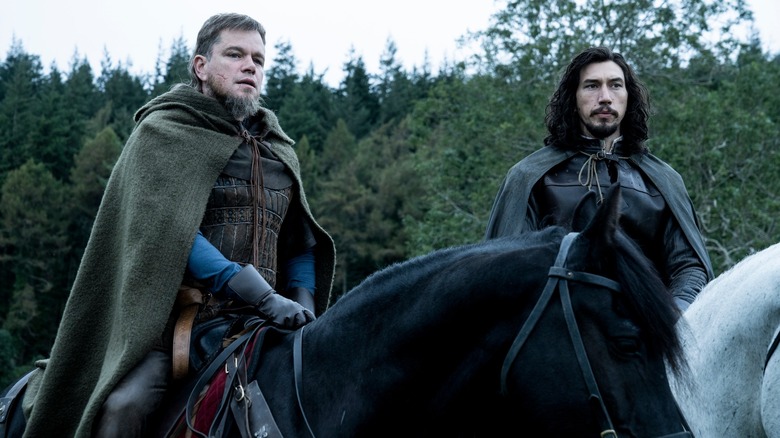 20th Century Studios
The first of Ridley Scott's two 2021 projects, "The Last Duel" returned Scott to the medieval epic, which has been integral to his entire career. Scott's directorial debut was 1977's "The Duellists," and he's returned to the genre frequently with "Robin Hood," "Kingdom of Heaven," "Legend," and "1492: Conquest of Paradise." Unfortunately, his 2021 effort didn't quite connect with audiences in the same way, as "The Last Duel" was one of the year's biggest box office bombs, which Scott himself blamed on "millenials" during an appearance on the "WTF" podcast (via Variety).
Perhaps it was the film's nuanced depiction of sexual assault that kept viewers away, or maybe audiences are no longer supportive of serious big-budget dramas made for adults, because "The Last Duel" is an excellent medieval thriller that explores deeply disturbing material from a fascinating point of view. The film follows the story of former allies Jean de Carrouges (Matt Damon) and Jacques le Gris (Adam Driver) as they return home from the Caroline War. Jacques grows obsessed with Jean's wife, Marguerite (Jodie Comer). After she rejects his romantic advances, he rapes her.
The film is told in three chapters, one from each of the main characters' point of view, ending with Marguerite's segment, which is titled "The Truth." It's fascinating to see the same events depicted multiple times, and how each of the characters interpret the others' actions. "The Last Duel" tells an impactful story about believing women; screenwriter Nicole Holofcener helped to flesh out Marguerite's perspective, working from a script by Damon and Affleck.
2. Riders of Justice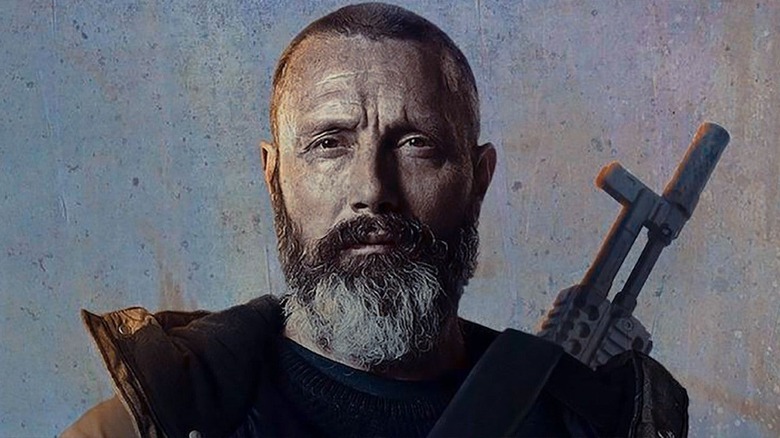 Nordisk Film
There are many types of thrillers, and film fans will certainly enjoy this untraditional project, which includes influences from many other genres. The Danish film "Riders of Justice" is hardly a standard revenge thriller, as it blends elements of action, suspense, melodrama, and comedy to create an entirely unpredictable narrative. Rather than following the traditional route of a revenge shoot 'em up, "Riders of Justice" examines and satirizes the nature of vengeance and how it relates to trauma.
The film opens with a shocking explosion at a train station that leaves many dead and wounded. In Afghanistan, the soldier Markus (Mads Mikkelsen) hears the heartbreaking news that his wife was killed in the terrorist attack, and that his young daughter Mathilde (Andrea Heick Gadeberg) is in critical condition. As he returns home, Markus comes into contact with idiosyncratic scientists Otto (Nikolaj Lie Kaas), Lennart (Lars Brygmann), and Emmenthaler (Nicolas Bro).
The trio of analysts are looking for a formula that will help them predict future events, and they believe that they've found evidence that links the train explosion to a tattooed gang. Feeling that they owe it to Markus to share the details with him, Otto, Lennart, and Emmenthaler end up helping him pin down the terrorists' location. It's entertaining to see the bumbling analysts train for action and interact with solemn Markus. However, the film is also respectful of each character when it focuses on how they process grief.
1. Pig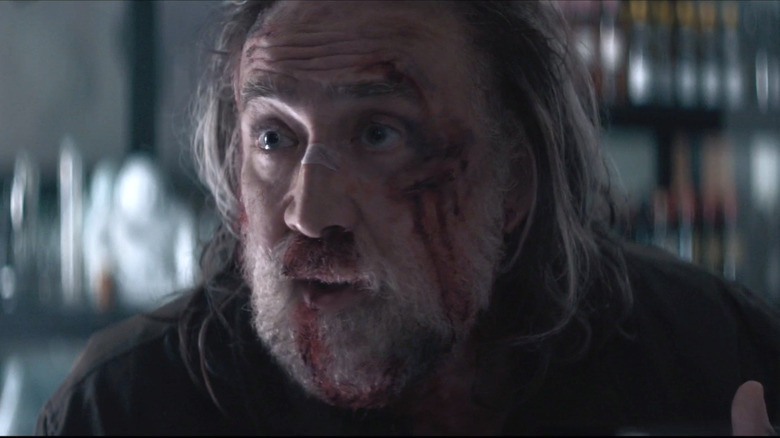 Neon
Nicolas Cage is never not working, as the prolific movie star appears in multiple projects every year, many within the thriller genre. For the better part of the decade, Cage has appeared in mostly direct to VOD, DVD, and streaming films with low budgets and poor reviews. It's a sad reality for one of the most versatile and ambitious actors of his generation, but Cage still occasionally takes on interesting projects that remind film fans of his glory days. In 2021, Cage appeared in slightly more elevated titles like "Willy's Wonderland" and "Prisoners of the Ghostland."
However, the independent drama "Pig," directed by debut filmmaker Michael Sarnoski, saw Cage deliver one of the best performances of his entire career. It was an emotional, methodical dramatic role that showed a more subtle side to an actor who'd become known for his eccentricities. However, "Pig" has no shortage of thrills. Many intense sequences are packed into its tight 90 minutes.
"Pig" follows Cage as the Portland truffle forager Robin Feld, who was once a renowned chef and now lives alone in the wilderness. Robin's only companion is a pig who helps him find the best local ingredients, which he sells to a supplier, Amir (Alex Wolff). It's been a long time since Robin has had any normal interactions, but he's forced to travel back to the metroplex when someone kidnaps his loyal pig. The quest to get the pig back becomes an emotional mystery as Robin encounters old acquaintances and deals with the demons of his past.