Lady Gaga Is Not A Fan Of Her Pre-Fame Acting In A Sopranos Bit Part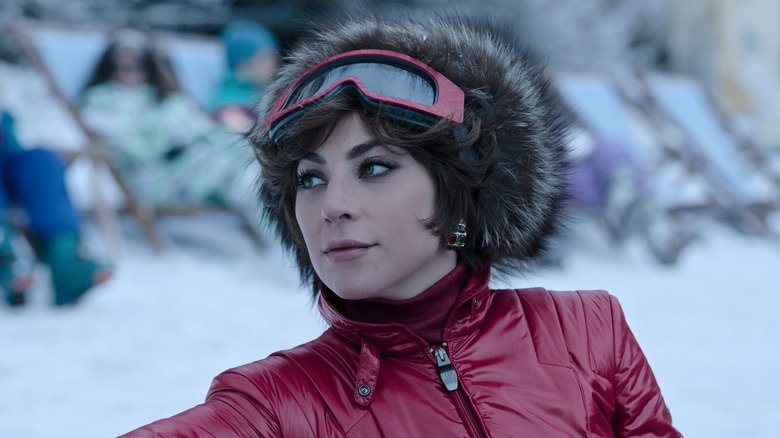 MGM
Before she became a pop star and a movie star, Lady Gaga had a bit part on HBO's "The Sopranos." Though Gaga made appearances in the 2013 and 2014 Robert Rodriguez films "Machete Kills" and "Sin City: A Dame to Kill for" — and was later nominated for an Academy Award for Best Actress with her 2018 performance in "A Star Is Born" — her star was on the rise much earlier. In "The Sopranos" episode 9 from season 3, "The Telltale Moozadell," first broadcast in April 2001, she made an uncredited appearance as a teenager at the high school of A.J. Soprano, Jr. (Robert Iler).
This was back when Gaga was known by birth name, Stefani Germanotta. It's been 20 years since then, and now Gaga has a new movie, "House of Gucci," in theaters, which is building a murmur of Oscar buzz for her even as the rest of the film draws mixed reviews. She was only 15 at the time her "Sopranos" episode aired on HBO, but the adult Gaga has a few notes that she would like to give her young self. Speaking to Entertainment Weekly, she said:
"When I look back on that scene I can see exactly what I did wrong in that scene. I didn't know how to listen in a scene! I was supposed to laugh, and it was sort of like, cue, laugh ... I see it and I go, 'oh, that's not a real laugh!' "
Lady Gaga in The Telltale Moozadell
As you can see from the clip above, there's really not much to Gaga's "Sopranos" appearance. She's one of three girls sitting in the bleachers next to the swimming pool at A.J.'s school. The boys break into their teacher's office and throw his desk in. Then, one of them smashes up some nearby trophy cases. All the while, the young Stefani Germanotta sits laughing on the sidelines with her friends.
If you didn't know it was the future Lady Gaga in that scene, you probably wouldn't zero in on her and pay much attention. For Gaga, that's part of the problem. She told EW that when she looks back on her "Sopranos" episode, she sees a "a very non-specific actor." She explained:
"The nuance and being specific as an actor is something that can grow over time if you're willing to listen and really hear the other actor that you're working with."
Somewhere along the way, Gaga learned to be in the moment and listen to her scene partners better. "A Star Is Born" was the remake of a remake of a remake, and it would not have worked nearly as well were it not for her genuine chemistry with Bradley Cooper.
To portray Patrizia Reggiani in "House of Gucci," Gaga worked with an acting teacher for months beforehand, and the result is a performance that has been singled out as one of the best parts of the film. Though "House of Gucci" has come under fire for its broad accents, Gaga's voice is evidently very close to what the real Patricia sounded like.
"House of Gucci" is in theaters now.