Death To 2021 Is On The Way To Recap Another Crummy Year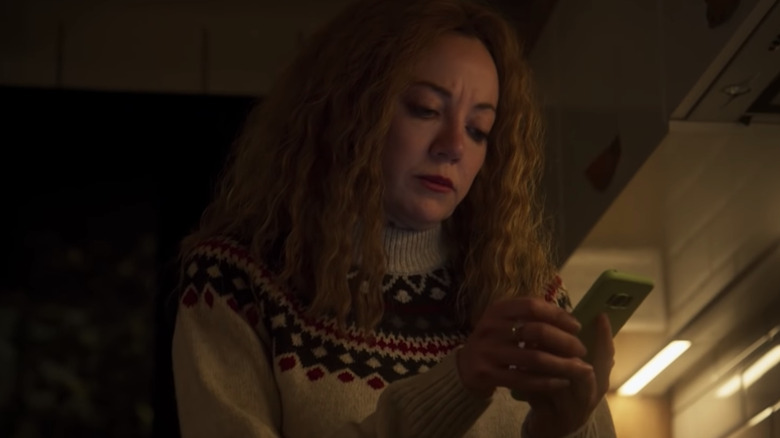 Netflix
Some people will tell you to focus on the positive, but those people are silly. Obviously, what we need to do is focus exclusively on negative and mine them for all the comedic value they have to offer! It's certainly not the healthier option, but it's probably the funnier one ... right?
I sure hope that poking fun at bad things is worthwhile, because Netflix is surprising the world with "Death to 2021," a mockumentary reflecting on the awful year we just survived with painfully specific satire. The commentary comes from fictional characters, each played by some of the world's most beloved actors — to help soften the blow, I guess. If this sounds familiar, it's because we already lived through it once: "Death to 2020" was a comedic retrospective on the dumpster fire of a year that came before. The special came from "Black Mirror" creators Charlie Brooker and Annabel Jones.
Personally, I remember the lead-up to "Death to 2020" really clearly: with "Black Mirror" gone indefinitely, a new project from the creatives behind the sci-fi series sounded really exciting. But given the fact that we're currently living through a nightmarish dystopia of our own, the capacity for making jokes about our crumbling reality is at an all time low. Especially if they're not flat-out hilarious. But hey — why not find out for yourself? The announcement of "Death to 2021" came with a first look clip at the special, to give you a little hint of what to expect.
Death to 2021 Clip
Ah yes, the trials and tribulations of dating in the era of COVID. What could be scarier? This thing is billed as a comedy, yet I get the feeling it will be the single most terrifying hour of TV released all year. The special sees the return of much of the cast from the first time around, including comedian Diane Morgan who's featured in the clip. Hugh Grant will reprise his role of British historian Tennyson Foss, Joe Kerry will once again play gig economy millennial Duke Goolies, and Cristin Milioti returns as Kathy Flowers, a self-described American "soccer mom," AKA a stand-in for the "Karens" of the world. Also returning is Tracey Ullman as Queen Elizabeth, and Samson Kayo as the magnificently named Pyrex Flask, an earnest scientist.
But wait — there's more! "Death to 2021" adds a few more big names to the cast, including Nick Mohammed ("Ted Lasso"), William Jackson Harper ("The Good Place," "Love Life"), Stockard Channing ("Boy Meets World"), and Lucy Liu ("Charlie's Angels," "Elementary"). The special comes from executive producers Annabel Jones and Ben Caudell. Though Brooker both wrote and produced "Death to 2020," this year he stepped back because other Netflix programming is now "demanding his time."
"Death to 2021" is written by Ben Caudell, with Jack Clough and Josh Ruben directing. The special arrives on December 27, 2021. You can read the synopsis below.
A year unlike any other in history, (excluding the last one)...so to celebrate Netflix brings you Death to 2021,  a comedy event that tells the story of another dreadful year. This landmark documentary-style special mixes archival footage harvested from across the year with commentary from fictitious characters played by some of the world's most beloved actors.