Steven Spielberg Could've Directed A Harry Potter Film — Here's Why He Didn't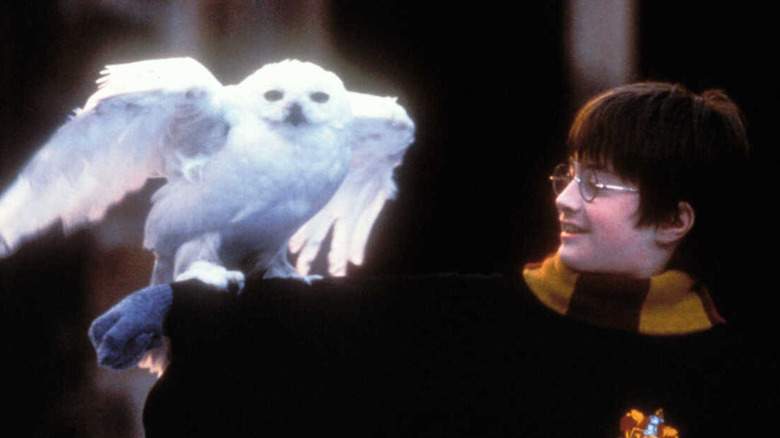 Warner Bros.
It has been 10 years since the final film in the "Harry Potter" franchise came out. Harry Potter and Lord Voldemort reunited for one last, epic battle where good triumphed over evil, bringing back peace to Hogwarts for the first time ... since Harry enrolled in school. Now, the movies weren't perfect. I still mourn the erasure of Peeves, the lack of proper Indian representation during the Yule Ball (justice for Parvati and Padma Patil), and whatnot. So, when I hear that certain legendary filmmakers were approached to helm the movies, it comes as a surprise to hear that they refused.
Steven Spielberg, the acclaimed filmmaker behind "Jaws," "Jurassic Park," and "Schindler's List" among other Hollywood favorites, spent months working on "Harry Potter and the Sorcerer's Stone." The books were a huge phenomenon at the time, and Spielberg spent five or six months developing the first film before dropping out of the project ... of his own volition.
Spielberg Wasn't Ready To Make Movies For Kids
Making the "Harry Potter" films was a big commitment. Even Chris Columbus, who directed the first two films in the series, eventually stepped down because it took a toll on his health. Columbus wasn't able to spend any time with his own children who were growing up, so he decided to move on from the Wizarding World.
Spielberg revealed during a 2012 interview with BBC Breakfast, that he decided to step down from the film because he wasn't ready to spearhead a movie for children.
"I've had [the] chance to make a lot of movies that went on to be big hits with other directors and other studios, because I can't do everything. I was offered Harry Potter. I developed it for about five or six months with Steve Kloves, and then I dropped out."
The director admitted that many people, his children included, couldn't believe he had decided to miss out on the opportunity. "I just felt that I wasn't ready to make an all-kids movie and my kids thought I was crazy," he continued. "And the books were by that time popular, so when I dropped out, I knew it was going to be a phenomenon."
The director eventually turned down the "Harry Potter" film to work on the sci-fi drama "A.I. Artificial Intelligence" starring Jude Law and Haley Joel Osment.
The "West Side Story" director went on to explain he made movies because he was moved by them, not just because they were about to become phenomenons. "[I] don't make movies because they're gonna to be phenomenons. I make movies because they have to touch me in a way that really commits me to a year, two years, three years of work." 
Some reports also state that Spielberg was inclined towards adapting "Harry Potter" into an animated film series, which didn't fit in with the vision Warner Bros. had for the fantasy novels.
"Harry Potter and the Sorcerer's Stone" was an instant hit, and became the second-highest-grossing film in history at the time after earning over a billion dollars internationally. The eight-part film has since spawned "Fantastic Beasts," a spin-off movie series, which follows the adventures of Newt Scamander, famed Magizoologist and the franchise's greatest Hufflepuff.