Guillermo Del Toro Wants To Make At The Mountains Of Madness For Netflix, Take It In A 'Weirder' Direction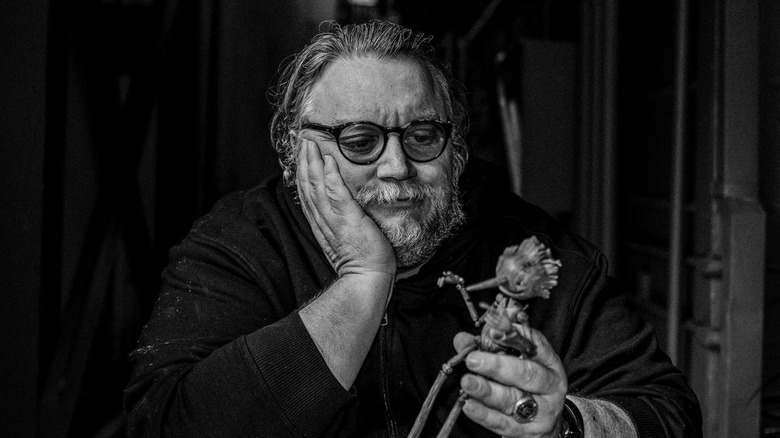 Netflix
One of the most famous never-made movies in Hollywood history is Guillermo del Toro's big-budget H.P. Lovecraft adaptation, "At the Mountains of Madness." Del Toro was planning to adapt Lovecraft's tale of terror as a $150 million-budgeted movie with Tom Cruise in the lead and James Cameron producing, and you'd think the combo of del Toro, Cameron, and Cruise would be enough to excite any studio. Instead, Universal, where the project was set up, eventually got cold feet and del Toro never got to scale those "Mountains of Madness." 
But some big things have changed since the project fell apart. Primarily, del Toro's "The Shape of Water" won him both Best Picture and Best Director Oscars and that's the sort of thing that gives you clout in showbiz. So will Guillermo del Toro ever try to revive "At The Mountains of Madness"? During an appearance on The Kingcast (co-hosted by /Film's own Eric Vespe), the filmmaker revealed he hasn't given up hope just yet, and that he even pitched Netflix on the project. 
In 2004, word broke that Guillermo del Toro was going to direct a film adaptation of the H.P. Lovecraft novella "At the Mountains of Madness." However, that never entirely got off the ground. No matter — del Toro bided his time, and by 2010, after walking around from helming the first film in "The Hobbit" trilogy, del Toro's "At the Mountains of Madness" was back on track at Universal. The filmmaker's vision for the project was grand: blockbuster king James Cameron would produce, special effects house Industrial Light & Magic would handle the effects, and Tom Cruise would star. All of this wasn't going to be cheap, and the projected budget for the flick was somewhere around $150 million. And oh yeah, it was going to be rated R. What's the worst that could happen?
At the Mountains of Netflix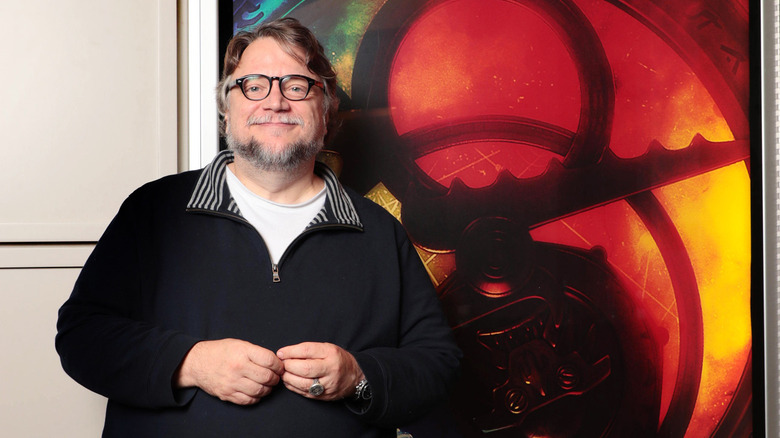 Netflix
According to the book "Underexposed! The 50 Greatest Movies Never Made" by Joshua Hull, the biggest hurdle facing "At the Mountains of Madness" was Ridley Scott's "Prometheus." That, too, was a big-budget, R-rated sci-fi tale of horror, and it even had similar plot elements to "Madness." "Prometheus" wasn't a box office bomb, but it failed to meet projections. As a result, Universal got cold feet and the project fell apart.
Now, del Toro is an even bigger name than he was back in 2010. More popularity means more power, which inspired The Kingcast to ask del Toro if he might revive "Madness," perhaps at Netflix. Del Toro already has a good relationship with the streaming service, the home of his "Tales of Arcadia" animated series. According to del Toro, one of the first potential projects he took to Netflix was "At the Mountains of Madness." He also added that the script needs work: 
"The thing with Mountains is the screenplay I co-wrote fifteen years ago is not the screenplay I would do now, so I need to do a rewrite. Not only to scale it down somehow, but because back then I was trying to bridge the scale of it with elements that would make it go through the studio machinery."
Del Toro went on to add that when and if he does revisit "At the Mountains of Madness," he won't have to worry about making it as "blockbuster-y" as the aborted film project. "I can go to a far more esoteric, weirder, smaller version of it," he said, continuing: 
"You know, where I can go back to some of the scenes that were left out. Some of the big set pieces I designed, for example, I have no appetite for. Like, I've already done this or that giant set piece. I feel like going into a weirder direction."
And if all of that weren't enough to keep you pining for this thing, del Toro also played up how disturbing the ending of the film would've been:
"I know the ending we have is one the most intriguing, weird, unsettling endings, for me. There's about four horror set pieces that I love in the original script. So, you know, it would be my hope. I certainly get a phone call every six months from Don Murphy going 'Are we doing this or what? Are you doing this next or what?' and I say 'I have to take the time to rewrite it.'"
And What of Tommy Cruise?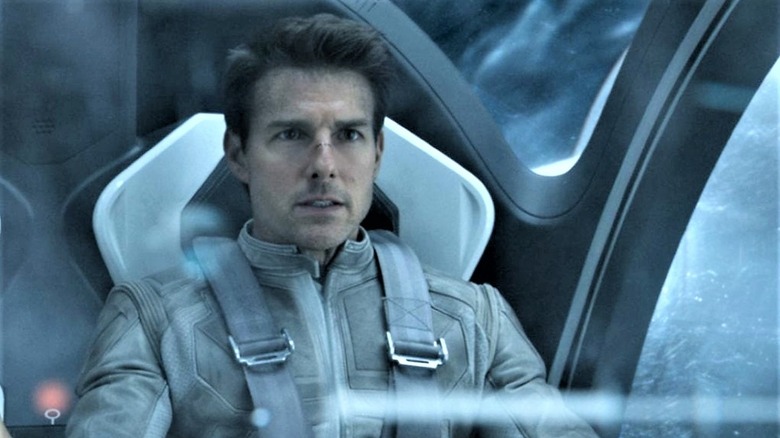 Universal
If del Toro does manage to revive "At the Mountains of Madness," might he also bring back Tom Cruise? Probably not! "You know, I think the age has changed now," del Toro said. "Tom is fifteen years older. I think ... would be a different cast. If I can, I would go for mostly unknowns and make the journey the star."
And you know what? I think that's for the best. Don't get me wrong — I love me some Tommy Cruise. But I honestly can't picture Cruise in a horror movie. To be fair, he did star in the excellent "Interview With the Vampire" movie, but that seems to be an outlier. Beyond that, he's gravitated away from horror and instead zeroed in on action. Someone, somewhere, is probably saying, "But what about 'The Mummy'?!" C'mon, people. Do you really think that was a horror movie? Because ... no. And besides, action is what really what works for him. So keep doing what you're doing, Tom Cruise. You know, stuff like needlessly risking your life for our entertainment and going to space. 
What is At the Mountains of Madness?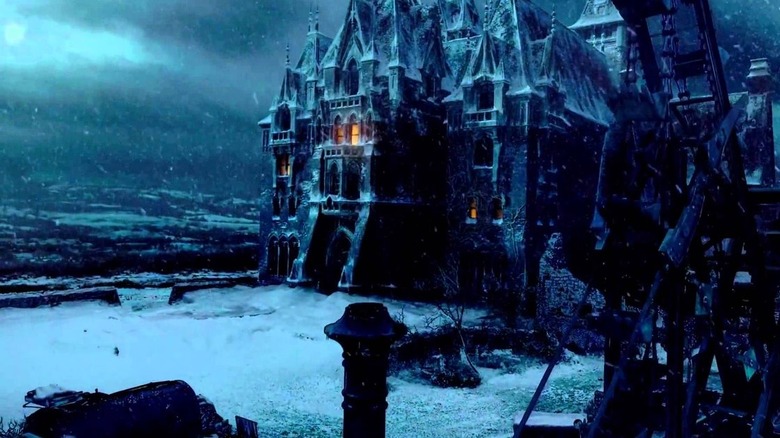 Universal
So just what the heck is "At the Mountains of Madness"? It's a novella from legendary horror writer (and racist) H.P. Lovecraft. The story was first published in a serialized format in 1936 issues of "Astounding Stories" magazine. The story follows a doomed expedition to Antarctica in September 1930, where a group lead by Dr. William Dyer of Miskatonic University discovers all sorts of strange things with terrifying implications. Like pretty much every other Lovecraft story, "Mountains" concerns the type of unspeakable horrors that have the power to drive a person insane. 
Here's a synopsis with some more details:
Arkham, 1933. Professor Dyer, a prominent geologist, learns that a scientific expedition will soon leave for Antarctica following in the footsteps of the journey which he himself had made in 1931. In the hope of dissuading the attempt, Dyer decides to make a full account of the tragic events he had survived, this time without omitting the passages which he had kept silent about on his return, for fear of being taken for a madman. Two years earlier, ships chartered by Miskatonic University had landed on the frozen continent at the start of the Antarctic summer, and the group of four professors and sixteen students set to work immediately. The expedition biologist, Professor Lake, left with several members of the team to follow a promising fossil track. After just a few days, he announced by radio that he had discovered astonishing specimens of an unknown ancient species, before stopping all communication after a terrible storm. Guessing the worst, Dyer went to their rescue the next day. What he discovered went beyond his wildest fears ...
And oh yeah, there are six-foot-tall penguins in the story. Now aren't you sad you never got to see Tom Cruise interacting with giant penguins? 
Lovecraft isn't the easiest author to adapt to the screen, which is why so many memorable movies inspired by his work — like "Re-Animator" and "From Beyond" — take great liberties with the text. All that said, if there's one person I trust to knock this sort of thing out of the park, it's Guillermo del Toro. And I really do hope he gets to make this someday. For now, we'll have to look forward to del Toro's next movie, "Nightmare Alley," which opens in theaters on December 17, 2021.