Gorillaz Is Getting A Feature Film At Netflix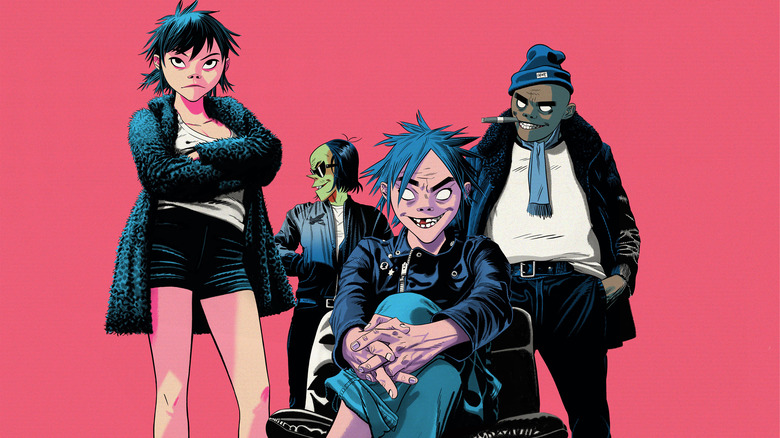 Warner Bros.
They've been one of the coolest animated bands for more than 20 years, with seven studio albums, a web series, and a crossover with "The Powerpuff Girls." Now, Gorillaz is getting a movie. The animated avatars who represent the real-life band have a complicated history that super-fans have tracked from their self-titled debut, but the movie will expand their stories into a feature-length narrative. 
The Band Behind the Band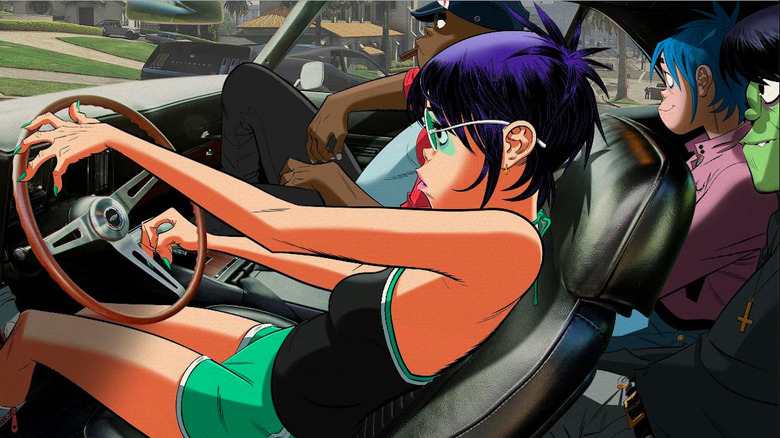 Warner Bros.
According to the Damon Albarn Unofficial Twitter account (by way of ComicBook.com), a recent interview with the Gorillaz band member Albarn shared the news that Netflix has greenlit a "full-length Gorillaz film," and that the band is currently in the process of writing the movie. 
Albarn, formerly of the Britpop band Blur, created Gorillaz with artist and musician Jamie Hewlett in 1998. Hewlett designed the characters for the band using the signature cartooning style he developed on his seminal comic series, "Tank Girl." Producer Remi Kabaka Jr. joined later, and over the years Gorillaz have collaborated with numerous other recording artists ranging from Mos Def to Danger Mouse. They even had Dennis Hopper record a lengthy voiceover for a track on their second album, "Demon Days."
The fictional band is comprised of lead singer 2-D, bass player Murdoc, drummer Russel, and lead guitarist Noodle. For awhile their bassist was Ace, the leader of the Gangreen Gang from "The Powerpuff Girls," while Murdoc was in prison, though Murdoc has since rejoined the band. Noodle was also briefly replaced with a cyborg version of herself. 
As I said, there's a very complicated history to these cartoon musicians.
An Eclectic Movie for an Eclectic Band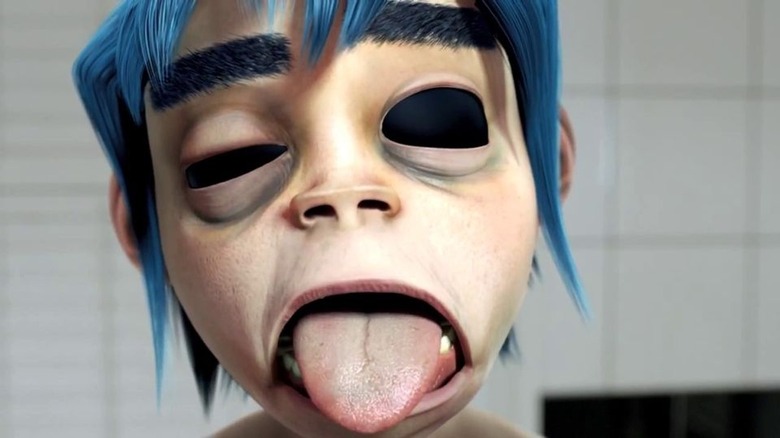 Warner Bros.
Gorillaz have played with a lot of different musical styles over the years, and the way they've been represented in their music videos has been just as varied. The characters stay the same, but they've been animated in a slew of different styles, including the photorealistic computer-generated "Do Ya Thing" video that shoots past the Uncanny Valley and straight into our nightmares. The 3-D version of 2-D was also joined by Bruce Willis in the crazy cool "Stylo" music video, which might be the wildest combination of cartoon and celebrity cameo this side of that music video with Paula Abdul and a cat. 
Hopefully, Hewlett gets a chance to shine, as his animation is truly gorgeous and deserves a much wider audience. The best way to stay true to Gorillaz's eclectic roots might be to go with an anthology, changing animation styles between stories or character perspectives. Whatever they decide to do, it will be a blast seeing Gorillaz grooving on our screens courtesy of Netflix.