Everything We Know About The Fresh Prince Of Bel-Air Reboot So Far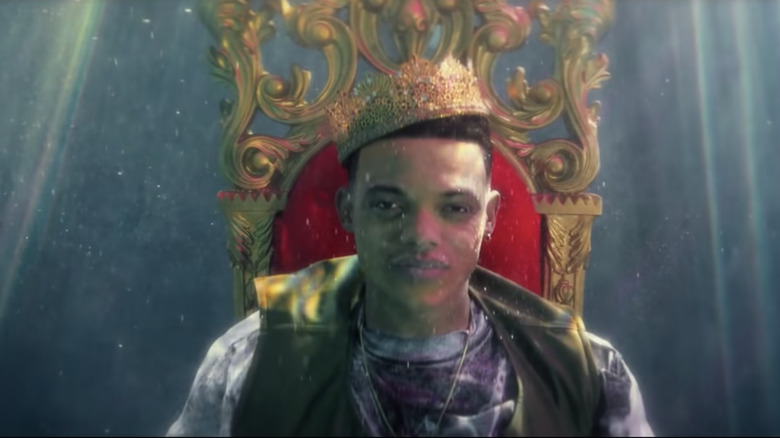 Peacock
This is a story all about how— 
Okay, you see where this is going. Peacock has flipped the beloved '90s sitcom "The Fresh Prince of Bel-Air" upside down with their dramatic reboot of Will Smith's star-making role. It's a return to Bel-Air, once again telling the story of Will as he adjusts to life in a new place — but with a few key differences. While the idea of turning a half hour comedy into an hour long drama deserves a wince or two, Will Smith has banked enough street-cred with his audience (i.e. all of us) that we're at least a little curious about this upcoming project. So here are all the details we have about the upcoming series, "Bel-Air."
When and Where To Watch "Bel-Air"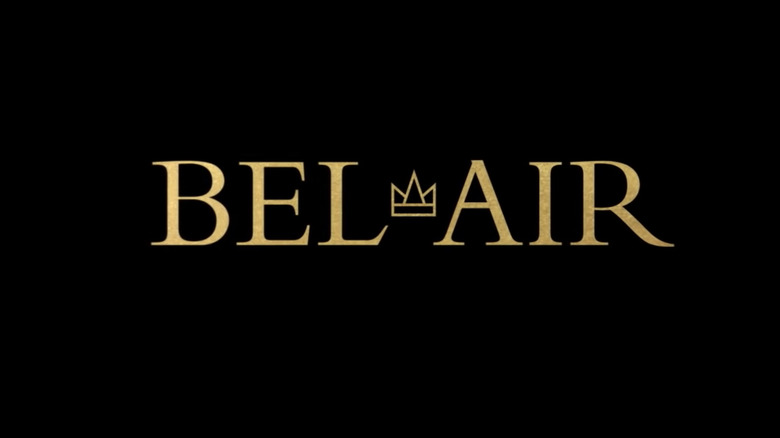 Peacock
While no official release date has been announced, "Bel-Air" is set to debut on Peacock in 2022. The series has been in the works for a couple of years now, and was exciting enough to spark a bidding war between a few major streaming services, including Netflix and HBO Max. Eventually, Peacock won out and gave the show a two-season order. Sometime next year, the first season will arrive in its hour-long episode glory. You certainly don't need to binge the original series, but I know from experience that it doesn't hurt. If it's "The Fresh Prince of Bel-Air" you want, you'll have to turn to another streaming service, because it currently lives on HBO Max.
What We Think "Bel-Air" Will Be About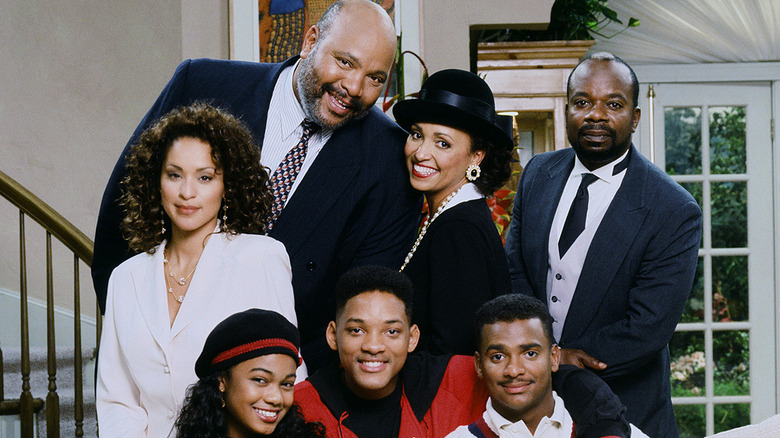 HBO Max
The conceit for "Bel-Air" stemmed from a four minute "spec trailer" from filmmaker Morgan Cooper, who reimagined the series as darker, more serious, and set in the modern day. The video description reads: "What would happen if Will Smith made The Fresh Prince today? Bel-Air, a story of a kid from Philly whose life got turned upside-down... in 2019." 
The dramatic reimagining caught the eye of series star Will Smith himself — and the rest is history. Given the source of its inspiration, we have a pretty clear sense of what to expect from "Bel-Air" tone-wise. Set in modern day America, the series stays true to the original premise of the show: Will's life is altered when he's forced to leave his hometown to live with wealthy family members. It's The Fresh Prince, minus the lighthearted swaggering and more invested in the conflicts, emotions, and biases of Will's journey from West Philly to the gated mansions of Bel-Air.
What We Know About the Cast and Crew of Bel-Air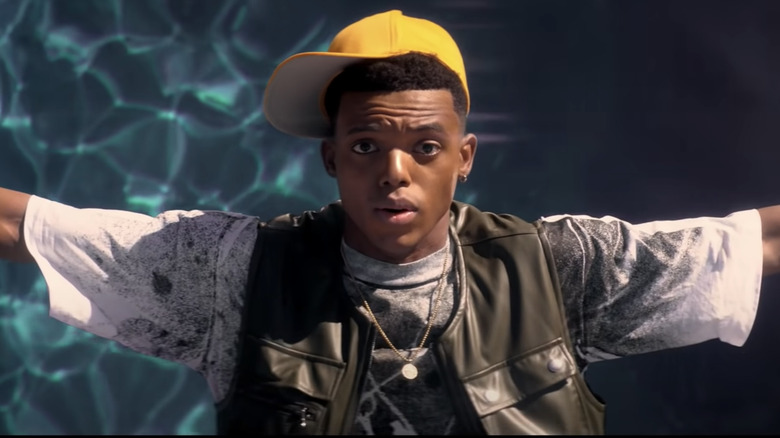 Peacock
Will Smith is one of a few movie stars who seems like an ageless alien, looking nearly the same as he did when he first arrived on our screens. Still, reprising the role he originated over 30 years ago is a bit of a stretch. Smith instead serves as executive producer on the series, joined by T.J. Brady and Rasheed Newson ("The Chi," "The 100") who are also co-showrunners. Creator of the original mock trailer, Morgan Cooper serves as writer, producer and director. Will Smith also narrates the first teaser trailer of the series, which maybe hints at even more involvement on his part.
As for the actual roles in the series, the fresh prince will be newcomer and West Philadelphia resident Jabari Banks. He will be joined by Adrian Holmes ("At That Age," "V Wars") as Phillip Banks, Cassandra Freeman ("The Enemy Within," "Atlanta") as Vivian Banks, Olly Sholotan as Carlton Banks ("Run Hide Fight," "Evolution of Nate Gibson"), Coco Jones ("Let it Shine," "Vampires vs. The Bronx") as Hilary Banks, Akira Akbar as Ashley Banks ("We Can Be Heroes," "Captain Marvel"), Jimmy Akingbola ("Most Dangerous Game," "In The Long Run") as Geoffrey, Jordan L. Jones ("Rel," "Snowfall") as Jazz, and Simone Joy Jones ("The Chair," "What If") as Lisa.
Bel-Air Teaser Trailer
Set in modern-day America, Bel-Air is a serialized one-hour dramatic analogue of the 90's sitcom "The Fresh Prince of Bel-Air" that leans into the original premise: Will's complicated journey from the streets of West Philadelphia to the gated mansions of Bel-Air. With a reimagined vision, Bel-Air will dive deeper into the inherent conflicts, emotions and biases that were impossible to fully explore in a 30-minute sitcom format, while still delivering swagger and nods to the original show.