Sandra Bullock Turned Down A Superhero Movie, But Won't Say Which One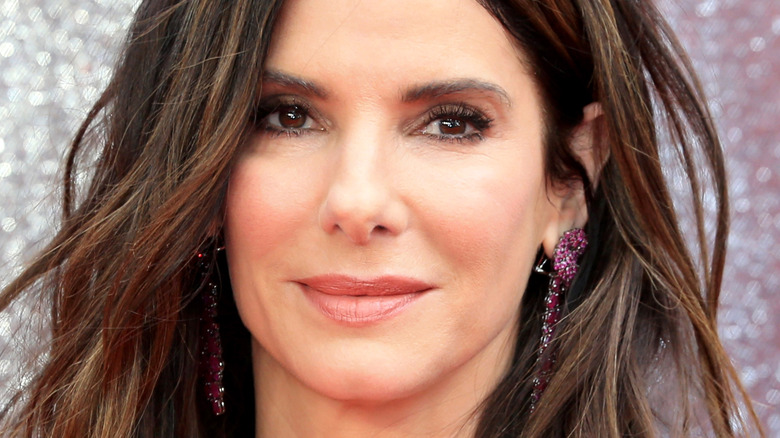 Cubankite/Shutterstock
Sandra Bullock would make a wonderful superhero. I mean, she helped save a speeding bus full of people in "Speed," magically saved her own love life in "Practical Magic" (a film I will defend forever), and saved herself — maybe — in "Gravity." Bullock recently appeared on "Jimmy Kimmel Live!" to chat about her new Netflix film "The Unforgivable," and let it drop that she'd been approached for a superhero film and turned it down because her son Louis told her not to take it. 
She kept which movie it was to herself, but she Bullock leave some clues for "the internets." We know that the film wasn't Marvel and that it wasn't DC. EW did the math for us all. Bullock said that Louis would have been six yearsold at the time, which would have been in 2016, according to their calculations. Later, she said: "I forget their ages often, so it could have been four, it could have been seven or eight."
Sandra Talks Superhero Films
We're going to do a little Internet sleuthing and see if we can come up with some ideas. Bullock said:
"It was kind of not in the place that Louis felt I should be ... and he was actually right. I saw it when it came out and I was like, 'Ooo! That's unfortunate.'" 
So, we've got a movie that was not so well-received, with talks around 2016 (with a look at maybe 2014 – 2018). That should put us between 2015 and 2019 for shooting and between . Bullock said that the film wasn't for Marvel and added later that it wasn't for DC either. That narrows it down a bit and sort of squeezes out the travesty that was 2015's "Fantastic Four." Honestly, the best "Fantastic Four" film is really "The Incredibles." I am absolutely not the first person to have said this in print. I can't think of a role for her there anyway. 
However, if she was asked about a film in 2014, it likely would have shot in 2015 and been released in 2016. We can probably leave out "Pride + Prejudice + Zombies" and "Gods of Egypt." However, there was "X-Men: Apocalypse." Yes, X-Men is technically a Marvel property, but the rights are were with Fox, which wasn't owned by Disney then. She could have played Moira MacTaggert if Rose Byrne hadn't come back, I suppose. Still, that seems unlikely.
Could Sandra Have Been in Power Rangers?
Could she have been in 2017's "Power Rangers?" This one seems like the most likely for Sandra Bullock. In the film, Elizabeth Banks played former Green Ranger who went rogue, Rita Repulsa. Bullock could absolutely have played this role and chewed up the scenery. That said, it likely would have been a bad move. There are very few ways a star of her stature could mess up at this point in her career, but "Power Rangers" would certainly have been one of them. 
Just look at this picture. Shudder. The film was an absolute bomb at the box office, bringing in only just over $142 million worldwide with a budget of $100 million. If it was going to launch a franchise, it certainly didn't do enough. There isn't much in 2018 that would have had a role for her, so we can likely count that out. She probably could have played Banks' role in the smaller movie "Brightburn," but going by Hollywood standards of age (ugh), she might have been a few years beyond that role.
Dark Phoenix or Hellboy?
Having mentioned "X-Men: Apocalypse," we have to bring up "X-Men: Dark Phoenix" from 2019. Bullock might have been up for the role of Vuk, which was played by Jessica Chastain. It would have involved bleaching the heck out of her eyebrows (and a blond wig). Despite such a grouping of talented actors, the film only has a 22 percent rating from critics on Rotten Tomatoes and a 64 percent audience score. This one made $252 million at the worldwide box office with a $200 million budget. It's been largely panned, and it would make sense to have Bullock say this wouldn't have been the one to take.
One other option is 2019's "Hellboy" starring David Harbour. Milla Jovovich played the role of Vivienne Nimue, the Blood Queen. She was a powerful sorceress from the Dark Ages (which historians now call Early Middle Ages). That film didn't do so well either with a devastating 18 percent on Rotten Tomatoes from critics and 48 percent from audiences. It made $55 million worldwide off a budget of $50 million. 
"Power Rangers" seems like the most likely candidate here. Now, if Marvel and DC are listening, please cast Sandra Bullock in a superhero film! The role she was rumored for in a "Spider-Man" film was Madame Web (as she mentions in the video), which seems like a great fit, but who knows what's going on in terms of what's coming in the Spider-Verse. 
Who Could She Play?
Now, as long as we're talking superheroes, how about casting Sandra Bullock as Moondragon in an upcoming "Doctor Strange" film. She'd have to shave her head or wear a bald cap, but I'd absolutely buy her as a telepath/martial artist/geneticist. Moondragon is really powerful and has connections to Thanos and to Drax the Destroyer. 
Marvel's version of the sorceress Morgan Le Fay would be another idea for her! Elizabeth Hurley played Marvel's version of King Arthur's half-sister in the Hulu series "Runaways," and the character appeared in the 1978 "Doctor Strange" live-action TV movie. Cassandra Nova, who is sort of the shadow side of Professor Xavier from X-Men (now that Marvel is bringing them into the MCU) might be a good one as well. She's rather complicated to explain, but let's just say we'd get to see Sandy's evil side. 
If we're going with DC, I'd say the clear pick is Big Barda if we get Jack Kirby's New Gods. In the comics, Big Barda is involved with the Justice League and even Birds of Prey. If she was, in fact, based on a young Lainie Kazan, as stated in "Kirby: King of Comics" by Mark Evanier, the resemblance would be fairly close. 
Definitely tweet us with your picks for who Sandra Bullock could play in the MCU or DCEU, and your theories about what superhero role you think she turned down.